Indian Highways - The common and strange sights
On Indian Highways, you can "expect the unexpected". You find any and everything and see the strangest sights, on our highways. Actually travelling on our highways, is a unique experience and gives you possibly the best insights about India. Given this, we are starting this new series of stories that will provide glimpses of "Life on Indian Highways".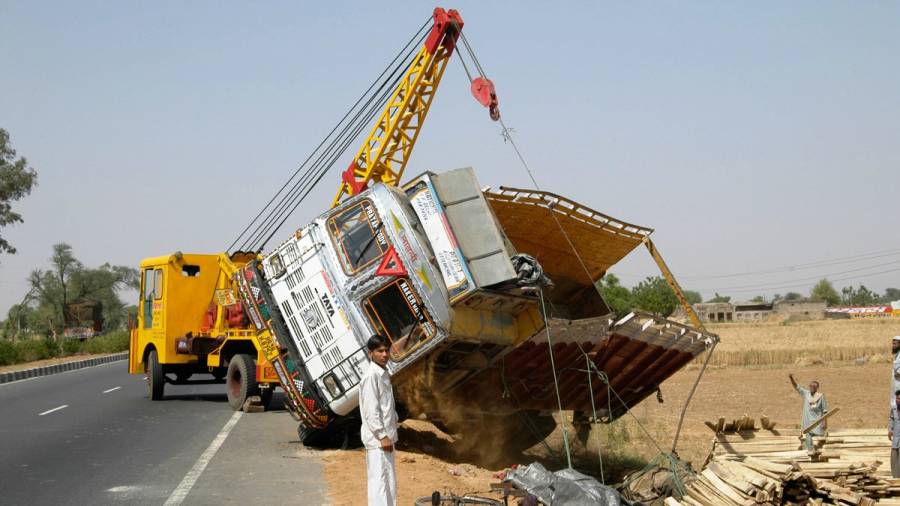 This is one of the most common sights on Indian Highways
What is the most common thing you see Indian Highways?  Most sensible people will immediately answer, bad driving and accidents.  Yes, sadly these are common sights on our highways. I am also constantly amazed by the millions of close shaves and near misses. It's almost like there is an invisible force working miracles on our highways and magically preventing many more crashes from occurring.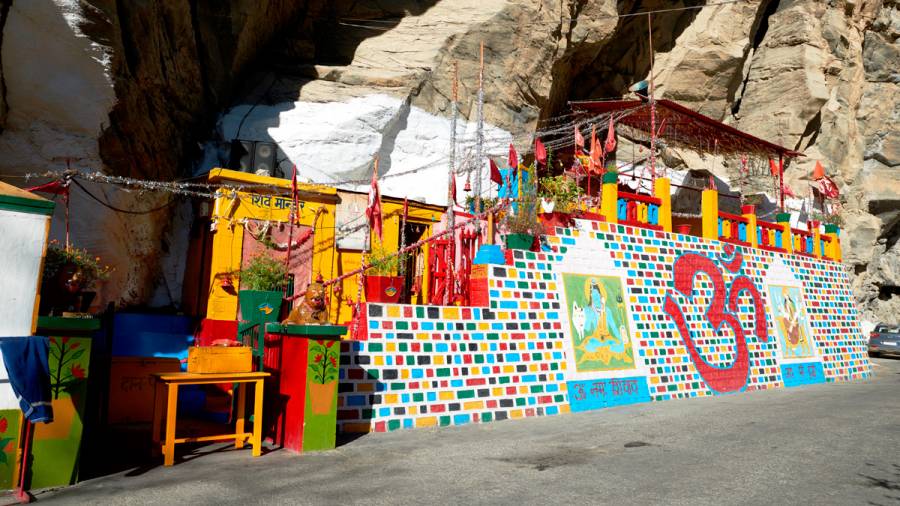 Once upon a time, roadside temples were also very common
So does God watch over Indian Highways? If one had asked this question a decade or so back, the answer would have been a univocal, yes. Earlier you would find roadside temples at regular intervals on almost all our highways, and they were virtually mandatory on all ghats or difficult hill climbs.
But now they are largely found only on ghat roads, or hill climbs
Drivers would slow down while passing these temples and offer coins or small change, and the pujari (priest) would come running to the vehicle and provide prasad, or little food for devotees.  Yes, seeking the Lords blessing for a safe journey, was once an integral part of the unique culture of driving on Indian Highways.
If you are lucky, you can get blessings from a holy man on the move
But with the expansion and widening of our highways, many roadside temples have simply disappeared.  You do still find them on some ghats, but the widening of our highways and the improvement in road surfacing, has also resulted in higher speeds, making it difficult for drivers to slow down to make donations or seek blessings. Nevertheless, let's not forget this is India, and if you are lucky like I have been on a couple of occasions, you can get blessings of the move. Check out the accompanying photo.
And if it's your bad day, you can also encounter someone openly carrying a shotgun
Sometimes, especially in states with law and order issues like U.P, Bihar and M.P, you can also see the strange sight of people freely moving about with double-barrelled shotguns or rifles! In fact even though it's against the law, in certain areas carrying and displaying a gun, is considered a matter of honour.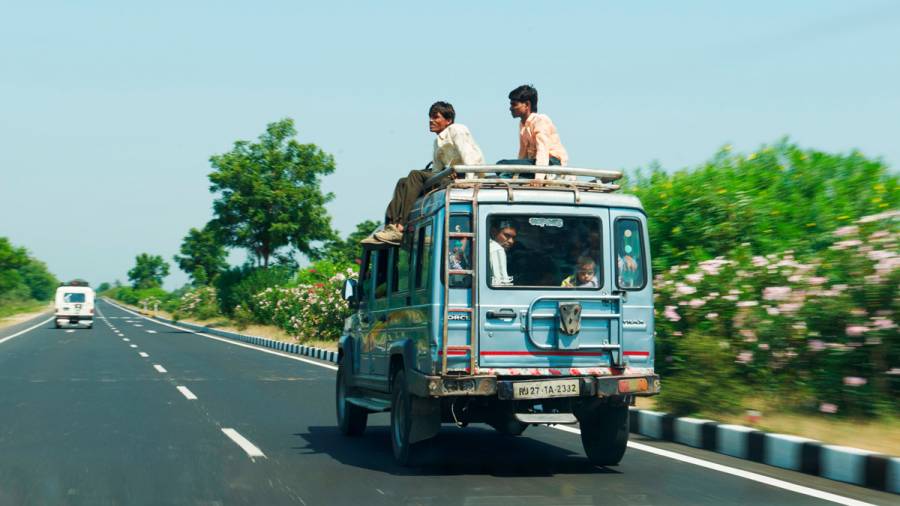 Travelling on roofs is a normal practice
One of the commonest sights on our highways is people sitting and nonchalantly travelling on the roofs of vehicles. This is so common that most of us Indians don't even notice it now, but I have seen foreigners getting completely shocked and shattered by this highly unsafe practice.
You also regularly see pilgrims or religious processions on our highways
Another familiar scene on India Highways is pilgrims walking long distances, and religious processions to places of worship. It's something you see everywhere and at times you also come across vehicles specially rigged out to take entire families on a pilgrimage. Let's not forget that for centuries, the only purpose for which most Indians travelled was to visit our sacred shrines.
Here is a modified multi-storey truck taking what looks like an entire village on a pilgrimage
The modes of travel in India can also be diverse and exotic. In interior Gujarat, you are likely to see what is locally known as the "Chakkda Rickshaw". It is a motorcycle derived 3 wheeler used to transport people, and they are also popular as school buses, because the children simply love them.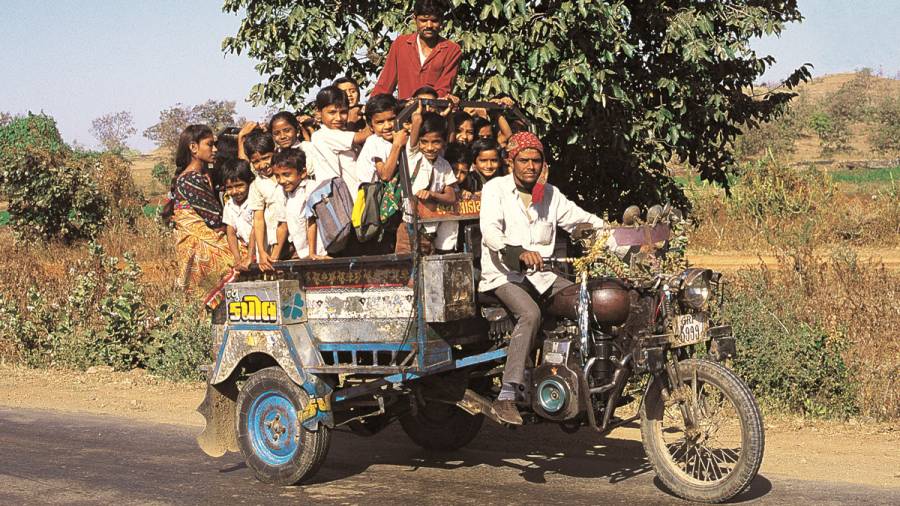 And here is a Chakkda Rickshaw carrying children to a school in Saurashtra
It is believed the "Chakkda Rickshaw" was first made in Jamnagar in 1970s, by a scrap dealer who had purchased some golf carts from the Jam Saheb, or Prince of Jamnagar. The innovative scrap dealer did a fusion of the golf cart with a discarded petrol powered motorcycle and thus was born the "Chakkda Rickshaw".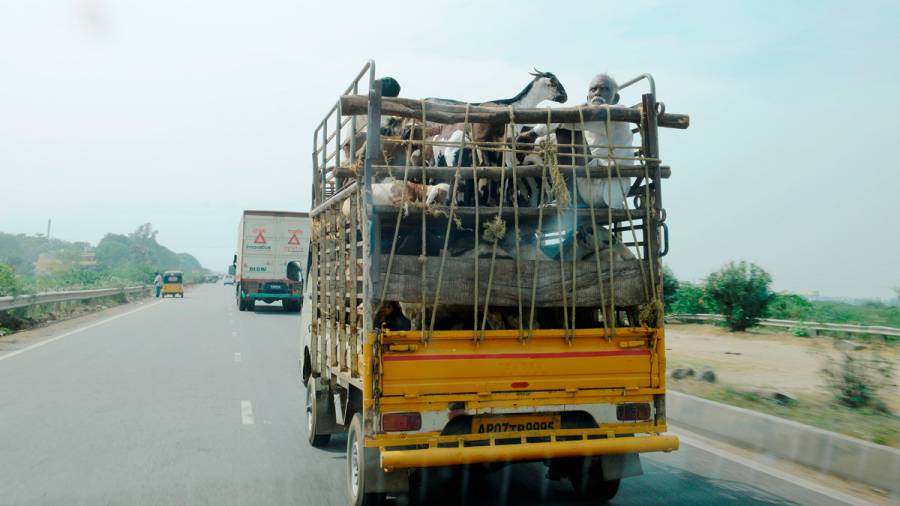 Goats and men, both casually travelling together
It is unique to Gujarat, particularly the Saurashtra region, and subsequently, Atul Auto started making them and used modified submersible diesel pumps, to power their version of the "Chakkda Rickshaw".
The cruel practice of dancing bears on our highways has been fortunately stopped. Image source abc.net.au
One sight that was once unique to Indian Highways and which I always found very painful, were the dancing bears! Yes, the men of the Kalandar community used to trap sloth bears, remove their teeth, and make them dance on our highways for a little fee.
But monkeys continue to be used to entertain humans. Or is it the other way around?
This cruel practice that terribly hurt and traumatised the bears was banned by the government and in 2009; the last Indian dancing bear was taken to a rescue center. But the practice of making monkeys and other small animals entertain humans continues.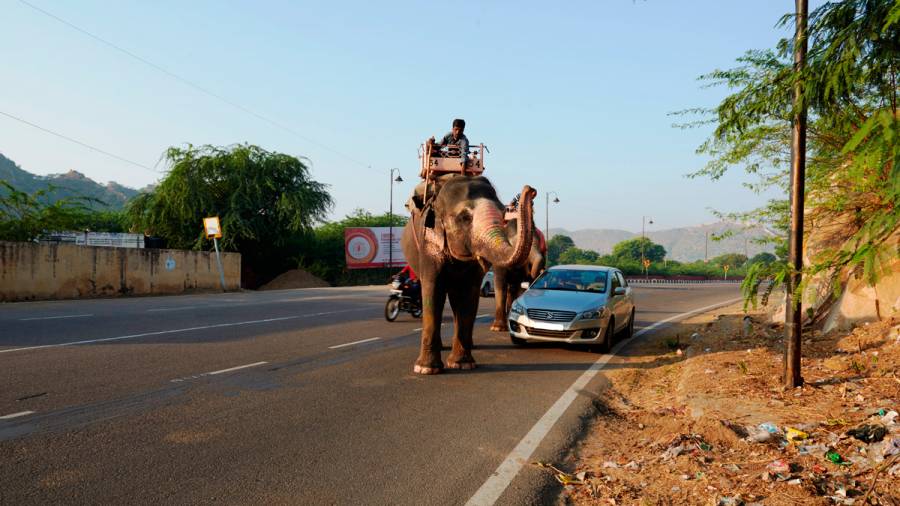 Elephants are also common on our highways
India is also possibly the only country in the world where you can see both wild and tame elephants on our highways. One of the most uncommon sights I have seen is a restroom reserved exclusively for ladies. Normally its difficult finding a restroom on our highways, but when I came across one in Himachal Pradesh that was only for ladies, I just had to stop and photograph it.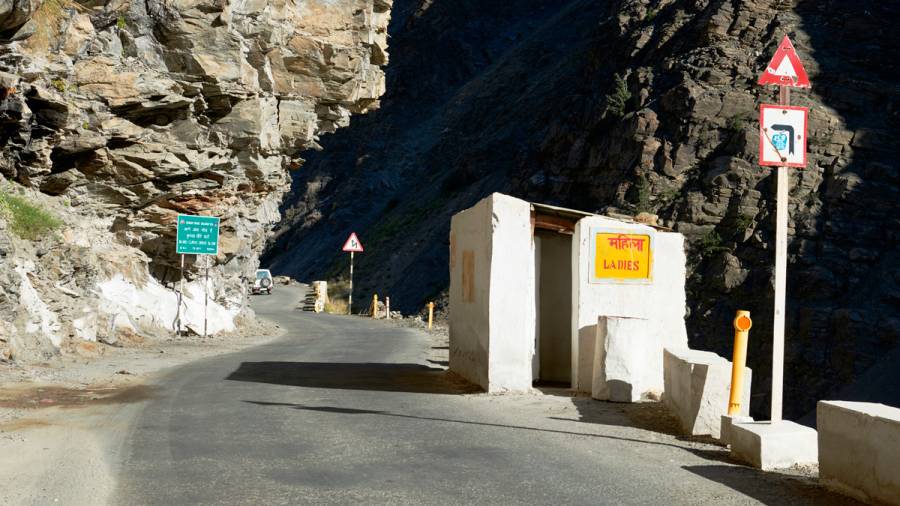 But toilets exclusively for ladies are rare
It's also rare to find signboards highlighting significant human, natural, archaeological or geographical landmarks. So I was thrilled to see a well-designed and properly positioned one in Gujarat, marking the point of the passing of the Tropic of Cancer.
It's also uncommon to find such informative signboards
These are not the only common or uncommon sights on our highways. There is a lot more, so stay tuned for the next in this series of "Life on Indian Highways".
Photos courtesy Makarand Baokar and Bob Rupani
Also see:
Life on Indian Highways - The Good, the Bad and the Ugly
Indian Highways - And the historic Kos Minars or Mile Pillars
Indian Highways - And our toll booths fortified with steel pipes
Indian Highways - and more common and strange sights
Indian Highways - And the disappearance of trees and milestones
More of - Shopping on Indian Highways
Indian Highways - And the vast variety of vehicles
Indian Highways - And our "Delicious Dhabas"