Indian Highways - And more food and "Delicious Dhabas"
On Indian Highways, you can "expect the unexpected". You find any and everything and see the strangest sights, on our highways. Actually travelling on our highways, is a unique experience and gives you possibly the best insights about India. Given this, we have started this series of stories that provide glimpses of "Life on Indian Highways".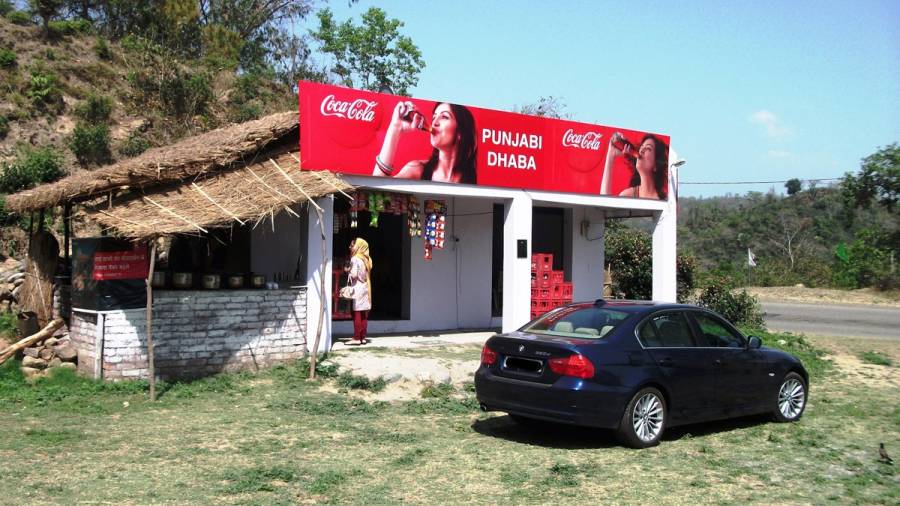 Eating at such quaint Dhabas adds charm to a road trip
The previous feature on "Delicious Dhabas" received a very enthusiastic response, so here is some more of "Food on Indian Highways". As mentioned in the earlier story in this series, there is a vast variety of food available on our highways. Earlier there were only rustic Dhabas, but now you have innovative food stalls, some quaint restaurants, and even all sorts of seasonal fresh fruits being sold and consumed right by the side of the road.
There was a time when you came across many such ramshackle Dhabas. But now they are getting rare
One of the pleasures of driving in South India is the easy availability of fresh coconut water
One of the good things about road travel is that you get exposed to different landscapes, various cultures and also lots of local and indigenous food. For example on one of my driving holidays in Madhya Pradesh, I discovered 'Dal Paniya'. This is a traditional tribal dish consisting of various dals (lentils) mixed together and cooked with assorted spices and chillies. What is really unique though, are the "Paniyas" that are served with the dal.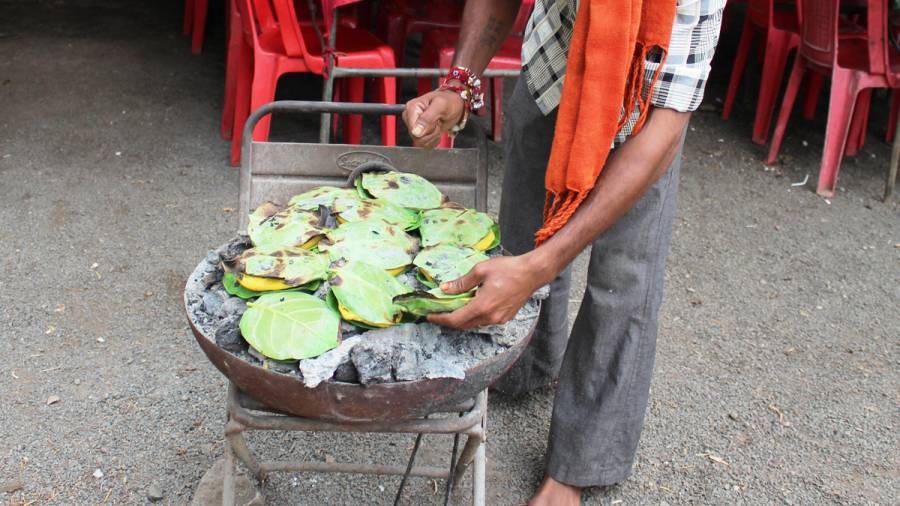 Paniya is a traditional tribal dish made with corn flour and corn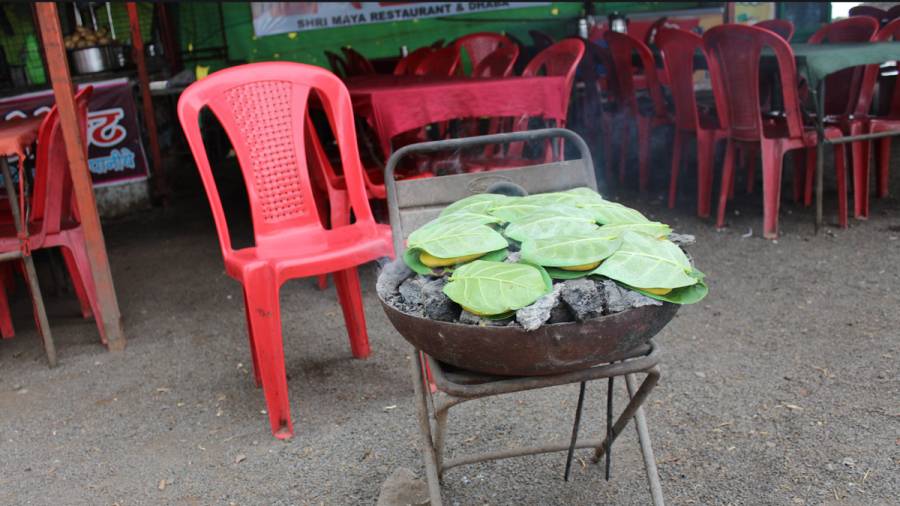 The dough is sandwiched between leaves and roasted on an open fire of wood, etc
Paniyas are made with corn flour and corn with the dough being flattened and sandwiched between leaves of the Aak plant (Calotropis gigantea). The Paniya wrapped in leaves is then roasted on an open fire of wood, coals and quite often cow dung cakes! Some tribal people I have spoken to say that when you cook on cow dung cakes, the temperature never rises beyond a certain point, ensuring the nutrients in the food are not destroyed by overheating. When the Paniya turns golden brown, it is greased with ghee and served with the dal and lots of chutney and freshly cut onions. I have begun to really like Paniyas, and will recommend that you should try Dal Paniya when you are in MP next.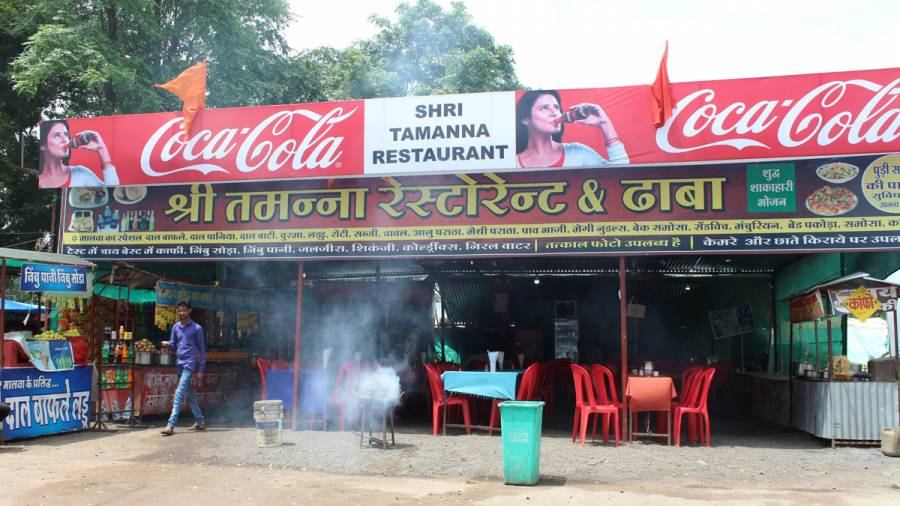 Paniyas being roasted in front of a Dhaba
Pots of Umbadiyu kept for slow cooking. Image source Midday
Another local and season dish that you get on the Mumbai to Ahmedabad Highway, especially in the region around Valsad and Surat, is Umbadiyu. It is primarily a winter dish and is also known as the "Gujarati Barbecue". If you keep a lookout while driving on this stretch of the highway, you will see earthen pots filled with a variety of local vegetables and greens, kept to slowly cook with masalas on cow dung cakes, or a combination of wood and sugarcane waste. It takes really long to prepare and the spicy Umbadiyu has a smoky flavour and rich aroma and taste. Many residents of Gujarat drive down to these stalls on the highway and after picking up several pots proceed to their farmhouses to have an "Umbadiyu Party".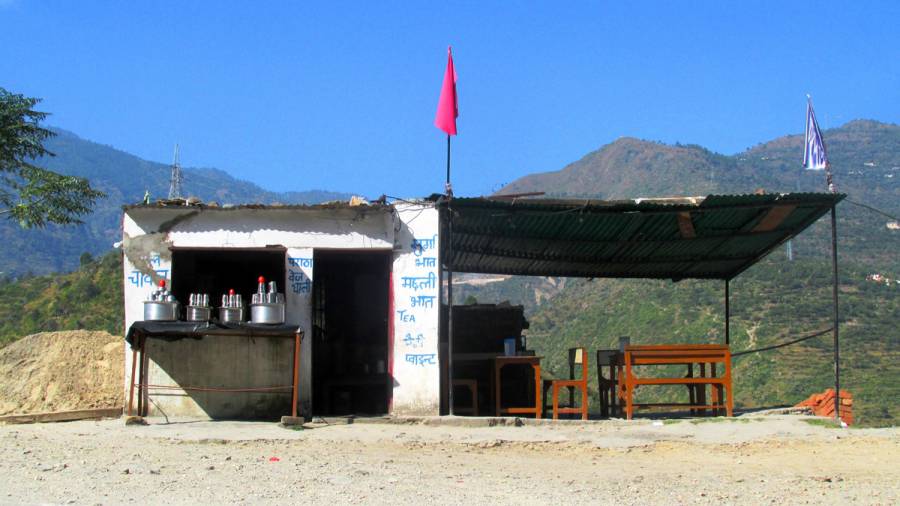 This small Dhaba serves rice with dal, chicken or even fish curry. And you also have a dining area with a view
In many hill states like Himachal Pradesh, you also get fresh river trout and small Dhabas serving rice and rajma, or dal rice, and even rice and chicken or fish curry, are quite popular. Since many such Dhabas have a spectacular view, it only makes the meal more appetizing as does the fact that the cost is a fraction of what it is in city restaurants.
This entrepreneur needs to be complimented for converting an old Tata Indica into a mobile highway restaurant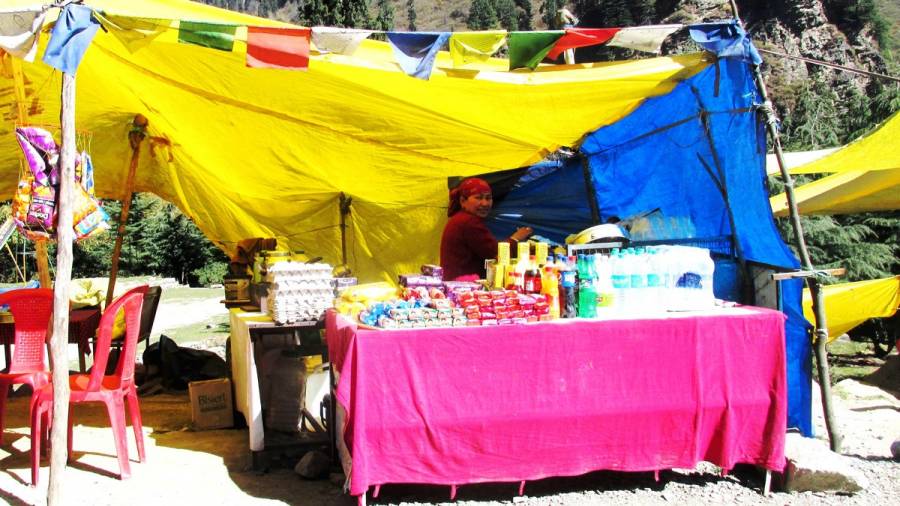 This lady offers eggs, noodles and a variety of other food and refreshments
Some restaurants advertise they only serve pure veg food
And the beauty of India is that just a little down the road, you can find barbecued meat
Coal roasted corn on the cob, is available almost all across India and is a trademark snack of Indian Highways. Samosas and kachoris are also well liked and you find them everywhere too. In South India the fresh coconuts and filter coffee make the journey more refreshing, while in many parts of Maharashtra, freshly extracted sugar cane juice is the go to drink. Chaat is also in demand with road travellers and of course the stalls selling eggs and omelettes and tea, always do very good business.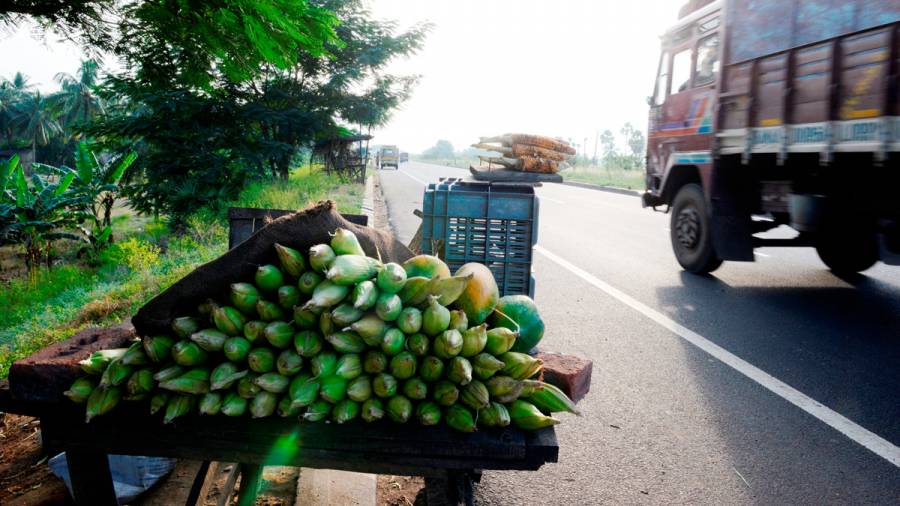 Freshly roasted corn on the cob is one of the most popular snacks on Indian Highways
Samosas are also popular highway fare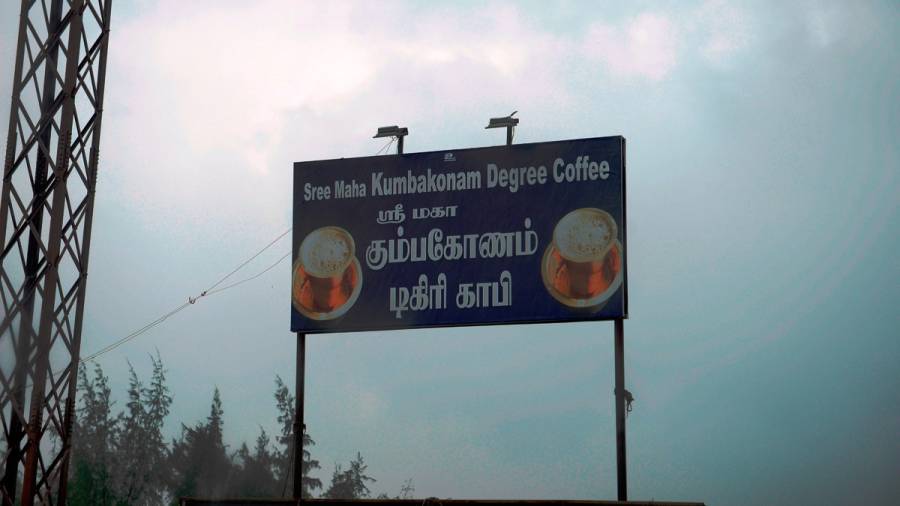 Coffee is the fuel that drives many parts of South India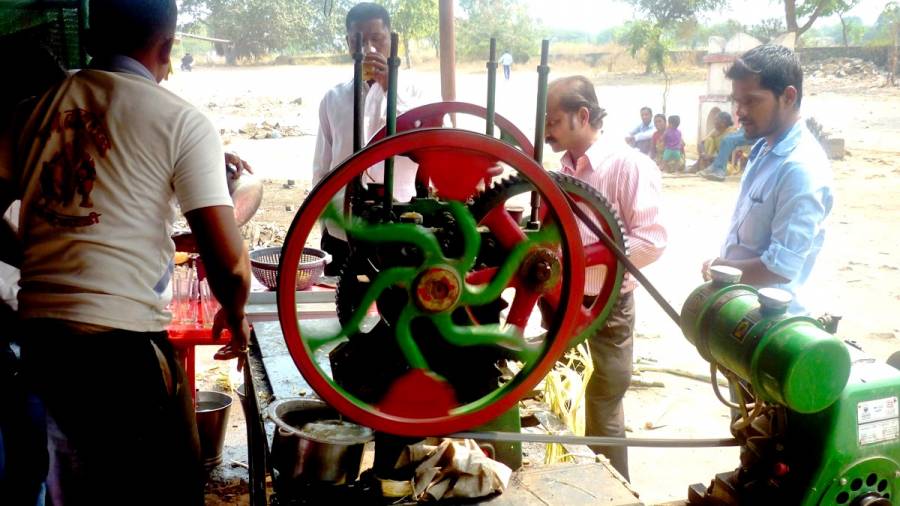 And in Maharashtra and some other states its freshly crushed sugarcane juice
Eggs and omelettes are staple food and you find many such stalls on our highways
So as you can see there is no shortage of good food on Indian Highways and the range is so vast, that every time I hit the road, I usually end up making another new discovery. I hope this inspires you to go on your very own "Food Discovery Drive". Believe me, if you look and stop in the right places, you can have quite a "Tasty Time".
In interior parts of Rajasthan, sometimes you come across such traditionally dressed women making rotis at the rustic Dhabas
And if you are into "Dracula's" you know where to go. But getting scared is forbidden!
Photos courtesy Bob Rupani, Makarand Baokar and Dinesh Shukla
Also see:
Life on Indian Highways - The Good, the Bad and the Ugly
Indian Highways - And the historic Kos Minars or Mile Pillars
Indian Highways - And our toll booths fortified with steel pipes
Indian Highways - The common and strange sights
Indian Highways - and more common and strange sights
Indian Highways - And the disappearance of trees and milestones
More of - Shopping on Indian Highways
Indian Highways - And the vast variety of vehicles
Related Stories