Indian Highways - And our toll booths fortified with steel pipes
On Indian Highways, you can "expect the unexpected". You find any and everything and see the strangest sights, on our highways. Actually travelling on our highways, is a unique experience and gives you possibly the best insights about India. Given this, we are starting this new series of stories that will provide glimpses of "Life on Indian Highways".
Most Indian toll booths are now fortified with strong steel pipes.
Anyone who has travelled on Indian Highways has certainly passed through our toll plazas and the actual booths where toll tax is collected. But I am not sure how many have noticed, that most of our toll booths are fortified and the people manning the booth are protected with strong cages, made with thick steel pipes or tubes.
Look closely, and you can see this protective steel rod cage has been damaged by a vehicle ramming into it.
There are also tall and strong concrete dividers all around the booth with many even having steel railings. All these sturdy protection guards and defensive construction measures for toll booths are unique to India, and to the best of my knowledge, not found in most other countries.
Indian highways now have amongst the most fancy and biggest toll plazas in the world.
But why the fortifications and what is the need to defend our toll booths? Well it is to prevent vehicles from ramming into the booth and injuring or killing the staff! Yes, rashly driven trucks or buses often crash into the toll booths and cause fatalities.  If you speak to some of the senior toll booth staff, they will tell you that the fear of a truck banging into the booth is real, especially at night when the drivers have a tendency to doze off, or be drunk!
This chaat seller has set up shop right inside the divider of the toll booth!
Given this, and the fact that undisciplined drivers losing control of their vehicles is as common as cattle in our country, protecting and defending the toll booths is quite justified. But it also means we are ready to submit and accept that many drivers will drive badly, and lose control and crash.
This kind of defensive protection has become necessary due to undisciplined drivers who often crash into toll booths.
In my view, while protecting the toll booths is justified in the short term, it cannot be a long-term solution. We will have to take the bull by the horns and enforce driving discipline and severely fine and punish rule breakers, drunk drivers and anyone driving or riding rashly. Until there is a real fear of the law, it will not be possible to discipline drivers.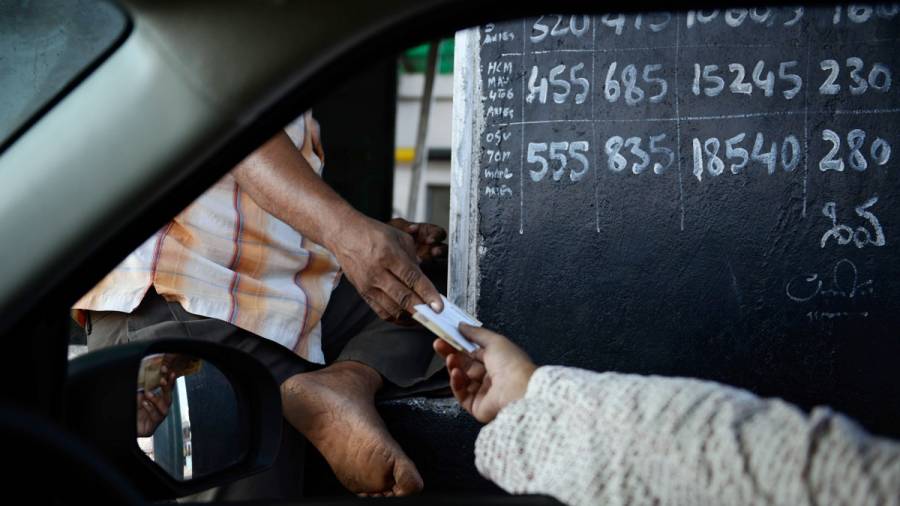 With the introduction of FASTag, gone are the days of paying cash and seeing the feet of toll collectors.
The strong steel rod cages are not the only thing unique to Indian toll booths. There are several other good, bad and ugly things associated with our toll booths. Though I do not have representative photographs (for obvious reasons), the fact is that in many states with law and order issues like UP, Bihar, MP, etc, the toll booths have armed guards to ensure that people pay the toll tax and the guards also secure the booths against attacks or thefts.
FASTag was introduced to reduce the waiting and stopping time at toll booths.
At certain places you have eunuchs and even so called holy men, demanding a fee for safe passage or threatening you with a curse in case you don't comply! At times you also find local strongmen who force vehicles to give them or their friends a free ride to the next town or city. And occasionally, sex workers also wait for clients near toll booths.
But since the card readers are often slow to deduct the toll electronically, it still takes a fair bit of time.
Toll booths are also where hawkers gather to sell various foods and beverages. In February 2021, the FASTag or digital payments for toll via a Radio-frequency Identification (RFID) chip card sticker became mandatory. And it was thought it would reduce the waiting time of vehicles at toll booths, which in turn could affect the sales of hawkers.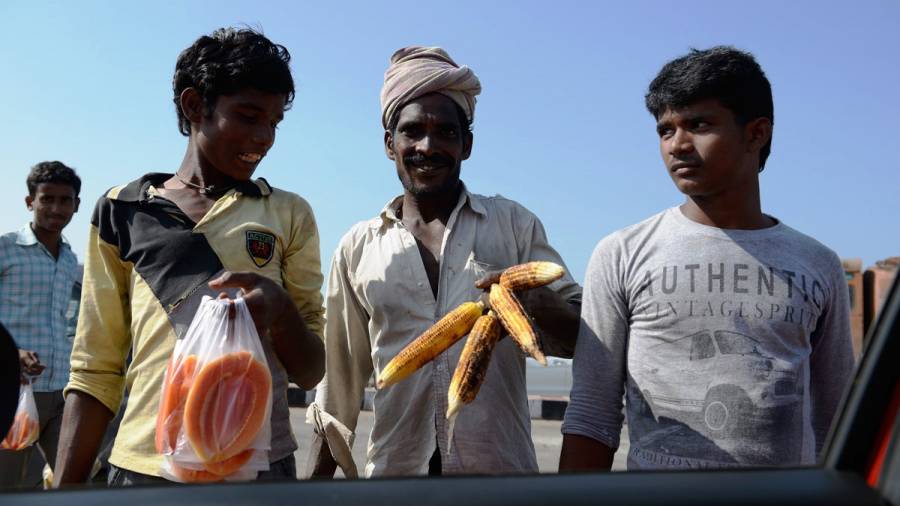 Window shopping at toll booths.
But because some card readers are taking long to register the card and deduct the toll, there has not been a substantial reduction in waiting time at toll booths. So the various vendors continue to sell their goods and the practice of food and other such products being delivered to windows of vehicles, continues.
Along with the peanuts, you also get a happy smile for a happy journey.
And old India also continues to coexist alongside new India, as is evident in the few shabby and small toll booths still found on some of our highways. They may be dilapidated and situated on the divider in the center of the road, but in keeping with modern day requirements, they have cctv cameras ingeniously placed atop poles. This is the matchless character of our India Highways.
Some highways still have small and shabby toll booths situated on the divider in the center.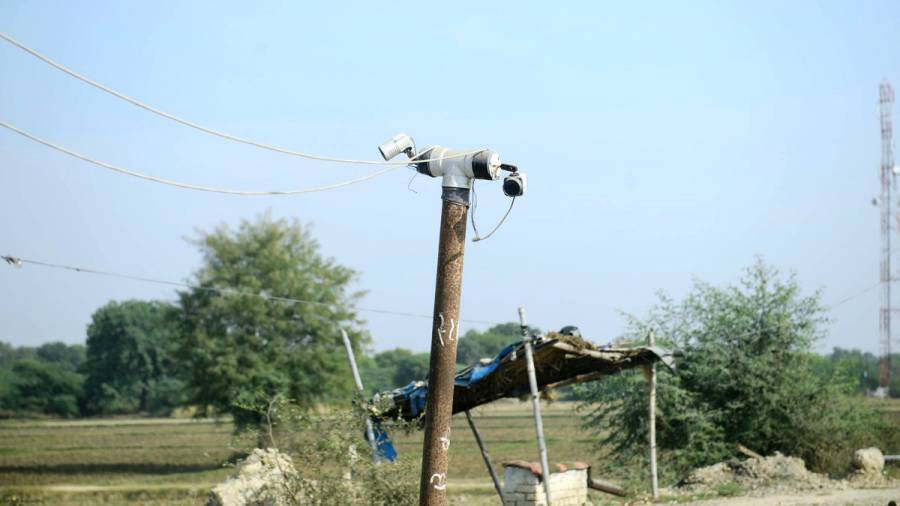 But even such toll booths have cctv cameras ingeniously mounted on strategically placed poles.
Photos courtesy Makarand Baokar and Bob Rupani
Also see:
Life on Indian Highways - The Good, the Bad and the Ugly
Indian Highways - And the historic Kos Minars or Mile Pillars
Indian Highways - The common and strange sights
Indian Highways - and more common and strange sights
Indian Highways - And the disappearance of trees and milestones
More of - Shopping on Indian Highways
Indian Highways - And the vast variety of vehicles
Indian Highways - And our "Delicious Dhabas"