New 2013 Audi S6 launched in India at Rs 85.99 lakh, ex-showroom Delhi
Audi India has launched the performance-oriented variant of the A6, the S6 priced at Rs 85.99 lakh, ex-Delhi. The S6 boasts of a twin-turbo 4.0-litre V8 TFSI engine which makes 420PS of power with a peak torque of 550Nm.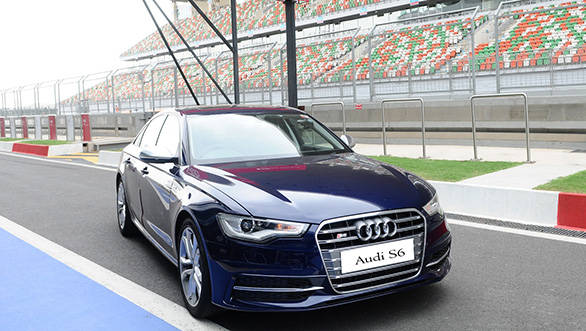 Audi claims that the S6 breaches the 0-100kmph mark in just 4.6 seconds and has an electronically limited top speed of 250kmph. Transferring power to all the four wheels via Audi's fabled Quattro technology is a 7-speed S-tronic DSG gearbox.
Audi claims a fuel efficiency of 10.3kmpl for the S6, thanks partly to the unique cylinder-on-demand (COD) tech which automatically shuts down four of the eight cylinders when not required.
Features differentiating the A6 and S6 are aluminum and chrome accents at the front fascia, S badges and the choice of 19 and 20-inch wheels on the latter. The S6's suspension is also on the stiffer side. It also comes with electrically adjustable front seats.
Audi's press release follows.
New Delhi, July 12, 2013: Audi, the German luxury car manufacturer, today introduced the much awaited Audi S6 sedan in India. Audi S6 has a refined flow of power in conjunction with superlative comfort and elegant appearance. This sporty top version in the luxury-class family is priced at INR 85,99,000 (ex-showroom New Delhi) and is available at all Audi dealerships across India.?
"The letter "S" denotes the unrelenting quest at Audi for sportiness. In the S models, sportiness is the overriding principle, flanked by comfort, aesthetic appeal, elegance, uncompromising quality and high-performance engines.? The Audi S6 truly embodies the sporty and progressive philosophy of Audi. A powerful vehicle with a cabin full of high-end technology, the Audi S6 is a sports vehicle for everyday driving that offers a perfect combination of thrill, luxury and practicality. It redefines the benchmark yet again in its segment, while upholding and building on Audi's sporting legacy," said Mr. Michael Perschke, Head, Audi India.
The 2013 Audi S6 is a sports sedan that exemplifies control. The S6 pairs the 4.0-liter TFSIq® V8 twin turbo engine churning out 420 hp with the legendary Audi quattro® all-wheel drive. Advanced features include MMI® touch, 7 Speed S tronic® transmission, Adaptive Sport Air Suspension and quad exhaust outlets. The result is, inspired handling with elegance and style.
Unique on the Audi S6 is the Audi Cylinder–on–demand (COD) technology which automatically shuts down four of the eight cylinders when they are not required, and therefore produces lower emissions. The Active Noise Cancellation feature compensates for the noise interference inside the cabin depending on the in-cabin noise and engine noise.
While the Audi S6 is far sportier, the luxury quotient has not been compromised. The Audi S6 comes standard with 4 Zone Air Conditioner, Audi Parking Aid Plus, Electrically adjustable Sport Seats with memory functions for the driver, sun blinds, lighting packages and the likes.?
"Audi is the market leader in the sports car and high performance car segment with the Audi R8, Audi R8 Spyder, Audi S4 and Audi TT Coupé. We are now happy to add the Audi S6 to our portfolio after the launch of the new Audi RS 5 Coupé earlier this month. With these launches, I am confident of consolidating our leadership position even further," added, Mr. Perschke.??
At a glance: Audi S6 Sedan?
?Engine
?- Eight-cylinder V-configuration engine
?- 420 bhp (309 kW) between 5500 - 6400 rpm; Peak torque of 550 Nm is achieved
between 1,400 and 5,200 rpm
?- Zero to 100 km/h in 4.6 seconds
?- Speed is governed electronically when the needle reaches 250 km/h?
?Drivetrain
- Seven-speed S tronic
- quattro permanent four-wheel drive with optional sports differential
- Asymmetric/dynamic torque split?
?Chassis
- Adaptive Sport Air Suspension
-19-inch cast aluminum wheels of a 5-armwing design
- High-performance brakes
- Wide tyres with format 255/40 R19
- Electromechanical steering configured for a more direct response
?
Body
?- Supremely athletic figure out on the roads – yet is free from any hint of aggression
?- Eye-catching single-frame grille with S6 emblem display
?- Spoiler lip at the front end of the car provides additional negative lift
?
Interior and controls
?- New generation of sports seats and upholstered in Alcantara/Leather
?- Front seats are electrically adjustable in multiple directions with lumbar support
?- Exclusive interior with carbon inlays
?- Trim inserts in Matt finish aluminum
?- Driver Information System with 3.5-inch color display with an additional digital
speedometer
?- Audi sound system with ten speakers and an optional CD/DVD changer
?
Safety
?- Airbags (Full side, Front side and Head)
?- Side airbags for the rear seats are available as an optional extra
The German luxury car manufacturer continued its successful course in India with yet another remarkable month in June. With 750 units sold in June 2013, Audi India clocked a growth of 4% over the same period last year (June 2012: 718 units). For the period January to June 2013, the brand with the four rings grew by 21%, delivering 4846 units as compared to 4000 units during January to June 2012. Audi also launched the new Audi RS 5 Coupé this month in India.?
Audi India plans to expand its network to 34 dealerships by the end of 2013 from its existing 26 centers. In 2013, Audi India has opened new showrooms in Bhubaneswar, Lucknow and Mumbai South. Last year, the luxury carmaker opened new showrooms in Raipur, Kanpur, Goa, Navi Mumbai, Coimbatore, Delhi West, Nagpur and Bhopal. Further developments include Noida and Vadodara among others.?
The Audi model range in India includes the Audi A4, Audi A6, Audi A6, Audi A7 Sportback, Audi A8L, Audi Q3, Audi Q5, Audi Q7, Audi S4, new Audi S6, Audi RS 5 Coupé, Audi TT Coupé, Audi R8 and the new Audi R8 Spyder available across the country: in Ahmedabad, Bengaluru, Bhopal, Bhubaneswar, Chandigarh, Chennai, Coimbatore, Delhi South, Delhi West, Goa, Gurgaon, Hyderabad, Indore, Jaipur, Kanpur, Kochi, Kolkata, Lucknow, Ludhiana, Mumbai South, Mumbai West, Nagpur, Navi Mumbai, Pune, Raipur and Surat.
Price (Ex-Delhi)
Starts Rs 42.34 Lakhs
Price (Ex-Delhi)
Starts Rs 54.42 Lakhs
Price (Ex-Delhi)
Starts Rs 1.56 Crore
Price (Ex-Delhi)
Starts Rs 32.48 Lakhs
Price (Ex-Delhi)
Starts Rs 53.25 Lakhs
Price (Ex-Delhi)
Starts Rs 70.12 Lakhs
Price (Ex-Delhi)
Starts Rs 2.55 Crore
Price (Ex-Delhi)
Starts Rs 1.04 Crore
Price (Ex-Delhi)
Starts Rs 63.12 Lakhs