Goodyear to introduce new Assurance MaxGuard tyre in India
American multinational tyre company Goodyear recently introduced a new range of tyres designed for the Asia-Pacific region. This lineup includes the Assurance MaxGuard, Eagle F1 Asymmetric 6, Wrangler Duratrac RT, and ElectricDrive. Three of these tyres, including the Assurance MaxGuard, will soon be available in India. Each tyre in this range is designed to cater to specific purposes, with the Eagle F1 Asymmetric 6 representing the latest addition to Goodyear's high-performance Eagle F1 series, while the ElectricDrive is the company's inaugural tyre for premium electric vehicles (EVs). On the other hand, the new Wrangler Duratrac RT is tailored for sport utility vehicles (SUVs), aiming to deliver superior grip during off-roading adventures. The Assurance MaxGuard, a newcomer in Goodyear's Assurance tyre range, is engineered to provide 2-in-1 protection. Below is a brief overview of these four tyres.
Goodyear Eagle F1 Asymmetric 6
The Eagle F1 Asymmetric 6, the latest iteration in the ultra-high-performance Eagle F1 series, is designed to offer an enhanced grip on both dry and wet surfaces while producing lower noise emissions. It incorporates 'Dry Contact Plus Technology,' featuring an adaptive contact patch and an optimised cavity shape that adjusts to load variations, ensuring improved grip, tyre stability, and precise steering, even on rough roads at high speeds. Additionally, the 'Wet Braking Pro Technology' of the Eagle F1 Asymmetric 6, with a cap compound and new resin system, results in increased tyre contact, enhancing braking and handling on wet roads. This tyre also boasts lower rolling resistance, contributing to reduced fuel consumption and increased driving range, particularly for EVs. Other key highlights include a noise-cancelling pattern, reduced weight, and an aerodynamically optimised sidewall.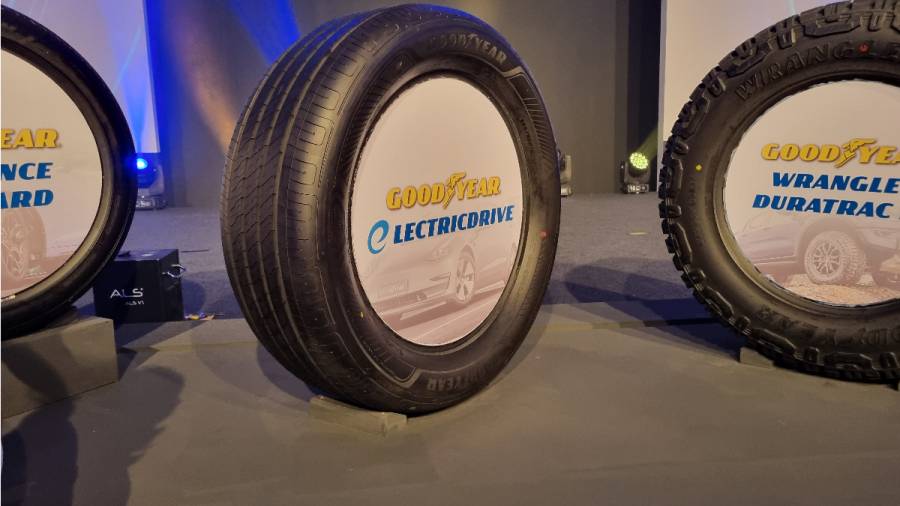 Wrangler Duratrac RT
In contrast to the high-performance focus of the Eagle F1 Asymmetric 6, the new Wrangler Duratrac RT is tailored for off-road enthusiasts and rugged off-road vehicles like the Jeep Wrangler or Toyota Land Cruiser. A standout feature of this tyre is its 'Tri-Shield Technology,' which enhances sidewall strength by employing a three-ply sidewall construction to resist penetrations and cuts. The tyre's tread compound is engineered to be long-lasting without chipping issues, making it suitable for various off-road terrains. Moreover, its improved tread pattern provides superior grip and traction on challenging surfaces, such as mud, snow, and rough terrain. Lastly, the 'DuraEdge Technology' offers added protection against sharp obstacles commonly encountered during off-road excursions, such as rocks.
ElectricDrive
The ElectricDrive tyre is specifically developed for electric vehicles (EVs) and features Goodyear's 'Electric Drive Ready (EDR) Technology,' combining load-bearing capacity, traction, noise reduction, and low rolling resistance. To ensure a quiet ride, the ElectricDrive boasts an optimised tread design with a high pitch count, a full barrier gum, and a pure sipe pattern, effectively reducing interior tyre noise. Drawing inspiration from Goodyear ETCR, the tyre incorporates a wider rib design and a high-tech cap compound to withstand the high torque of EVs. Additionally, ElectricDrive's patented pattern improves grip on wet roads. Notably, the tyre compound boasts a unique molecule shape to enhance tread wear performance and reduce waste, contributing to lower air and water pollution.
Assurance MaxGuard
The Assurance MaxGuard, the latest addition to the Assurance tyre lineup, offers 2-in-1 protection. It features 'ActiveGrip Technology-Grip Protection,' which leads to improved stopping distances. The water-wave shield pattern increases friction, while the enhanced cavity shape enlarges the contact patch by approximately 10 per cent. Furthermore, it incorporates a new-generation silica tread compound with 80 per cent more silica for enhanced grip, particularly on wet surfaces. The 'DuraGuard Technology' equips the tyre with two layers of carcass ply, higher cord density and strength, and two belts of high-tensile steel to withstand cuts and impacts. Goodyear also highlights that the Assurance MaxGuard is designed to deliver better mileage.
Also read:
Volkswagen ID.X Performance Concept is based on the ID.7 sedan
Audi Q8 Limited Edition launched in India, priced at Rs 1.18 crore
Price (Ex-Delhi)
Starts Rs 1.34 Crore
Price (Ex-Delhi)
Starts Rs 53.9 Lakhs