Ultraviolette F77 vs Mumbai monsoons: The Storm Trooper
The Ultraviolette F77 is the quickest 2-wheeler EV that India has produced today and yes it lies on the expensive side of the pricing spectrum. Earlier this year we tested the bike out in Bengaluru, but the ride conditions out there, back then, were pretty much near perfect. Out here in Mumbai, the monsoons have set in, and if you've been to Mumbai, you'll know that this kind of weather can be a very tricky and erratic. So I thought why not check out how India's most powerful electric motorcycle is to ride in Mumbai's freak season.
First up, yes you read right, I'm testing the Ultraviolette F77 out in Mumbai famed monsoon season, yet in the pictures it all appears to be nice and dry. Well, that's just how unpredictable Mumbai's monsoon can be. It was raining like crazy during the five days of testing, but dry and hot as hell when it was time to take the pictures.
Five minutes into riding the F77 and I knew that this had to be the most exciting electric two-wheeler I've ridden. Imagine having an electric motorcycle with the performance of a 250cc petrol engine bike, because that's what it is in essence. It's meant to give you that level of hair-raising fun and excitement all while letting you know that you're making some form of effort to curb global warming. The Ultraviolette F77 in Recon trim is undeniably an enjoyable electric motorcycle to ride. With its taut frame and powerful electric motor make maneuvering through traffic or cruising on an open road a breeze. The F77 delivers a smooth and responsive ride and not having a clutch lever to work in traffic is a boon too.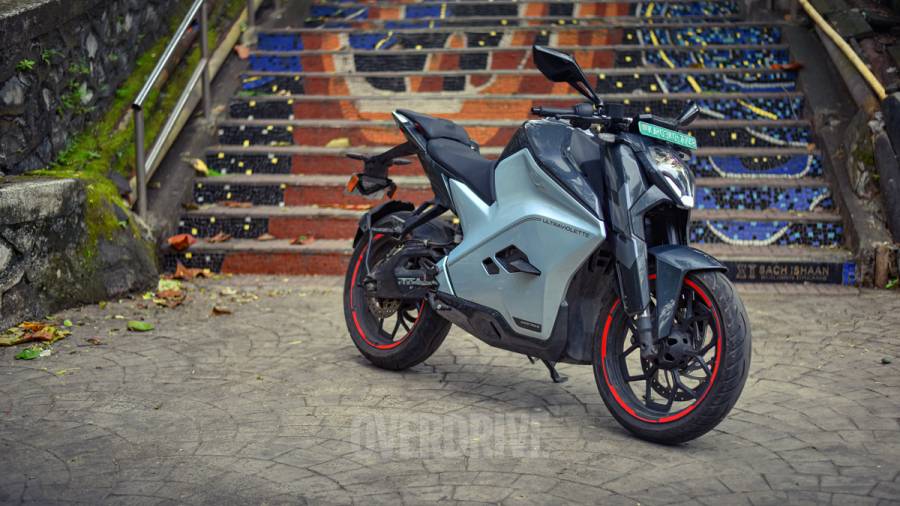 The F77 comes equipped with specific ride modes that optimize performance in the rain. These modes ensure better traction control and adjust power delivery to suit the wet conditions. Riding in the monsoons becomes safer and more manageable, thanks to these intelligent features. The F77 comes with three ride modes, the first is Glide (eco) mode. Despite being focused on efficiency, the eco mode still offers a surprising burst of acceleration. This makes it enjoyable to ride, even when you're trying to be mindful of range and energy consumption. But its rate of acceleration feels limited while overtaking in the city and so to its top speed of 70kmph. It still feels a bit drab even for wet roads. A little too conservative for me.
So I was usually pottering about the city in Combat mode which is a balance of Economy and Power. With the massive 10.7kWh fixed battery pack at 100 per cent state of charge (SoC), the F77 showed me a range of 200km which obviously put a smile on my face. Thanks to the ride-by-wire throttle the bike pulls away nice and smooth, and there's no snatchy behaviour even if you suddenly give it a solid twist while moving. When riding in the rain, comfort becomes a key factor. The F77 strikes a great balance between economy and power, especially in this mode. Riding solo, the suspension feels slightly stiff which makes it nice and sporty if you're pushing it, but have someone load up the pillion seat and the rear softens up beautifully making some of Mumbai's rotten roads very bearable.
If you crave a serious splash of adrenaline, Ballistic mode is the ideal choice. It unleashes the full 29kW of peak power from the electric motor, offering remarkable acceleration and top speed in excess of 140kmph. But in the wet, if you're new to the bike I'd tell you that this mode is best reserved for straight stretches of road, for an unforgettable riding experience in the positive sense. There's a bit of initial twitchiness from the throttle which will take some getting used to, but once you learn its responses in relation to your inputs, man is it fun once you get the hang of it. The range will drop down a fair margin but if you are well within the distance to your destination it's totally worth it!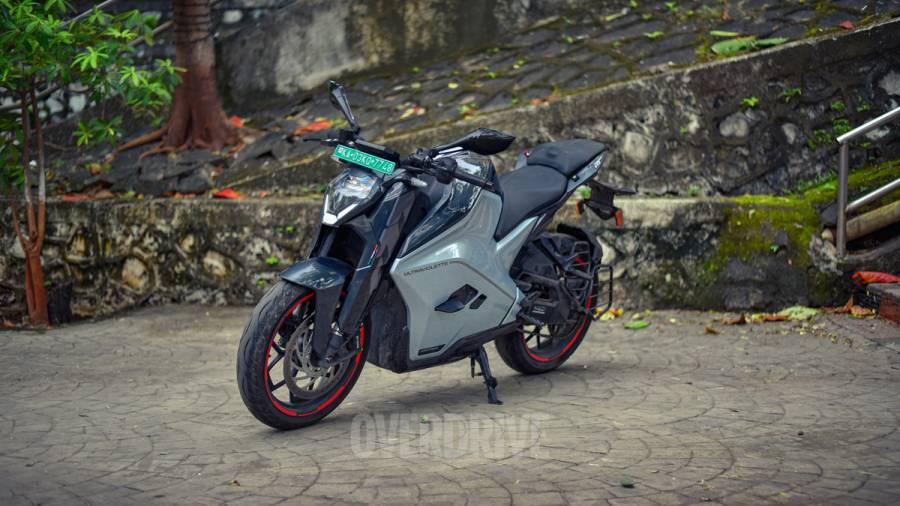 For four days and nights I'd purposely left the F77 parked out in the rain to see if there's be any signs of degradation with the switches screen, but thankfully the bike wouldn't have any of that. Almost perfect running order, aside from the whine of the motor which I think got a bit more audible in the bike was with me. Still even the headlamp unit illuminated the street impressively in dry and wet weather conditions. One feature that the F77 can't do without is its reverse function.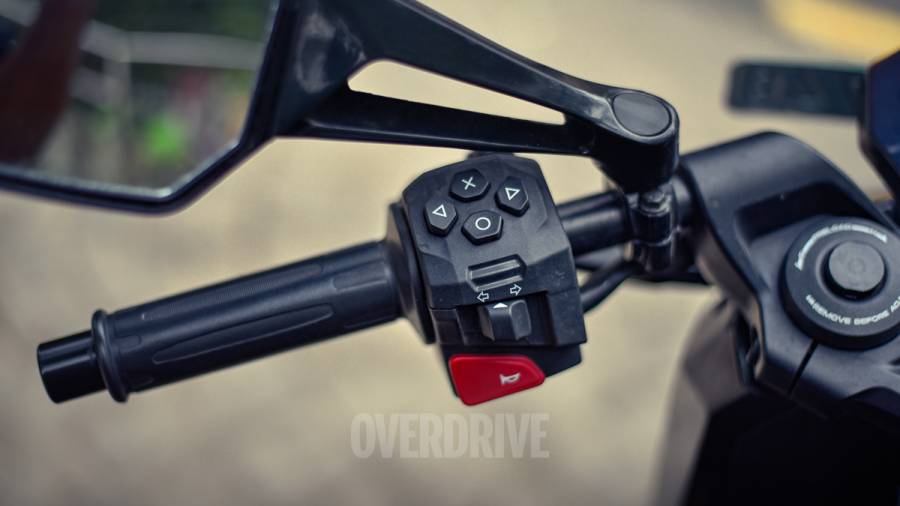 This feature critically important in the monsoons because of the bike's rolling resistance and its 207kg kerb weight can make maneuvering extremely challenging. The reverse function simplifies parking and the blinking hazard lights tells people behind of what you're up to when visibility is hampered with rain.
Whenever I felt confident enough to pick up the pace I found that the three levels of regenerative braking on the F77 to be inadequate even in the highest setting. Because although it may charge the batteries as it should, as soon as I rolled off the throttle it felt like I was coasting. This happened up till the speed of 50kmph, which was mighty unsettling. Especially considering the wet weather conditions - when you need this system to function in a manner similar to the way engine braking does in a regular ICE powered motorcycle.
Another minor setback with the F77 is the limitation in adjusting the mirrors to your preference. You currently have to finger the mirrors in their housings to adjust for rearward visibility and this fixed position will limit visibility for certain riders. Not ideal for a rainy day, I'll tell you that.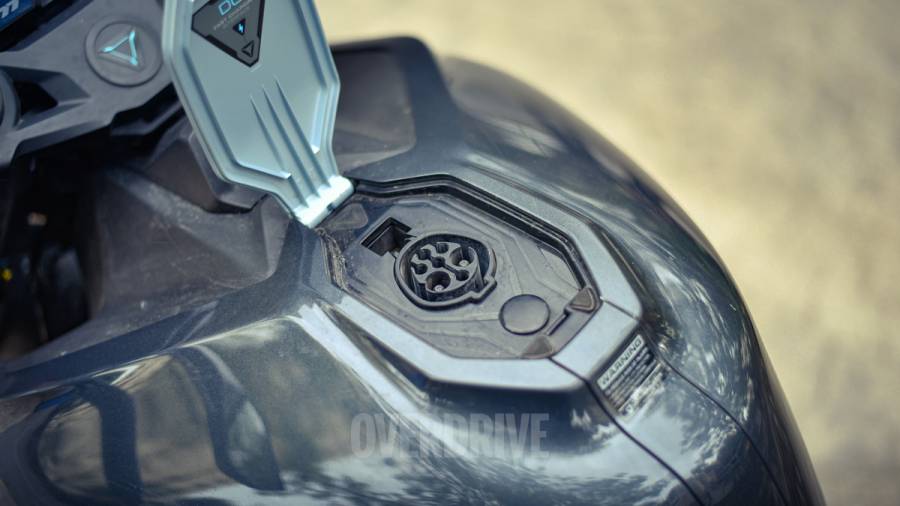 Carrying the F77's portable charger unit during rides becomes a logistical concern due to its size and weight. The only option is to carry it in a backpack. However, the weight of the unit will destroy your back if you plan on a fairly long ride out of town. So currently in Mumbai, it's best you charge it up fully and then have a go at it, which does limit your range as of now, and if your destination isn't equipped with a charging setup for you to make it back, tough luck. As fat as charging time goes, it took about five hours for the F77 to get its juice back.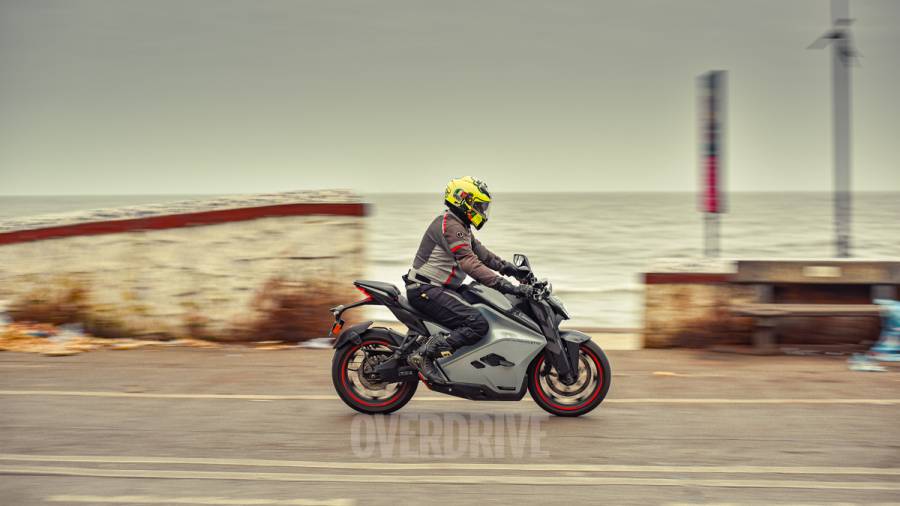 In conclusion, riding the Ultraviolette F77 electric motorcycle in Mumbai during the monsoons offers an exciting and eco-friendly experience. Its different ride modes cater to various riding preferences, making it suitable for navigating the challenging conditions that come with heavy rainfall. While there are areas for improvement, such as the rolling regenerative braking resistance and adjustable mirrors, the F77 remains a thrilling electric motorcycle option for riders in urban settings.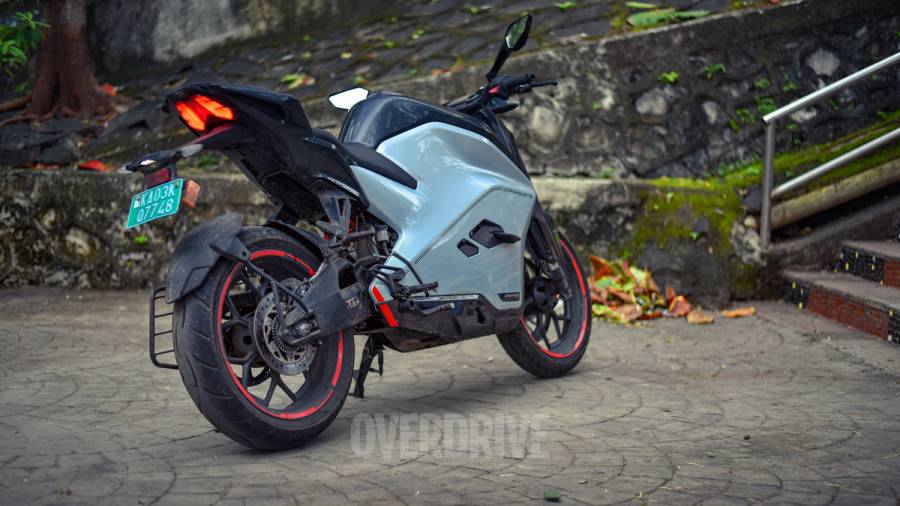 It is expensive but is also meant to save you money. So it's sustainable, but impractical. Fun to ride out but a hassle to charge on the go. As it stands, the F77 is an brilliant electric motorcycle to that's both fun and safe to ride in the monsoon season too. It's important to acknowledge that an electric motorcycle like this does comes with a price tag of approximately Rs 5 lakh. It is indeed an expensive indulgence, and potential buyers should consider their budget and priorities before making a purchase.
Price (Ex-Delhi)
Starts Rs 0