Electric Vehicles Could Improve Air In Cities. But They Can Certainly Help Preserve Our Pristine Places
Recently I got the opportunity to drive Mercedes-Benz India's latest electric vehicle, the EQE SUV, in and around Gulmarg, the famous skiing destination in Kashmir. Though I have been to Gulmarg several times before, this time too, I was overwhelmed by its immense natural beauty and spectacular landscapes. The Mercedes-Benz EQE also proved in more ways (some wholly unexpected) than one, to be the ideal partner to explore this pristine and still unspoiled region.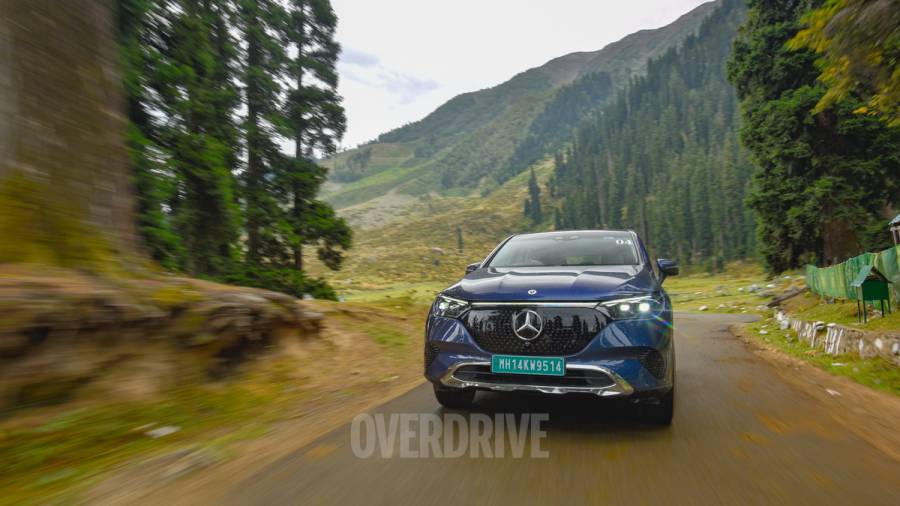 Driving the Mercedes-Benz EQE in the verdant valleys, meadows and hills around Gulmurg was both enchanting and rewarding.
The EQE is nicely styled, has good range, excellent performance and is loaded with lots of features to indulge the driver and pamper the occupants. All these qualities of the Mercedes-Benz EQE obviously helped make the drive enjoyable and comfortable. But there were few realizations and pleasant surprises that emerged purely due to the route and I compliment Mercedes-Benz for choosing Gulmarg as the destination for this media drive event.
This is where you can experience the -Sound of Silence- and the fact that the almost soundless EQE did not create any commotion, felt so very good.
Until this drive, like most people I also looked at EVs as a possible solution for reducing pollution and improving the air quality in our congested cities. But my mindset changed when I drove the Mercedes-Benz EQE SUV from Gulmarg to near our LOC (Line of Control). The almost completely traffic free narrow tarmac road wove its way through some amazingly pretty forests and meadows, where one could stop and smell the flowers and hear the wind rustling through the tall green pine and fir trees.  This is where you can listen to nature's version of the "Sound of Silence" and it was thanks to this total absence of any machine or man-made sound, that I realized how good it felt to be driving through this "Land of Silence and Serenity" in the almost soundless EQE.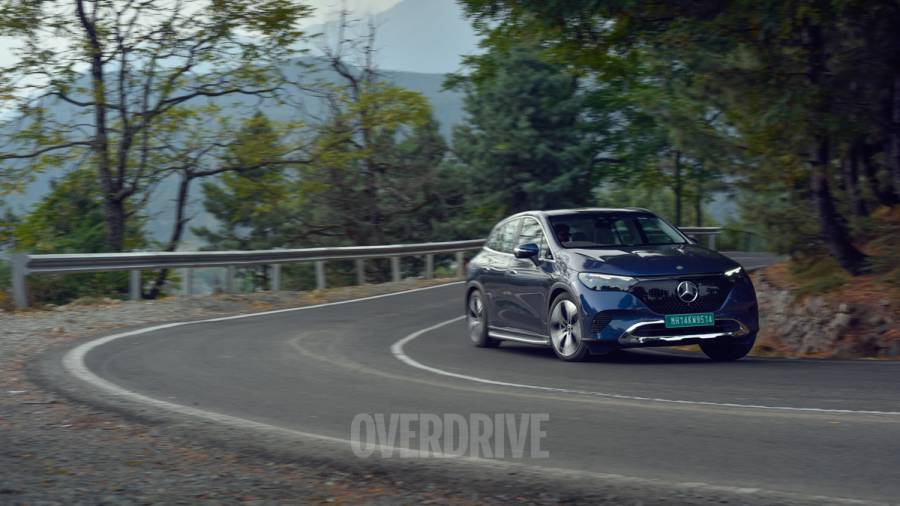 The Mercedes-Benz EQE is an impressive performer and smart looking too. It also has many features and luxurious comforts that pamper and all this also made it a delight to drive.
While going from Srinagar airport to Gulmarg the previous day, I had came across many diesel powered buses and commercial vehicles making a loud din with the noise echoing across the hills. Given this, I was able to appreciate the silent movement of the Mercedes-Benz EQE even more and it felt really good that I was not doing anything to disturb the calm and peace.
In the hills you are either ascending or descending. And therefore electric vehicles with their instant torque and regenerative braking are ideally suited for hilly regions.
Another thing I realized when I got out to enjoy the landscape and breathe in the crisp mountain air laced with the rich fragrance of flowers and trees was the total absence of any emissions or fumes coming from the EQE. Normally most IC (internal combustion) vehicles, especially diesel ones discharge fumes with an unpleasant odour, which one does not normally notice in our anyways smelly cities. But out in the wilderness such fumes are even fouler and the fact that the EQE was not releasing any fumes whatsoever enhanced my feel good quotient.
And it's due to these factors that I am now convinced that EVs must be used in our unpolluted and peaceful places. It remains to be seen if EVs actually assist in cleaning the air in our highly polluted cities. But what I have just seen and experienced is that they certainly can contribute in not spoiling and preserving our unblemished abodes.
I stopped several times to breathe the clean and crisp air enhanced by the lofty fragrance of pine trees and mountain flowers. And it was gratifying that the zero emissions EQE was not spewing any fumes or pollutants into this unspoiled environment.
One more thing I ascertained on this drive is how suited EVs are for driving on the twisty and constantly curving roads in the hilly regions of our country. In the mountains you are either climbing or descending. While climbing in an IC engine powered vehicle, especially when exiting hairpin bends, one has to shift down and really accelerate hard to ascend and just as the power is building up you arrive at the next turn which requires you to slow down again. So while going up a hill you are either accelerating hard or lifting off the pedal and changing gears. And while coming down you are braking repetitively and also shifting gears. All this puts a lot of strain on the engine, gearbox, brakes and also the driver.
In comparison, an electric vehicle with its instant and constant torque climbs up far more effortlessly. The ever present torque and absence of gears means you just have to smoothly press the accelerator and the power on demand enables the vehicle to easily soar up. And when you approach the next turn, one needs to slightly release the pedal and then gently feed in the power the moment you exit the curve. Believe me in an EV you can gracefully flow up a hill without half the effort or skill that is required in a conventional car.
The sheep too continued to graze without getting disturbed by the silent and odour free EQE.
Descending is also calmer and rewarding too, as the regenerative braking system not only slows the vehicle down progressively, but it also harnesses the kinetic energy and enhances the driving range provided by the batteries. Honestly in my view, electric vehicles are most suited for driving in hilly regions and once the charging network gets properly established in such places, I am sure we will see more and more consumers there opting for EVs.
Now I am convinced that EVs can actually contribute in preserving our pristine places. While how much they clean the air in our horrifically polluted cities, remains to be seen
In Gulmarg we stayed at the Khyber Himalayan Resort, which interestingly has a steep approach road that IC powered vehicles have to ascend in first gear with the engine revving and working hard. So the couple of times I drove up this slope in the Mercedes-Benz EQE, I pushed down a bit on the pedal and thanks to the instant and massive torque raced up the slope in an easy and fluent manner. Looking at this the local Kashmiri watchman said to me, "Yeh gaadi toh jahaz ki tarah hai, udke upar jaati hai", or "This car is like a plane, it simply flies up".