McLaren P1 electric roadster priced at Rs 32,353
The headline might seem to have a typo, but it is very much true as British supercar manufacturer McLaren has revealed an electric P1 roadster that costs £375 (Rs 32,353). Before you sprint to your nearest dealership, please make sure that your age is between three and six, as that's the target audience for this new electric roadster.
The McLaren P1 electric roadster is a scaled-down version of the company's exotic offering the P1 hybrid hypercar. However, unlike the plug-in hybrid powertrain in the hypercar, the roadster gets a plug-in all electric motor, mated to a 3-speed transmission. The claimed top speed for the roadster is 4.8kmph with an acceleration timing of 0 to maximum speed in 2 seconds. If you still wish to ignore it as a mere toy, McLaren offers an optional on-board MP3 player with speakers and an air-conditioner unit as well, that are switched on with a start-stop button along with automatic headlights.
The P1 electric roadster also retains the design lines from the hypercar as seen with the boomerang-shaped headlights, large central dam on the front bumper, multi-spoke alloys finished in matte black and the rear diffuser with a centrally positioned faux exhaust outlet. In addition, this one also gets butterfly doors as seen on other McLarens. The P1 roadster is offered only in an open-top configuration with a centrally placed driver's seat, making adults envy this tiny machine.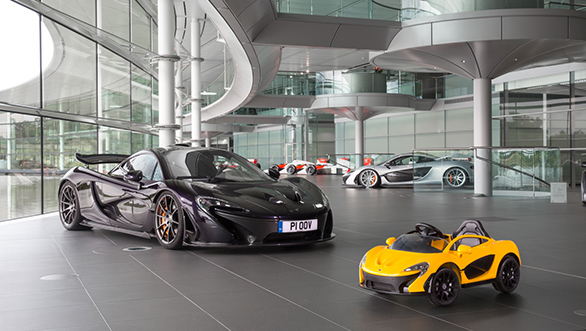 While the larger sibling gets an array of colour options to choose from, the P1 roadster will be offered only in one shade called the volcano yellow.
The electric roadster is the first such product to be licenced by McLaren Automotive and will be sold through selected dealerships. McLaren states that though the P1 roadster is ideally for kids between three- and six-year olds, young drivers beyond this age group might also fit. The roadster will be available by end October this year.