Lamborghini Aventador Ultimae coupe arrives, 3 of 600 now in India
After two roadsters in the last two weeks, India has now got its third Lamorghini Aventador Ultimae. This time its one of the 350 coupes that Lamborghini is making of the last-ever naturally aspirated V12s. With two of 250 roadsters already in India, the country is now home to three of these final iterations of the Aventador.
Lamborghini Aventador Ultimae engine, performance, 0 to 100 kmph
The 6.5-litre V12 in the Lamborghini Aventador Ultimae is the most powerful ever to have been fitted to a standard production Lamborghini. The naturally-aspirated motor now makes a massive 780PS and 720 Nm, that's 10PS more than even the track-focused Aventador SVJ and 40PS more than the Aventador S. The Ultimae is good for a 0 to 100 kmph time of 2.8s, it does 0 to 200 kmph in 8.7s and has a 355 kmph top speed. The engine pairs with a seven-speed single-clutch automatic gearbox. The AWD system has also been retuned for a more rear-biased feel.
Like other Aventadors, the Ultimae rides on push-rod suspension has rear-wheel steer and replaces the SVJ's fixed-wing for a three-stage electronically deployable one. The Aventador is built around a carbon tub and the body is a mix of carbon and aluminium. The coupe is about 25 kgs lighter than the roadsters that have come before
Lamborghini Aventador Ultimae exterior
Styling changes to the Lamborghini Aventador Ultimae are subtle, as far as these special editions from the brand go. There is a new front air dam with horizontal panels and their contrasting highlights. These run the length of the and end in the rear diffuser with its more open design. Of course, all manner of customisation options are available like the 20-inch wheels and the carbon elements on this example. The first roadster was finished in yellow while the second got a burnt orange shade.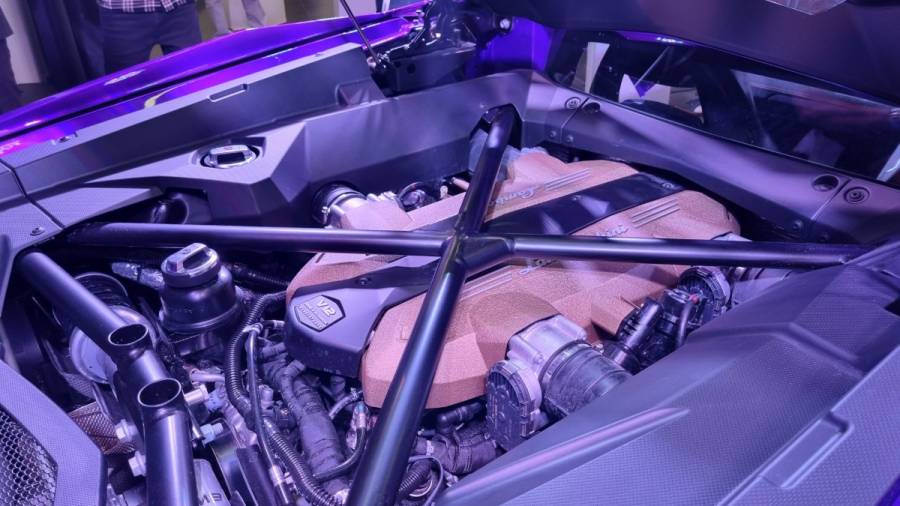 Lamborghini Aventador Ultimae interior
On the inside, the Lamborghini Aventador Ultimae gets a carbon and Alcantara cabin. The are laser-etched Y-motifs across the board and a commemorative plaque. There are drive modes and customisable display screens.
Lamborghini Aventador Ultimae price, production run
Lamborghini India hasn't revealed the prices of the Aventador Ultimae but expect it to be well over Rs 8 crore. The roadster is one of only 250 available globally while are further 350 coupes are being made for a total production run of 600 units, all sold out.
The Aventador Ultimae marks the end of an era for Lamborghini. A naturally aspirated V12 has been an inedible part of Lamborghini's character, going back even longer than the outrageous styling to the first-ever Lamborghini, the 350 GT. Later on, the Miura was the first to actually put a V12 in this mid-engined configuration you see here.
Also read,
2021 Lamborghini Huracan STO track review
Lamborghini Huracan Tecnica unveiled with rear-wheel steering
Lamborghini Urus hits the 20,000 unit production mark in 4 years
Price (Ex-Delhi)
Starts Rs 4.78 Crore
Price (Ex-Delhi)
Starts Rs 3.21 Crore
Price (Ex-Delhi)
Starts Rs 3 Crore