2021 Lamborghini Huracan STO track review
If you had to accurately measure it, it's been well over two years since I last came to the BIC to drive a proper car on this F1-grade circuit. While I was here just a few months ago, that drive was something I'd dismiss as being the wrong car, in the wrong place. Today is different, today I get to drive the Lamborghini Huracan STO, the closest you can come to a full blown GT3-spec race car in homologation trim. It's built to appease the boy racers in men who don't have the time or the inclination for amateur hour racing. This would be my car for all of four laps, to wring out of as much as I could with my limited - long pause - driving skills! For this I woke from an exhaustion filled, sleep deprived night, after spending four long days filming another story far from home. I flew over 1,400 kilometres, had a simple salad that I knew would stay down, and queued up for 11 hours (Lamborghini India had just one STO on track), just to drive the Huracan STO, perhaps the last of a generation of virtuous internal combustion engine cars to bear the raging bull before the push to electric (rather hybrid) becomes reality at Lamborghini.
Was it all worth it? For the better part of the 12 minutes I had with the car it was sheer ecstasy. Until the beans I was feeding the Huracan STO, erupted in one nose-wrinkling stinker a corner before the parabola! Backing off was not an option, my manly pride would be scarred. So off I went again adding more fuel to the STO's fire!
One more 'almost binned it' later, my testosterone-addled brain sobered up pretty quickly and I settled in for a more measured, less aggressive pace. I realised that after nearly three years absent of any track action, muscle memory diminishes significantly, and there is wisdom in controlling your urges and your right foot when you have a car with this level of aggression! The last time I felt such rage and sheer force of will was in the Lamborghini Aventador SV, a car I drove eons ago. The Huracan STO is just a smaller, somewhat less powerful package but demanding all of the same attention and focus when behind the wheel.
So what did I like in the Huracan STO? Three things. First off, the tunes gushing out of the 10-cylinder naturally aspirated motor. It's loud, intensely orgasmic, and to a certain extent befuddling. It clouds your senses, its sweet rapture camouflaging the fact that you're probably pushing it too hard. You have to exert all your will to ignore the sweet sharp crescendo as the revs climb, falter for a fraction of a second as you hit the rev limiter, shift a gear higher and then the rush to fill your ears again. It's intoxicating, and whether you're left standing outside the car as a spectator or inside the cabin driving the car yourself, it's a sound that rips a hole in your soul!
The second aspect I found absolutely refreshing in the Huracan STO is a combination of two things: its ability to control its weight transfer between axles without upsetting its intended line and its aerodynamics which keeps things very tidy, and allow you to fully explore horizons you never thought existed. The weight transfer is beautifully controlled, you reach the absolute edge of adhesion seamlessly before the aerodynamics press down and give you that little bit more to rein it all in just before the 'oh sh*t' moment.
The aero bits on the STO are almost identical to that of the Super Trofeo race car, so it exerts almost the same amounts of pressure at all critical areas. Now while our car had its rear wing set to the maximum downforce setting, once you've had several laps more than I did, and know a lot more about your car, you can change the position of that rear wing to reduce the assistance. Just know what you're getting into, and I do hope you have the requisite skills to manage what's coming. This is also an incredibly light car, weighing in, with all fluids on board, at a little over 1,300 kilos. Its got the same amounts of carbon fibre used in the race car, so weight is strictly controlled. The variable steering ratio and damper settings are also almost the same as the race car so turn-in is quick, and the balance neutral thanks to those incredibly stiff dampers rapidly opposing Newton's laws. On the very limit I felt it was a bit wishy-washy, but then again, it could have been my limited skills or the long time away from the racetrack.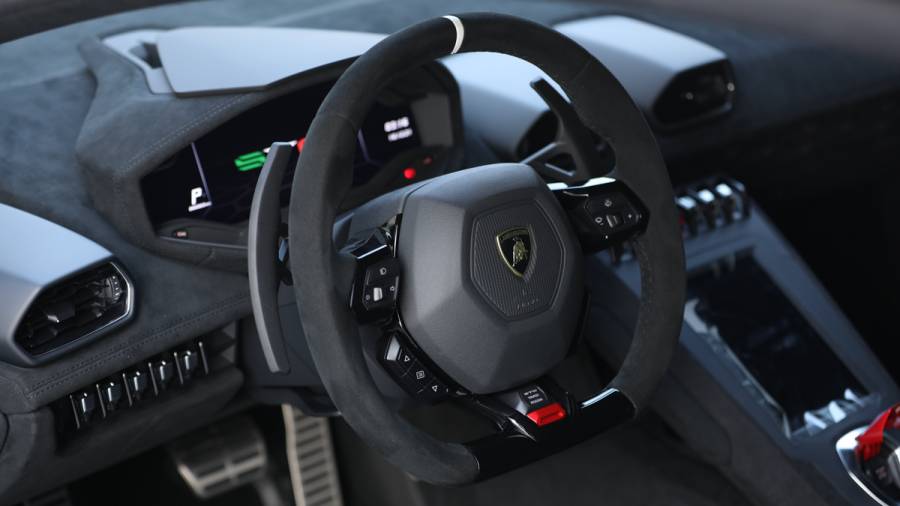 And then there's the third aspect that's also playing a major role in assuaging us amateur track junkies. The tyres! The Bridgestone Potenzas it comes with are simply mind boggling. You keep expecting the tyres to just give up at some point, protesting as you peel layer after layer with every subsequent lap. But, they keep surprising with the consistent levels of performance. It would only take the keener eye of someone like Armaan Ebrahim who has raced in the Super Trofeo, and was piloting our lead car, to know that the better profile on the Huracan STO for this sort of hard work are the semi-slicks.
Driving the Huracan STO takes a certain level of skill, make no mistake, this isn't a car for you to dally with. It needs a certain level of commitment. The other part is that this would be a complete waste of your time and money, if you chose to drive it on the road. It's too fast, too hard for our conditions. But, if you are the kind that takes to a track like fish to water, you could not ask for more!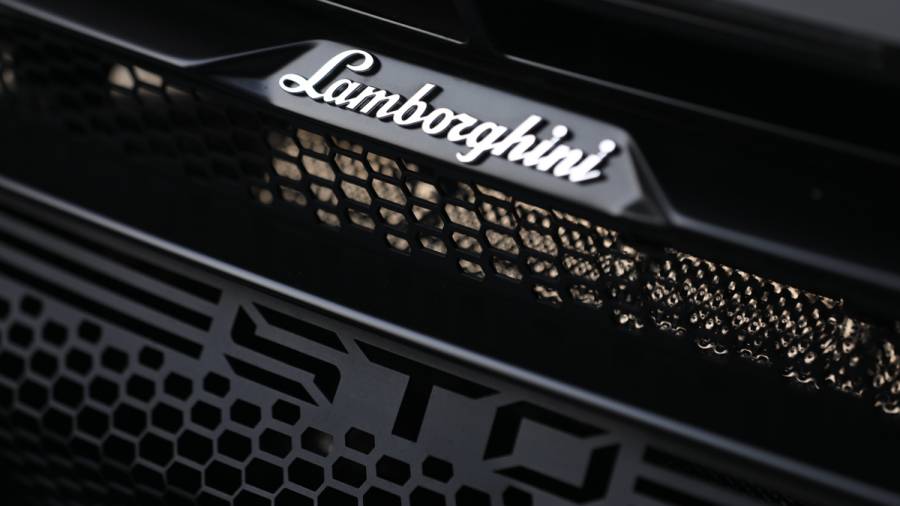 Also read, 
Lamborghini Huracan STO revealed
Lamborghini Huracan STO launched in India at Rs 4.99 crore
Price (Ex-Delhi)
Starts Rs 3.21 Crore
Price (Ex-Delhi)
Starts Rs 4.78 Crore