Interview: Roland Bouchara, SVP sales and marketing, Citroen India, on the challenges of entering the country
OVERDRIVE: On Citroen's decision to come to India at this point in time
Roland Bouchara: In order to boost the internationalisation of PSA, Peugeot has gone to the United States of America, Opel to Russia and Citroen to India. Because India, very likely, by 2023, 2024, or 2025 will achieve organically 5 million TIV (Total Industry Volume) and will become, if I am not mistaken, one of the top five markets in the world. There are not so many markets which would be at 5 million TIV.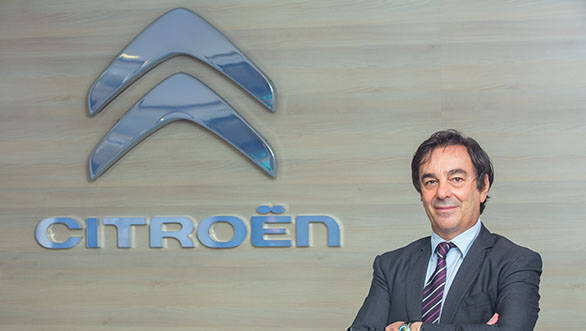 Roland Bouchara , SVP sales and marketing, Citroen India
OD: On the fact that the Indian market is unique and can be tricky to break into
RB: Yes, it is a tricky market. But when you say tricky, I imagine that one of the unique points of the Indian market is because of the fact that there are two brands which represent 65 percent of the market share, which is quite unique. I will come back to this point. And then we have 26 brands, approximately, which are between three and five percent market share, even after 15 years. We need to ask why it is like this. "Why" is because we still have a vast majority of customers who are coming from motorcycles, or from used cars, or who are still quite tight in terms of money, and they want something that is secure. They will make a secure choice, without taking any risk. This is why Maruti Suzuki has been in India for so many years, and even Hyundai, because people prefer something that they know. I think this is one of the reasons.
The second reason, is because we have the second category of customer, from the middle class, who is moving on and growing, and these customers are ready to go to something new every time. It is why when you look at what is happening for every brand that is launching a model, there is big interest in the beginning, and a little decline after. Because people are moving on. I think another thing is that the market is going to move on from 3.2 or 3.3 million, to 5 million. I believe that the middle class is going to represent a bigger proportion of customers, and then the market is going to be a little more mature. I think people will be ready to go for something new, and something they can appreciate, and there will be a higher level of loyalty all along. So the market will move on.
OD: On Citroen's approach and strategy to win the favour of the Indian customer
RB: I will say there are two things. The first one is that as a manufacturer, we need to develop and sell cars which are attractive, with good features, at a good price. This is for all countries all over the world. If your car is not attractive, and doesn't have good features, and is not at the right price, then you are not going to be successful.
The second point, is to do with another unique feature of the Indian market. India is a huge country, 1.4 billion people, with 65 percent of the population under 35 years old. It means that these youngsters are very well connected. And most of these youngsters are only using cellphones, and not laptops, like in European countries. So, this country is moving very fast, faster than European countries. And this young population is in perpetual motion, always moving, all through. This is different from "mature" countries. So, why I am bringing this up, is because being the newest entrant into the Indian market, we would like to do something different. We cannot do business as usual, ignoring the digitalisation of the world - not only in India. But specifically in India, with this young population, who is even more keen to be connected, our approach in terms of sales and marketing is different. We are going, as I said, to digitalise our production. What does that mean? First of all, we have developed a tool to do it. And this tool has not been developed in India, but India will be the pilot. It is a tool that will the dealers to offer digitalisation services. This means, I, as a customer, will be able to use my cellphone to do whatever is possible in terms of transactions needed to buy a car, including the option of buying it online.
I am not saying that this will be a big bang, and everyone will buy cars online right from the beginning. It will be a slow process, because it's not like selling a t-shirt, it's a car! You need to touch and feel it. But, by developing this tool, and enabling the customer to buy a car online, we are offering a different customer journey. A seamless customer journey. And everyone will be able, from home, to configure the car, select the variant, customise the car with accessories, add service contract, finance, entirely from home. And then the car will be delivered. Again, we are not saying that this will cause a big bang right in the beginning. But we can imagine people will like this feature, and will in addition visit the dealer network. Because this network still comes with expertise, and people will still want to take a test drive. But you can start the online process, secure or save what you did, visit a dealer, and then you might want to carry on (with the online purchase). It's what we call "any type, any way, any device, any content".
OD: On setting up a dealer network in India
RB: But what we are going to do as well is to digitalise our process with the dealers. This is very important, because everyone knows that the world is on the way to digitalising everything. But because we are the newest entrant into India, we have no transformation costs, because we have no network to go back to and tell, "Oh, guys, you need to change the way you work - so smaller showroom, digitalise!" Because the truth is everyone would like to do this, but when you have a big network already, it takes time. It takes money. You cannot tell people suddenly that you want to change the business model completely. So far, as far as we are concerned, we can do it. And the dealers have the potential. At least the potential dealers that I meet, who will be part of the network next year, are being explained the project.
We tell them the setup that is different. We want the so-called "Phygital Network". Meaning, a physical showroom, but smaller. Plus digitalise. So, "phygital". Because we still need brick and mortar. We need to go from brick to click, or click to brick. I am going to ask them to invest less in terms of the size of the showroom, but investing a little more on digitalisation. And, more important, the sales executives must be open-minded and be able to use this tool, which is not the case today when you visit. But it's very important. Which is why I am going to select our partners, who are sharing this vision and are ready to invest in the way we want them to. Global investment will be lower, and the speed will be different.
OD: On the response they've received to this approach
RB: Most of the dealer groups, if not all, in India, are family groups. When they do visit us, they usually come with two generations of the same family - the father and the son. Most of the time, the son is a new generation, and is quite young. Many of them who I have met, have gone abroad to study. So they are not the same as the older generation. They are still linked, obviously, but open. So, the ones who are being selected are the ones who are more open. Everyone knows that we cannot stop the digitalisation - this is it! What they do appreciate is the fact that we aren't just saying "We want to do it, we want to do it." We have presented to them the tool that is going to enable them to do it. It is not enough to say "I love you", you need to present some proof of love. This is what we are doing.
OD: On the fact that the interest in new manufacturers seems to fade away fairly quickly 
RB: This is common to India, China, Korea, and other emerging markets. When you look at the launch of whatever the new brand, and whatever the new model, people are always overexcited, and say, "We took during pre-bookings 40 percent of what we planned to sell in the whole year." Except if the car is a disaster. But when the car is properly done, this is the excitement we see. But then, very quickly, they want to stop the production. This is because the market is like this. There will be a huge peak, and then a dip. Because of the moods of the client. Look at Jeep, for example. Because this kind of population, wants something very secure, and they want something fresh every time, because they can afford it, and they can take a risk, and they move, with low-level loyalty, from one brand to the other. Look at the experiences (that manufacturers have had) because I am not making it up. If you look at the launches the graphs are always like this. According to me, the key point is to smoothen it. Because you cannot prevent (the decline) but you can smoothen it.
The key point is the lifecycle management of the product. What does this mean? It means that when you conceptualise a product, when you launch a product, you know that usually you have something like this (the possibility of a decline in interest). But you manage it by saying, okay, first year, I will launch the model, and then I will launch another model every year. Then you will launch a special edition, depending on the success of the car. This is the way you can smoothen the maturity curve that will happen for every product. But in India it happens in a brutal way, compared to some other countries. This is the secret. If you look at a product that failed significantly - take for example the Kwid. But it is because they have not anticipated this sort of lifecycle management.
OD: On their commitment to after-sales and service
RB: Of course, service is a concern everywhere. Two things are important. When we are going to launch the car, we are not going to develop ourselves to be everywhere. We are going to try to cover properly each state. I noticed in India people are driving within the state. When they are moving from one state, they are usually taking a flight. This has to be considered in the approach. So the best way is to be where we are in a state that we are going to be, and to cover it properly. Then, concerning other states, which are going to be difficult. We would like to cover every single town, which is impossible. So we are going to have some partners, in order to have service on wheels. So a service on wheels partnership to repair the car wherever it is. Because we cannot let down the customer, but the truth is no one can manage to have a service centre in a small village. So we will have service on wheels development, to make sure that we will never let down any customers.
OD: On the response to Citroen's brand identity and design language so far in India
RB: The level of awareness of Citroen in India is still low, because we have not communicated it too much yet, because we have not yet launched any product. Nevertheless, we have already developed a communication, based on the Citroen logo, etc. And every OEM is analysing, through an external company, the brand sentiment. Because there are three aspects - negative, neutral and positive. Neutral is when people are repeating what an OEM says. Negative, is when people disagree with what the OEM says. Positive is when they say "Oh, it's good". So, our level of brand sentiment is over what we expected at this stage. But again, on referential basis, it is not too high. But there is good brand sentiment expected on this stage. But we need to analyse it more. And next year we will increase the communication and the awareness.