Greta Electric Scooters launches first EV at Rs 41,000, with a catch
Gujarat-based EV start-up, Greta Electric Scooters, has announced the launch of its first electric scooter called the Greta Harper ZX Series-I, and just part of it costs Rs 41,999.
An interesting aspect about the Harper ZX Series-I is that the company is asking its customers to choose from a range of battery and charger options, provided by the company itself, as per their individual want and need. So, the base price of Greta Harper ZX Series-I is Rs 41,999 (ex-showroom), but it doesn't include the cost of the battery and the charger. The costs of those respective components depends on which one you wish to opt for and the price will also vary depending on the part of the country you live in. Lo and behold! Your Harper ZX Series-I battery options are:
V2 48v-24Ah  - range of 60km per charge   (Rs 17,000 - Rs 20,000)

V3 48v-30Ah  - range of 100km per charge (Rs 22,000 - Rs 25,000)

V2+60v-24Ah - range of 60km per charge   (Rs 21,000 - Rs 24,000)

V3+60v-30Ah - range of 100km per charge (Rs 27,000 - Rs 31,000)
Once the customer has selected his/her battery preference the company will set the scooter up accordingly. This battery unit remains fixed and cannot be removed/swapped. Also, depending on the customer's choice, the price of the charger would range from Rs 3000 to Rs 5000. Each battery comes with a three-year warranty.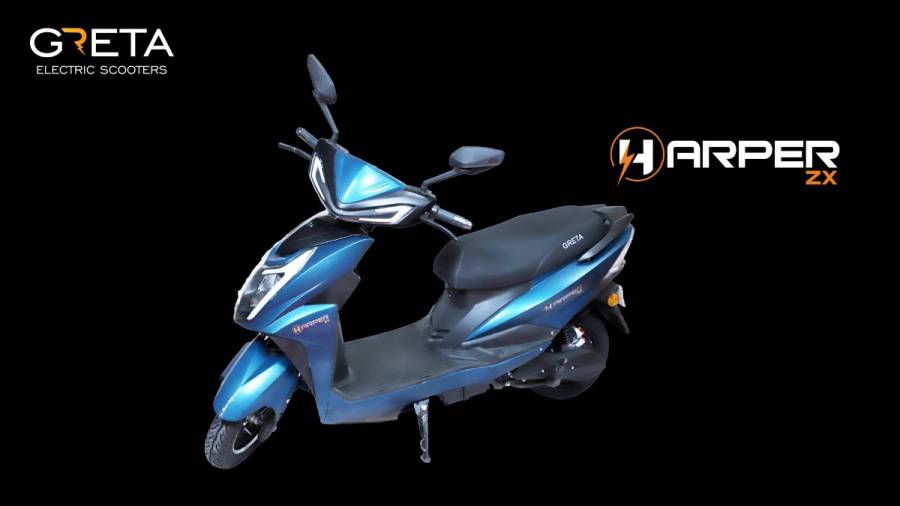 The Harper ZX Series-I is said to come equipped with three ride modes - Eco, City and Turbo - and with the top battery V3+60v-30Ah slotted in, claims to deliver a range of 100km, 80km, and 70km respectively, when fully charged. The electric scoot comes with a regular charger unit which the company say offers a full charge in five hours while the dash charge will get the battery up to 80 per cent in three hours.
Other features of the scooter include an LED digital instrument cluster display and a keyless ignition. Then there's also stuff like ignition/child lock, park mode, a fixed reverse speed limit, a front glove box, find my vehicle alarm, and a USB port for some added convenience.
Underpinnings include a 10-inch wheels at both ends, a telescopic front fork, rear cell shock absorbers, a hydraulic disc brake at the front and drum brake at the rear.
Pre-bookings of Greta Harper ZX Series -I have commenced today at a token amount of Rs 2,000
Scooters are expected to be delivered to customers within 45-75 days from the date of booking, as per the booking sequence.