Ferrari launches California T in India at Rs 3.45 crore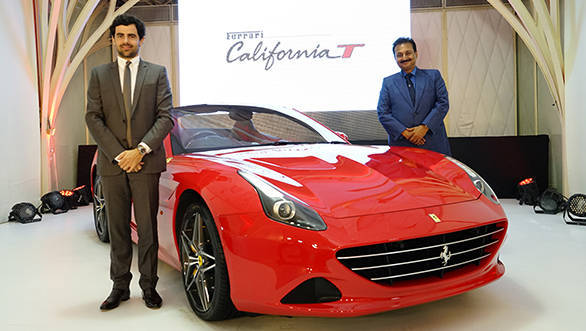 Ferrari has launched the California T in India at Rs 3.45 crore, ex-Mumbai. It was first unveiled at the Geneva Auto Show last year. The grand tourer will be available in Mumbai through Navnit Motors Pvt Ltd. The Ferrari showroom in Mumbai is expected to open in October 2015 and will be at the Bandra Kurla Complex  . The California T gets a new 3.9-litre V8 turbo petrol that makes 552PS, mated to a seven-speed dual-clutch transmission. The car has a claimed 0-100kmph time of 3.6 seconds.
The California T also gets Ferrari's F1-Trac stability control system, SCM3 magnetorheological suspensions, ESP 8.0 and a carbon-ceramic braking system. To help minimise throttle response times, the car gets a low-inertia, flat-plane crankshaft combined with twin-scroll turbines. The bodyshell and chassis are entirely made up of aluminium and so is the retractable hard top, which Ferrari claims can transform the car from a roadster to a spider in just 14 seconds .
The interior of the car gets a Turbo Performance Engineer (TPE) placed between the two air vents on the dash. This touch-sensitive display provides real-time information on engine performance. It also features a 6.5-inch infotainment system that can be operated either by touch or by buttons.
You can find the image gallery of the California T here.
Ferrari California T charges into Mumbai
Mumbai, August 26th - With a new turbocharged V8 engine, an increase in torque by 49% and a reduction of 15% in fuel consumption, the Ferrari California T epitomises elegance, sportiness, versatility and exclusivity: characteristics that have distinguished every California model since the 1950s. The updated California T features a revised body design to match the new engines boosted performance, with the holistic sports driving experience maintained at the exceptionally high level one expects from a Ferrari. Now Available in Mumbai, with the newly-appointed Ferrari Dealer, Navnit Motors Pvt. Ltd., the team unveils the prancing horse and marks a new era for Ferrari in India. Navnit Motors, a successful group with Mr. Sharad Kachalia at the helm, is highly recognized for setting notable operating standards in the luxury automobile segment. The state of the art Ferrari showroom is expected to open in October 2015, and will be located at Bandra-Kurla Complex. The California T boasts striking standards of innovation while retaining signature features such as the successful 2+2 concept, a refined cabin and, of course, the retractable hard top (RHT) which transforms it from a chic coupé into a sleekly sophisticated spider in a mere 14 seconds. The model brims with a host of new solutions, not least of which is its 8-cylinder turbocharged engine. Maranello's engineers have created an entirely new power unit which delivers absolutely superb levels of performance, blistering pick-up and the most exhilarating soundtrack any turbo has ever yielded. This is also the first time virtually zero turbo lag has been achieved on an engine of this type, guaranteeing instantaneous response to commands and, as with naturally-aspirated power units, a torque curve that increases constantly across the rev range thanks to Variable Boost Management. The direct-injection, 3 855 cc turbocharged 8-cylinder is mounted very low in the chassis in a mid-front position and delivers 412 kW at 7 500 rpm, which translates into a specific power output of 107 kW/ litre - the highest in its segment - along with maximum torque of 755 Nm. Figures which give the California T extraordinary acceleration over the 0 to 100 km/h sprint, which it covers in just 3.6 seconds. As in Formula 1 this season, a turbo is used to cut fuel consumption and CO2 emissions. Compared to the outgoing model, fuel consumption is down by around 15 percent* despite 52 kW more power and a 49 percent increase in torque. Emissions are down to 250 g/km over the combined cycle which equates to a 20 per cent reduction in the CO2/kW ratio (0.6 g/kW). The California T's engine also benefits from several other solutions used on the single-seater - not least the compact, very low- inertia twin-scroll turbines to ensure ultra-sharp throttle response. Expert Scuderia methodologies and the plant are also used for certain phases of its production, particularly at the casting stage. One major design challenge of the California T was to guarantee a characteristically intense, exhilarating Ferrari engine sound. This was achieved through meticulous design work and the use of special manufacturing techniques for essential components, such as the flat-plane crankshaft and the three-piece cast exhaust manifold and turbo housing. The engine produces a powerful, engaging sound during both the intake and exhaust phases, becoming even more potent as engine speed increases. This the first time a result of this kind has ever been achieved with a turbo engine. The California T delivers true sports car dynamics as well, thanks to reduced steering wheel activity and improved steering response to driver input, courtesy of a new steering box and suspension set-up. New springs and latest-generation Magnaride dampers (which respond 50 per cent faster), combined with body motion accelerometers, reduce roll and pitch for more precise handling whilst still guaranteeing an incredibly comfortable ride. The California T also has the latest evolution of the F1-Trac traction control system for maximum acceleration out of corners, thereby underscoring the sportier side of its personality. The California T's architecture, controls and new 8-cylinder engine ensure consistently intense driving pleasure in challenging driving conditions as well as making the car fun to drive even in more relaxed situations, very much in the Grand Tourer tradition. The CCM3 carbon-ceramic braking system is also extremely efficient with new composite discs and pads. The brakes are integrated with the ESP 8.0 premium system which controls the high performance ABS for a short 100 to 0 km/h braking distance of just 34 metres. Considerable attention was paid to the design, maintaining the outgoing model's overall dimensions while ensuring that the California T has a new, individual personality. The sleek proportions were penned by the Ferrari Styling Centre in collaboration with Pininfarina and are very much in keeping with the Ferrari front-engined ethos. The shape of the California T's flanks is inspired by the 250 Testa Rossa's famous pontoon-fender styling, with the front wing line stretching back towards the compact, muscular rear, bringing an aerodynamic sleekness and movement to the sides. The rear benefits from meticulous aerodynamic research resulting in a new triple-fence diffuser. The California T's cabin was designed to be as ergonomic as possible and exudes a sense of warmth and craftsmanship, with luxurious Frau semi-aniline leather trim. The interior space is flexible so that owners can make the most efficient use of the boot capacity even with the top down, thanks to the opening between the luggage compartment and rear seats. TECHNICAL SPECIFICATIONS ENGINE Type Direct-injection 90° V8 Total displacement 3 855 cc Maximum power* 412 kW at 7 500 rpm Maximum torque* 755 Nm at 4 750 rpm DIMENSIONS AND WEIGHT Length 4 570 mm Height 1 910 mm Width 1 322 mm Dry weight** 1 625 kg Weight distribution 47% front – 53% rear PERFORMANCE Top speed 316 km/h 0-100 km/h 3.6 s FUEL CONSUMPTION*** 10.5-litres per 100 km CO2 EMISSIONS*** 250 g/km The human-machine interface encompasses the Ferrari steering wheel with integrated controls while the Turbo Performance Engineer (TPE) takes pride of place between the two air vents in the centre of the dash. The TPE display boasts a capacitive touch-sensitive surround to scroll through screens with information on making the most of the new engine's performance. The California T also features a new infotainment system with an extremely intuitive, high-resolution 6.5-inch screen featuring both touch-screen and conventional controls. *The consumption cut is calculated on a driving cycle which realistically reproduces a clients' use of the car. * With 98 octane fuel ** With lightweight optional equipment *** Combined cycle (ECE+EUDC) with HELE system