Valentine's Day feature: The bikes and cars that were our first loves
It once took just a little push for our affinity for all things automotive to transform into a lifelong passion. On the occasion of Valentine's Day, we recall our first look, touch, feel of being truly enamoured by an automobile. Team OVERDRIVE's auto genesis, if you will!
Yamaha RD350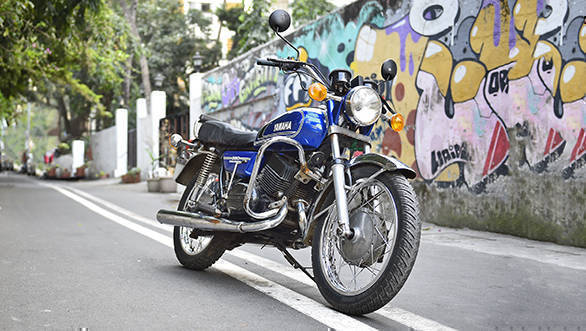 It doesn't matter what the specification says and whether it was an HT or an LT, stock or modded, chrome pipes or expansion chambers. Fera, my first Yamaha RD350 was my first proper multi-cylinder performance motorcycle. It set me on the path I'm on today and I couldn't help but remember it with incredible fondness and love. Because it was a sweetheart. When I got it, it was stripped of all the non-essentials and it ran right only in my hands.
I rode it as hard as I dared and this is before I realised how motorcycles were actually ridden. But it did teach me that riding motorcycles was not an automatic human property, it was a skill that needed research, thinking, application and practice. Something I work hard on even today, years later.
But it was the perfect motorcycle. It ran hard, it sounded great, everyone knew they were looking at something special when they spotted one and there was nothing else like it. Like all of the greatest motorcycles known to man, it also had flaws, just enough to set the threshold high enough so that it wasn't everyone's cup of tea. Just enough so that we thought of it as character, not a headache.
I don't own one today and my desire to re-acquire Fera is weak. But whenever I see that picture of Fera on my bookshelf. Or remember my rides on it, it makes my heart swell with good feelings and joy. And that's what really great motorcycles do. Continue to thrill you long after you've stopped riding them.
- Shubhabrata Marmar
Scale models of Jaguar E-Type Coupe and Datsun 240Z East African Safari Rally
You often recall your 'first love', and many even say you never forget it. But I had, that is until my colleagues in office asked. However, it was not my first sweetheart they were interested in. Instead they wanted to know which car had been my first love.
Now while I may be a 'one woman man', I am certainly not a 'one car type'. Yes right from my nappy days, or sometime around then, I have adored many different cars. For some reason known only to the Lord above, when I was very little, I was given lots of toy cars. Some of wood, others of plastic or paper and few special die-cast scale models made by the likes of Matchbox and Corgi Toys.
The earliest ones I remember are a bright yellow Jaguar E-Type coupe by Corgi Toys and an East African Safari Rally version of the Datsun 240Z. I was completely fascinated by the E-Type's looks and the manner in which the boot and bonnet opened. Yes, just like on the actual E-Type, the boot lid swung to the side and the bonnet went from back to front on my scale model.
The Datsun 240Z's bonnet was finished in matte black and it also had the 'extra animal lights' that were so popular and essential to keep wild animals from dashing into cars in the Safari Rally. The ones on my battery operated toy actually lit up and I think this also contributed in igniting and starting my still-to-end love affair with cars. As luck would have it, many moons later, I actually stood beside Shekhar Mehta's East African Safari Rally winning 240Z in Datsun's museum in Japan! A truly rewarding moment, in my life-long affair with the automobile.
- Bob Rupani
Mercedes-Benz W124
They say when you gaze at the stars your loved ones come to mind. For me, my tryst with automobiles began because of a star itself - the only three-pointed kind in the whole universe.
During my childhood in the eighties, I had three scale models - a Suzuki Alto, a Porsche 944 and a Mercedes-Benz 190E racecar. To me the hierarchy was simple - racecar > sportscar > Maruti 800 - and that logic has stayed so far. Years later, while cycling home from school, I stumbled upon a car that had the same shape as the racecar I had cherished as a kid. It was a W124 E 220.
What followed were endless rides to the bungalow she was parked at, hours of admiration and the hope of being with one. That was my teenage love. The W124 not only brought out my love for automobiles, it also taught me how to appreciate beauty even if you couldn't make it yours. I know I could probably acquire a W124 today, but the fear of falling short in giving her the love and care she deserves, gives me cold feet.
Every time I come across one, I still go weak in the knees. I guess that is what makes your first love so special.
- Rohit Paradkar
BMW F650 Funduro
Image credit: Steve D'Souza
Motorcycles were never the same after 10-year-old me saw this one for the first time. I had read up all about the 'adventure motorcycle' that Hero MotoCorp (then Hero Motors) had brought to India in partnership with BMW.
The Rotax-engined single cylinder F650 Funduro was quite a big deal, until it wasn't. The motorcycle had so few takers that they were sold at less than half the original `5 lakh price. However, my love for the machine did not stem from my respect for the two brands. It was about a child treading into adolescence.
I was barely 13, in high school, with nothing apart from motorcycles and basketball on my mind. At least till the day I saw what I then believed was the prettiest girl to have walked this earth. As luck would have it, she was a senior, and unaware of my existence.
One day I had left early from basketball practice and then I saw her - hopping onto the pillion seat of (surprise, surprise) a red BMW F650 Funduro behind her father.
For a few moments, the butterflies in my stomach had me struggling to focus on either- girl or motorcycle. Predictably, since you are reading this in OVERDRIVE and not a teen mag, the motorcycle won. Thus, setting a trend for my life so far.
And for that, this red fraulein is my Valentine. Years later, I ended up riding this very motorcycle after a friend acquired it. A short but vivid ride down memory lane, that was!
- Abhishek Samuel
Tata Sierra
I have always had a thing for SUVs, for, they look like superheroes among the usual bunch of sedans and hatchbacks. This fascination for SUVs started when I was in school. One evening, when the entire family was in front of the telly, there was this one TVC that got stuck in my mind, that of the Tata Sierra.
A three-door SUV that was ahead of its time, being driven on all types of terrain in the video made me aspire for the Tata Sierra. In fact, whenever I spotted one, I would constantly ask dad to buy one. The Sierra did bear some resemblance to the classic Ford Bronco. But even then there was nothing like it on Indian roads.
It did have an understated design with a modest set of features but the street presence that the Sierra enjoyed was unlike any other. Even so many years after the Sierra has been discontinued, when I spot some of the well-maintained specimens, it takes my breath away. I hope someday a Tata Sierra enters my dream garage in the not-too-distant future. It will be one more adventurous acquisition after Starscream, my Triumph Tiger.
- Aditya Chatterjee
Yamaha RX100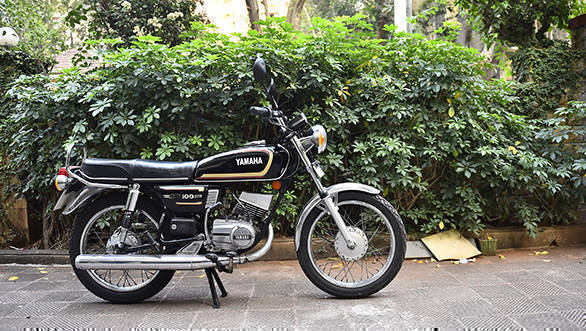 When the first signs of a moustache appeared on my face, I celebrated the life event by teaching myself how to ride a rickety Bajaj M80 that my mom used for her market chores. The hand gears were pretty easy to operate and it only took me minutes to understand how the clutch and accelerator work in tandem. Get it wrong and it would stall, get it right and there was forward motion.
Around the same time, a distant cousin had recently started staying with us. He owned a Yamaha RX100. During one of his trips back home, he entrusted me with his bike keys for safekeeping. With my teenage confidence riding high within weeks of learning the ropes on the M80, I decided to up the game and make the most of the time at hand. I got astride the RX100 and kick-started the engine. It came to life in its trademark note made famous by the Annoying Frog.
I pulled in the clutch, only to realize that the gear shifter wasn't on the handlebar! I walked to a garage close by to understand how a motorcycle gear shifter works and came back home to put the learnings into practice. For some odd reason though, I thought that the bigger the engine, the more accelerator input it would require before dumping the clutch and I did just that. Voila!
The RX100 wheelied in a way that would even outshine my colleague Abhay. Just that I wasn't on the saddle anymore to claim the pride. I walked back to the same garage again, but this time with a broken motorcycle. I had now understood what they meant when they say that the school of experience is very expensive. I had to work on the bike myself to bring it back in shape without breaking the piggy bank.
But learning to ride the RX100 after that incident gave me the rewarding sensation of being able to tame the power. Thus began the never-ending quest of earning that very sensation on every motorcycle I would get astride on.
- Rohit Paradkar
Maruti Suzuki Zen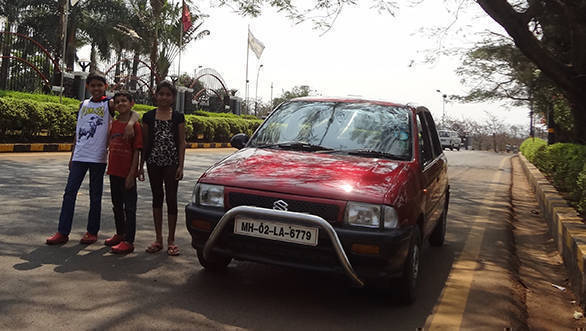 The first time is always memorable, right? I bet you haven't forgotten the first time you drove a car. Me neither. The 2002 Maruti Suzuki Zen was the second car in my family and it arrived when I was a few months from turning eighteen. Like every automobile enthusiast, I was eager to drive the car. A few months after the car was home I couldn't resist the temptation of getting behind the wheel.
I sneaked the keys from my father's cupboard, when he wasn't home, ran down to the parking area and started the car. The smooth, 1,000cc petrol motor was a delight to rev and I often kept revving the engine to listen to the sound, much to the amusement of my neighbours. I engaged first, dumped the clutch with the throttle pedal buried half-way, and the next thing I remember was the car racing towards the building's gate. I slammed the brakes, heaved a sigh of relief and laughed! The Zen introduced me to cars and from then on there was no looking back.
The compact dimensions, peppy motor and go-kart like handling made the Zen a delight to drive. I used to enjoy out-cornering bigger and more expensive cars around long sweeping corners on the expressway. I have also lost count of the number of times I drove the Zen on the twisties leading to Aamby Valley, near Lonavala. Such was the driving appeal of the Zen.
It was my thrill machine, my leave-the-worries-behind car, my trusty companion on drives with my then girlfriend. It indeed was a sad day when my dad decided to sell it off. All I have is memories of it, and I thank my Zen for instilling the driving bug in me.
- Rishabh Bhaskar