Toy story: Track test - AMG A35, BMW M340i, AMG A45 S and Audi RS5
What a time to be an auto enthusiast in India! The price of entry into the performance car club has fallen drastically in the last couple of years, and it seems last year has been especially kind to the enthusiast with plenty of choice coming our way - and not just in SUV form. Sure, there's been the odd Cooper JCW here, or Octi RS there. But again, the six seconds or so to a hundred those cars manage could be all the power you'd ever need for our roads - but we car nuts don't work that way, do we? More is never enough. Until you get to the sub-5 second 0-100kmph class. Which by any yardstick is very, very fast, and usually the point you stop trying to go much quicker. Performance on that level would usually cost you, though. Until now, that is.
Enter the A-Class twins from Mercedes-AMG - the A35 sedan and A45 S hatch, the BMW M340i and Audi RS5 Sportback, with prices for the least expensive car here starting at Rs 58 lakh, going up to Rs 1 crore for the most expensive. Horsepower for rupee from factory hasn't come this "affordable" before! Of course, it can be argued that you used to be able to get a lot more for a lot less, but the fact that cars are expensive now is just one we've to swallow. Luckily, for the enthusiast with something in the way of decently padded pockets, that rupee does work fairly hard, as we can attest after two days wringing these four cars out at the Madras Motorsport Track in Chennai. Mere straight line tools these are not - we guarantee wide smiles through your favourite set of corners. Heck, all these cars turned out to be an absolute riot on the track as well. So whether you're shopping for a performance car to add to your garage, or if it's meant to be the one fun car to do it all, we'd urge you to take a step back from that SUV, and take another test drive. Any of these cars would bring a wider smile to your face…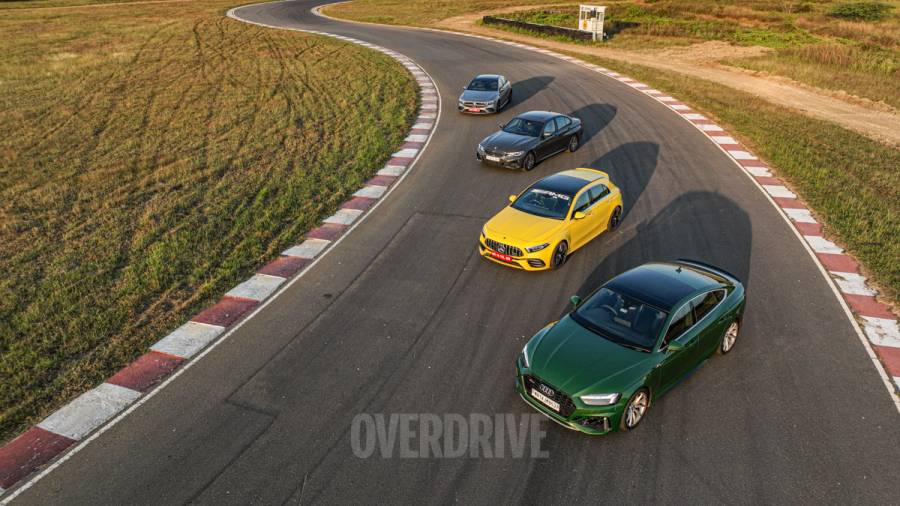 Starter-AMG: Mercedes-AMG A35
Starting at the most affordable end of the spectrum, with the A35 sedan. The feisty 2.0-litre turbocharged engine fettled by AMG (but off a regular Mercedes-Benz production line) pushes the price of Merc's most affordable sedan to a lot more than even the C-Class, which is a size up. But the A35 isn't just a regular A-Class Limousine with a go-fast engine bolted in. The chassis, suspension, brakes - everything's been uprated to be a whole lot more robust (not to mention under warranty) than anything the aftermarket could offer. So while the M260 engine is found in other "regular" Mercs, it's got a twin-scroll turbo and strengthened internals and behaves exactly like you would expect an AMG motor to.
Here in the A35, its tuned to 306PS and 400Nm peaking from 3,000rpm, mated to a 7-speed dual-clutch automatic. It's got 4Matic all-wheel drive which can send up to 50 per cent torque to the rear with its multi-clutch arrangement for fully variable power distribution, though it's primarily front wheel driven under normal circumstances. All that for a 0-100kmph run in just 4.8s, and an electronically limited top speed of 250kmph, which when you think about it is nuts considering it's the most affordable car here and already matches the pace of hypercars from the mid-80s like the Lamborghini Countach LP5000S! It's your entry into the world of AMG, a gateway drug to a brand that has its origins in sports sedans.
It's a helluva thing. We weren't expecting it. And it's a wonderful thing to be taken by surprise. With all the additional bracing and chassis enhancements, not to mention the quicker steering and lower seating position, the A35 is a whole different animal to the regular A-Class. Believe us, we had a diesel A Limousine at the track too as part of the OD jury round and the A35 feels every bit an AMG as the sharp A45.
There's a nice snarl from the engine as you get towards the redline, shifts are quick and precise, the brakes feel strong over multiple hot laps - and the biggest surprise, it's got nearly as good body control. In fact, through the quick direction changes in the essess at MMRT, you can keep the throttle fully pinned and have the A35 just rumble over the curbs with full confidence that it'll hold its line. That, in fact, is the crux of the A35 experience. The confidence it gives you. Given that maximum of 50 per cent torque to the rear split, you really can lean on the outer tyres hard in a corner, and get on the throttle early and be pulled out with full assurance that it's not going to swap ends. Be a little smart on the throttle, and you can even slingshot out with barely any understeer. It was the car that new drivers to the track flocked to, and found speed in. And it's the car that set the third fastest lap time of the day with the Ed behind the wheel. That's really saying something, considering where it stands in relation to the next car on the list.
M3… almost: BMW M340i
When we first drove the BMW M340i on the road, we were more than ecstatic that M's first made-in-India car packaged in a twin-scroll turbocharged 3.0-litre straight six, was just under half a second slower to 100kmph than an M3 at 4.4s, and didn't have the face of the M3. We're only half kidding about that last part but still, for under Rs 65 lakh ex-showroom, what a great deal! Especially now that BMW's launched the M4 Competition coupe in India, at a price of… wait for it, Rs 1.43 crore.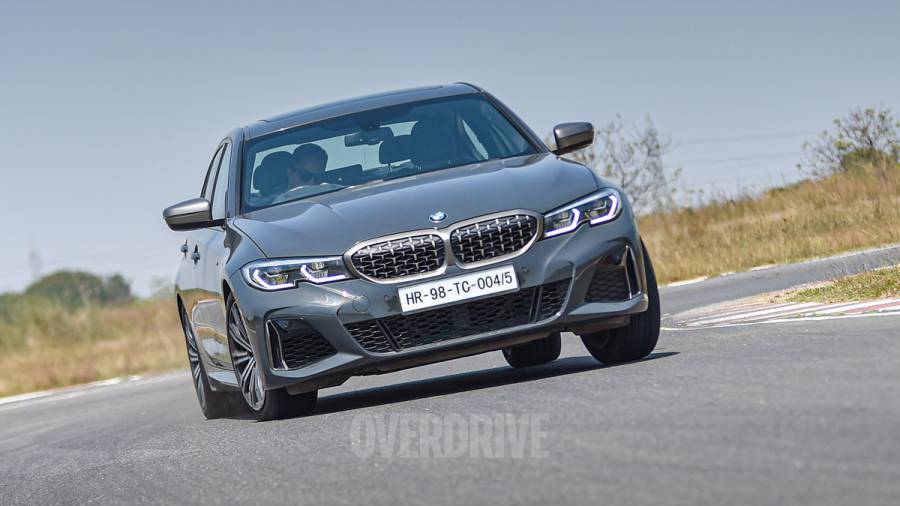 Out on the road, the M340i won our hearts. With 387PS and 500Nm channeled via an 8-speed Steptronic Sport automatic, and a beautifully tuned xDrive all-wheel drive system that could send just enough power back to the rear wheels via an electronically locking diff to keep things interesting, but also keep you out of ditches. The ride courtesy the M Sport suspension was a little firm over bad roads but nothing that couldn't be lived with. Especially once you factored in the lovely, smooth straight six soundtrack, enhanced as it may be.
On the track, the ride actually feels the most supple of all the cars here, definitely providing for more body movements over the curb at the fast chicanes. In fact, the M340i seemed like it had more body roll too, gently taking a set on corner entry and under braking, actually helping you get a feel for the limits of adhesion from the tyres. The thing is, that and the rear-biased all-wheel drive means that you're left waiting for just a moment before you can get back on the power hard… if you wanted to keep things tidy.
Guide the nose into a corner, feel the rear go just light enough to encourage mid-corner rotation, a measured bootful of throttle in Sport Plus, and you'd see a brief moment of opposite lock before the electronics reined it back in. Lap after lap, the BMW felt like it could do it all day. But that's at a less than all-out pace. When the pace was upped, it felt like there was a fine line between getting the car balanced on the throttle, and keeping the brakes from fading a little. Too much throttle and the fronts would scrub away speed into understeer, too little and you wouldn't get the kind of drive out of corners you need for a fast lap. Speaking of, our timed lap in the M340i (unfortunately when track temps were highest due to logistics) turned out to be a couple of seconds off the A35, but it definitely felt like they were quicker times in it. What the BMW definitely rewarded was smooth inputs, with the otherwise slightly light steering feeling like it afforded the best minute control of the car at the limit. It's possibly the best balance of comfort/performance for the road - though serious track work would probably need better suspension and brakes. Finely judged driver's car, this definitely is.
Full-fat RS: Audi RS5
"Quickest Rs 1 crore car" is what we've called the Audi RS5 previously, and that assessment still holds true. It matches its claimed 0-100kmph time of 3.9s every single time you launch it (even on regular octane fuel), even though it actually only launches at 3k revs! As with any fast Audi, there's a lot of visual drama to it launching, squatting heavily, lifting its nose and somehow finding grip where you'd think there would be none.
And that's the charm of the Audi RS experience - traction for days. Sure, the RS5 feels its weight out on the track, and penalises carrying too much speed into a corner by scrubbing its outer front tyres pretty spectacularly. Sorry, Audi! But, then it seems to magically hook up on the exit and just shoot straight out. There's 450PS and 600Nm torque from the 2.9-litre twin-turbo V6, and the motor's the highlight of this package. Revs build so rapidly, you need some serious reflexes just to keep up if you slot the 8-speed Tiptronic in manual. Fortunately, even though it's a torque converter, the shifts themselves are lightning quick up and down the 'box.
It's also, expectedly, very beginner-friendly - at less than all-out pace. That's by virtue of all that grip, and the feeling that it's a tank, just one powered by a rocket engine. Once you put it into the hardcore RS mode and start upping the pace, you realise the Audi RS5 isn't quite the blunt object of force you thought it would be. Smooth inputs pay off big time, with any abrupt throttle or brake applications translating to jagged body movements. It took me a couple of laps of playing around with just that before I could get to a point where I was able to tip the Audi into a corner set up the way I'd like - late at the apex, just enough speed to avoid understeer, and get a clean run out using all that engine's wonderful revs. With the RS5 you truly begin to feel a technical track like the MMRT shrink around you. This car even makes the track feel small! On the back straight, it's not uncommon to see 190kmph flash up before getting on the brakes! That's seriously fast! If you really wanted to put down lap times, the stock Continental ContiSport Contact 5s (with their soft-sit sidewalls) may not be up to the task, not really giving the front end feel you want. The internet seems to suggest Michelin Pilot Sport 4s as a quicker alternative, and in the RS5's case, we think better rubber would help it cut its lap times to bring it closer to the fastest car in this group.
Maddest bang-for-buck: Mercedes-AMG A45 S
You'd think the world's most powerful four-cylinder production engine would be the highlight of the AMG A45 S experience. And you'd be right. But it's a very close toss-up with the rest of the car! The chassis seems lifted right off a go kart, and the steering feels like the wheels are wired right into your synapses - direction changes are that precise and immediate. It all comes together to make for a car that feels light, flickable and confidence inspiring. In its least hardcore Comfort mode. Turn up the beautiful AMG Dynamic selector on the wheel to Race, and you'd better bring your A-game to keep up. AMG's handbuilt M139 2.0-litre twin-scroll turbocharged motor with 421PS and 500Nm provides plenty of reasons to, with max torque coming in high between 5,000-5,250rpm to better replicate the torque curve on a naturally-aspirated engine.
Like in the RS5, you'll find yourself running out of racetrack before you run out of revs. Though with the A45 S, you have more incentive to seek out that little extra burst up top. Similar to the RS5, we saw a little over 190kmph on the back straight, owing to the fact that the A45 seems to get out the long right hander at MMRT with higher exit speeds. In either car we barely saw the redline in fourth gear before the on-track braking markers would seemingly appear out the window. Again this engine's appetite for revs can't be matched, and in Race mode shifts from the 8-speed DCT are almost violent. In fact, the entire experience in its most hardcore mode borders on racecar.
And that's before we even get to the most trick part of the A45 S. Inspired by its bigger brother, the E63 S, this hatch has a Drift mode. Its trick 4Matic+ all-wheel drive system can send up to 80 per cent of the torque to the rear, and uses not one but two multi-clutch disc packs for each rear wheel to fine tune what each is doing under power. And it works better than you'd expect it to. Way better. There's a bit of a procedure to it - dial in Race, put the gearbox in manual, switch off traction control, pull up both paddle shifters at the same time - and prepare to leave logic at the door. The A45 S experience completely turns on its head the moment you throw it into a corner and get back on the gas. This little all-wheel drive hatch turns rear-wheel drive!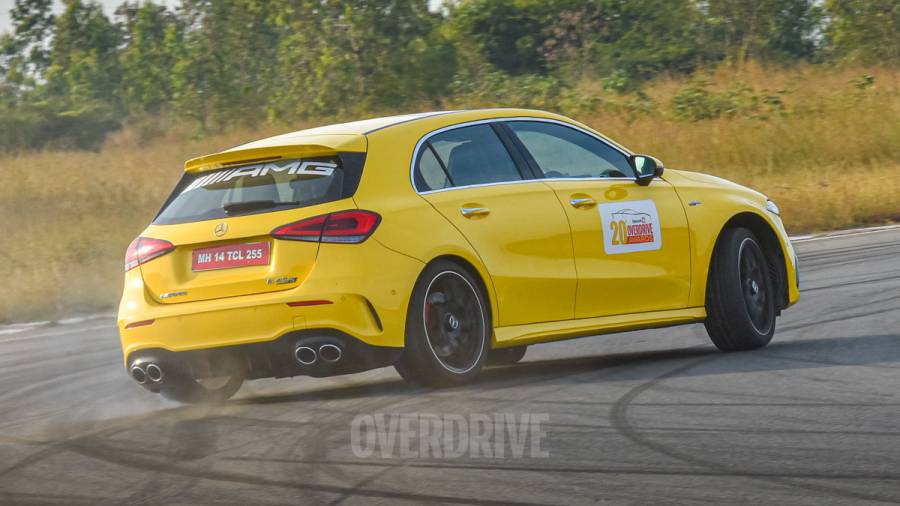 What you're expecting is some amount of oversteer with that healthy 80-20 max torque split. What you're met with is full opposite lock, smoky drifts all through the second chicane at MMRT! I quickly ran out of skill and courage to drive the A45 S in Drift mode at full attack, but Bert did "warm" up the tyres for us a bit. Our fastest lap of the day (at 1:59 flat) came with the car set in all-wheel drive, but again there was definitely a few seconds left on the table with Bert getting just getting four hot laps in each car in which to set a time.
Somewhat telling, the A45 S was the only car that needed two trips to the fuel pump just outside of MMRT. It seems like the most yellow car in the pit lane was hardly ever sat still. Everyone, and I mean everyone, wanted another go in it. The first super hatch in the country definitely lives up to its billing, and considering it comes in at under Rs 80 lakh, all its other misgivings (firm ride, small boot) are very, very easily forgiven. It may be the most expensive hatchback in the country but, oh boy, you could easily justify buying it even if it a measure or two more expensive than what it is. Now if only Mercedes could justify making it here in India, and dropping the price further. The A45 S has the potential to completely change the performance car scene in India. For good.
Photography by Anis Shaikh/Sumit Gaikwad
Price (Ex-Delhi)
Starts Rs 30.5 Lakhs
Price (Ex-Delhi)
Starts Rs 42.34 Lakhs
Price (Ex-Delhi)
Starts Rs 38 Lakhs