2014 Royal Enfield Tour of Bhutan
Life tends to throw a number of questions your way and finding the answers to these questions can lead to interesting things. Questions like 'Who am I?' could push your limits or help you come to some self-realisations. Difficult ones like 'How did you contribute to the magazine this year?' can force you to both delve into your past and use your imagination at the same time. And then there are really easy ones like "Do you want to go on the Royal Enfield Tour of Bhutan ride this year?" That's really easy. It's an immediate, resounding "Yes."
Of all the Royal Enfield owners rides held every year, the Tour of Bhutan is the one that I've always wanted to go on. I've heard many accounts from friends that it's a truly amazing place, filled with natural beauty and a breathtaking new vista around every corner. Having missed out on a chance to travel to this neighbouring country in the past, there was no way I was going to pass this up again. Another quick question, how does travelling 1500 kilometers on a Royal Enfield Continental GT through mountain roads and beautiful scenery while snacking on delicious food sound? That's another easy one – "Good."
[caption id="" align="aligncenter" width="586"]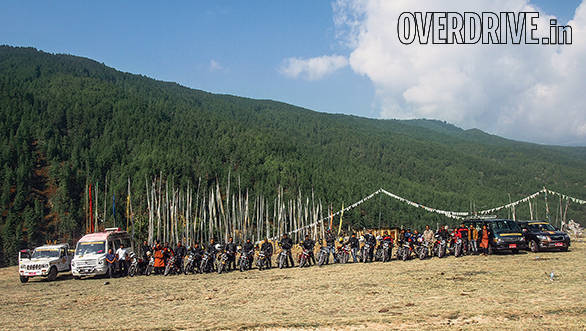 The entire Royal Enfield TOB team gathers for a group shot[/caption]
Riders gathered for the safety briefing on the eve of the ride
Where did we go?
The trip started in Siliguri in West Bengal from where we headed to Darjeeling to spend a damp night in the clouds before heading to Phuentsholing. This little border town allows easy access to Bhutan from West Bengal and gave us the first little taste of what was in store for us over the next eight days. We next visited Paro and Thimphu which are the two largest cities in Bhutan. Paro has the country's only tarmac airstrip while Thimphu is the capital. After a day of rest in Thimphu, taking in the sights, we set out for the North East of Bhutan, first heading into the valley city of Bumthang and then climbing back up into the mountains to Tashigang. The last day's ride was from Tashigang to the border town of Samdrup Jongkhar, then exiting into Assam where the Tour of Bhutan came to an end.
Taktsang or 'Tigers Nest' is one Bhutan's most iconic locations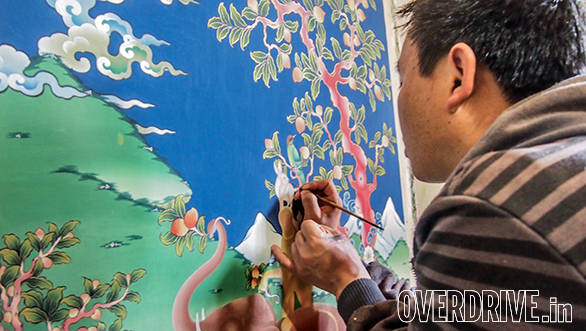 Traditional Bhutanese art or 'Lhazo' is known for its great detail
Two-wheeled paradise
Is Bhutan a two wheeler's paradise? Well that actually depends on how you like to ride. Once into Bhutan, there are very few straight roads, so if you like corners and riding in the hills then this is the place for you. The roads are empty with very little traffic and any traffic you encounter is very well mannered. So much so that if you come up behind someone, they will pull over and let you through as soon as they see you - there's no need for any honking. In fact you will hardly hear anyone using a horn in Bhutan at all.
The roads are narrow and most of them are decently surfaced. At the moment though there is a huge exercise being conducted to widen the roads and so there were massive stretches of broken road and in some cases, no road at all, which for me just added to the fun. On the way from Tashigang to Samdrup Jongkhar we were treated to some of the finished sections and they were pure bliss – wide, perfectly flat and without a single straight section anywhere. In a few years time all of Bhutan's roads will be like this. Brilliant!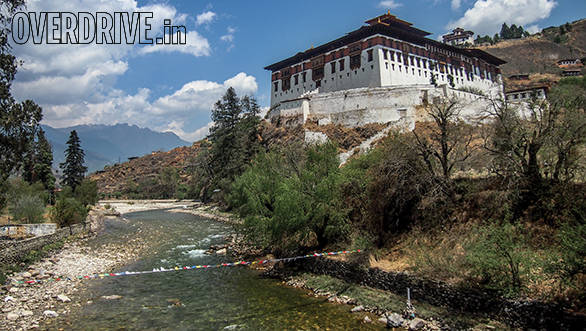 Rinpung Dzong is the largest fortress monastery in Bhutan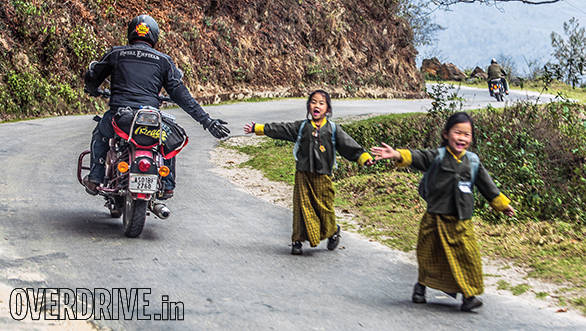 Kids would stretch out eager high-fives as we passed by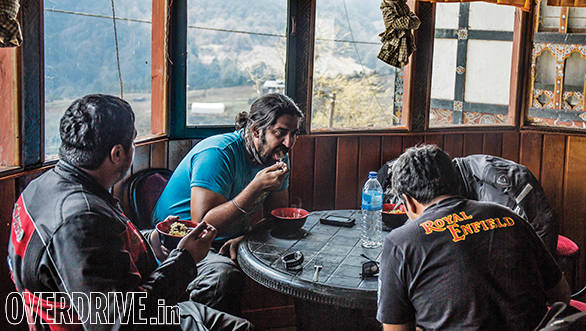 Three of us journos scoffing down some double fried pork
What's Bhutan all about?
Bhutan really took me by surprise. It's the only country in the world that actually takes measures and strives to maintain the happiness quotient of its people. And from what we saw over those eight days, this actually works. Truly happy people greeted us everywhere and everything seemed to be suspended in complete harmony. There is also no visible economic divide and we saw no poor people nor did we see any signs of immense wealth.
They are also very protective of their culture. It's mandatory for citizens to wear their traditional dress (the 'Gho' for men and the 'Kira' for women) when visiting schools and government office and most citizens choose the national dress as their formal attire. In fact a similar code even seems to exist for their houses and all the buildings which, be it in the capital or a smaller town, wear a pleasant traditional look.
Another pleasant surprise is that despite the fact that this is a Buddhist country, meat is widely eaten. This has more to do with the terrain and the availability of food than any religious sensibilities. The food is excellent too very mildly spiced and mostly fried. The double fried pork was my favourite and a must try for the foodie. Vegetarians on the other hand have far fewer options at the dinning table.
What makes one happy?
That's one of the difficult questions. My words and these snapshots may paint a good picture of this wonderful country but the reality is a lot more than just that. There seems to be a kind of magic in the air that supersedes the beautiful vistas, the smiling people, empty roads and splendid food. There's something about the simplicity of life in Bhutan that just lifts spirits. So much so that it has all of us on the ride stopping on the side of the road every now and then just to take it all in, not on film or silicon but just breathing in the clear mountain air, completely at peace and truly happy.