Keeway Vieste 300 - first ride review
Scooters have always been seen as the more convenient approach to getting around town as compared to geared motorcycles, and over the course of time out here in India we've seen them evolve from being 100cc and below rather fuss-free uncomplicated machines to being larger displacement, more sport focussed, more dynamic in nature and more packed with features. But what if you wanted a that offered you the performance of a but the convenience and practicality of a? Well, you didn't have a lot of options up to this point in time. You had a couple of Vespas, Aprilias, the Yamaha Aerox and of course the more expensive BMW C400GT. Now we have yet another player in this game – it's called the Keeway Vieste 300 and if you're wondering what Keeway is, well it's a Hungarian company that's owned by the Qianjiang motor group the same conglomerate that owns Benelli. Without further ado, let's see what this has to offer.
Design and Features:
Now as its name suggests, the Vieste 300 is a big 278cc, single-cyl, liquid-cooled. It's bigger than your average in terms of displacement and in terms of its design size. It's got the traditional maxi- styling of big split LED headlights with those cool brow-like DRLs. the headlights themselves have a nice quirky design to them. A big front fairing, big chunky 13-inch alloy wheels with disc brakes and single-channel ABS at both ends. Up top, you have a nice big flyscreen that protects the dash from the elements. Behind it, you get a nice wide handlebar with a split display in the centre. It's part analogue and part digital and it's quite cool because it has this nice old- late-90s vibe to it. On one side you have the tacho, speedo in miles and km, the centre is the digital unit which reads out a good amount of info ranging from fuel level time, trip, ambient and engine temp etc. One small bit that looked out of place is the graphic at the top which would imply that Keeway has lifted it off one of its motorcycles that's sold in other markets.
If there was one thing that this appeared to be lacing, it would have to be Bluetooth connectivity – a feature that even some smaller capacity scooters and motorcycles come with these days, and although the does come with heated grips as standard, which works really well as I found out on a rainy day's ride, the doesn't give you any fuel consumption readings either.
Further down, this does come with keyless ignition, which is nice. Now, this is a proper maxi so you have a centrally located fuel and you'll have to keep your feet on either side. Foot space is at a premium if your feet are a size 9.5 and above. Further behind you are welcomed by a nice broad seat which is very accommodating you have a small cushion that gives you some back support for when you're touring long distances. The tail end looks nice and broad – suiting the proportions of the overall. Even the-style barrel exhaust seems to compliment the overall modern design of this Vieste 300.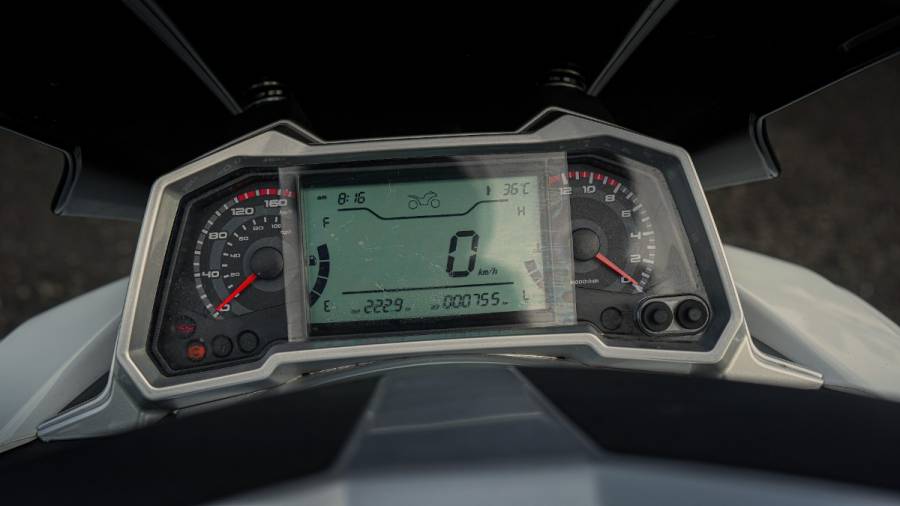 Ride and Handling:
So now we're out here with the Keeway Vieste 300, not this is powered by a 278cc, single-cyl, 4-valve, liquid-cooled motor which puts down around 18.4PS of max power and 22Nm of max torque which all sounds well and good, and when you set out onto the, you'll find out that this all translates really well. There is quite a bit of vibration at idle but it all irons out when you get going. Acceleration feels brisk and it feels lively even when you're picking up the pace at 40kmph. The feels very composed in a straight line at speed and the engine feels like it's waiting for you to really wring the throttle. The feels very comfortable cruising at 80kmpg at around 5,000rpm and it's still got enough juice to carry out a quick overtake. Suspension is set u stiff, as you would expect of a that's meant to be sporty. But if you're the sort that has some back problem or constantly suffers from back aches, you won't take a liking to this one.
Chucking the into a corner at speed doesn't feel overly comfortable, because they want to sit back upright again. The Dual channel ABS on the 240mm discs up front and the220mm disc at the rear works fairly well. It doesn't kick in very early on the rear, and that's something I kinda like because you can lock up at times, but not something that everyone will particularly fancy.
So in terms of downright performance, the Vieste 300 does well, but in terms of fit and finish, the left a bit more to be desired. I did come across some odd and ill-fit bits like a flimsy fuel filler lid, the ignition knob that looked like it was taken from a washing machine, and the throttle cable that kept popping out of place and looking odd. I really expected the under-seat storage to be a lot more accommodating as well.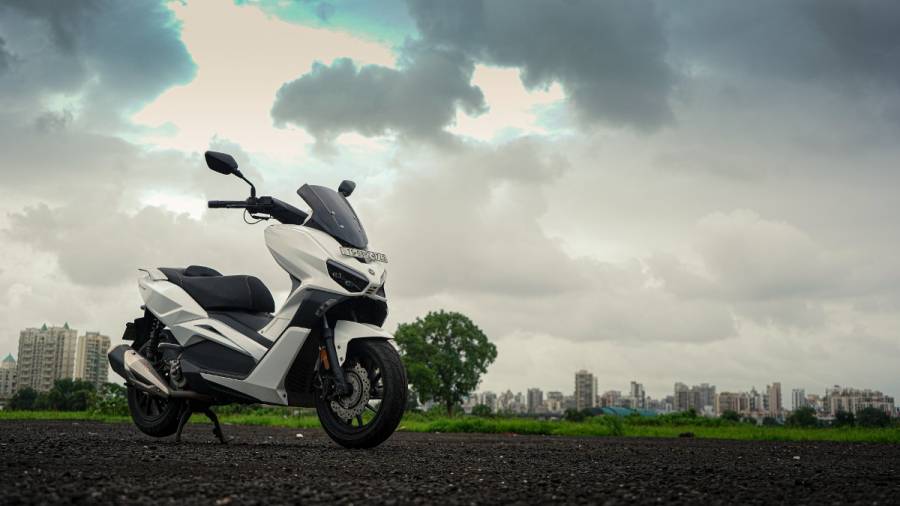 Conclusion:
To sum up, the Keeway Viste 300, let's start off with a couple of plus points. Looks are a forte of this. It definitely looks bigger than your average sporty 150cc that's currently out there. If you're a teenager riding around town or to or what have you, this will definitely make you look like one of the rich kids. If you're on the older side of the age spectrum, this is the kind that will make you look at least 10 years younger. In terms of performance, this backs its credentials as a maxi. It's got enough shove to get you ahead of traffic in the city as well as out on the highway. The suspension holds up pretty well as a performance-focussed and in that sense, the ride and handling are quite good too. Now for the not-so-good bits. I'd have to say that it does fall short in terms of the features that it offers. I would like to have seen Bluetooth connectivity in addition to a couple more features once you consider its pricing of Rs 3.25 lakh. This brings me to its major shortcoming – its pricing. It's just too expensive. This is the second most expensive you can get your hands on, currently in India, after the BMW C400GT, but it just doesn't make enough sense. There are other options in this space that are more affordable, offer better features and if not on par with, are better in terms of performance.
Price (Ex-Delhi)
Starts Rs 2,99,000
Price (Ex-Delhi)
Starts Rs 1,02,700
Related Stories