Honda Shine 100 first ride review: Got Shine?
To say that it's taken a while for a manufacturer like Honda to enter the 100cc motorcycle segment in India, on its own, would be an understatement. But it's finally done it with the 100cc Shine. It's petite, simple, and basic. Still, time to find out what the Japanese manufacturer's maiden entry into the tightly contested 100cc commuter motorcycle space is all about.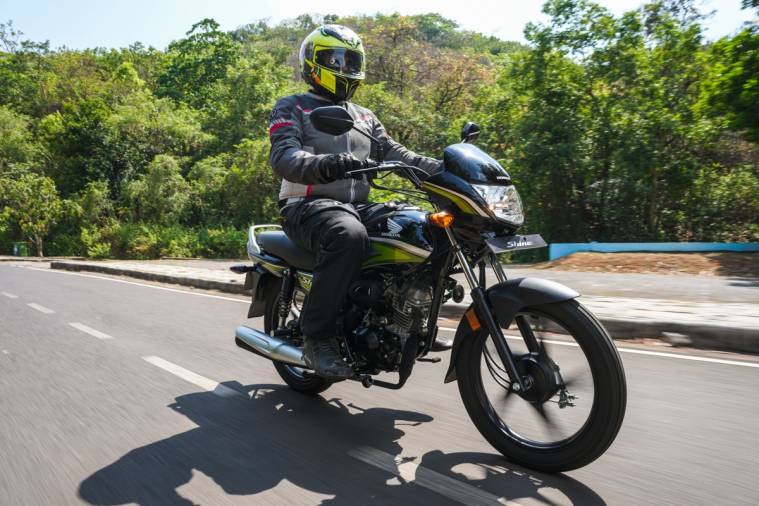 The 125cc Shine commuter motorcycle did very well for the company ever since Honda launched the bike back in 2006. Since that time it has become the hottest selling two-wheeler motorcycle in India because it was simple, frugal, comfortable and affordable to the masses. Now the company is offering a different take on that revered package with this 100cc Honda Shine. It doesn't offer as many features as the 125cc version but is a lot more affordable. How does this motorcycle fair in today's world? We're about to find out.
Design and Features
In terms of its design, the 100cc Shine resembles the silhouette of the bigger 125cc Shine. Its theme isn't new, or even exciting for that matter but it's not the worst thing to look at out on the road, in truth. A quick glance over the bike and you can tell that it's a basic 'A-to-B commuter' motorcycle with minimal frills. You get alloy wheels, but no tubeless tyres or disc brakes. You get halogen bulbs all around, without any fancy-looking LED DRLs - so clearly function precedes form out here with this one. The instrumentation is all analogue and, like the switchgear, feels of an older era and very basic.
Although its levels of fit and finish are just about acceptable by today's standards, it still a motorcycle that precedes the digital and Bluetooth era and there's evidence of cost savings all over the Honda too. Like for instance - the lack of a kill switch on the right side of the bar, then there's the rider's footpegs which don't fold back so you could hurt yourself if you aren't careful, and the rear shocks which aren't adjustable to name a few. But all this is more-or-less acceptable because this is what the motorcycle is meant to be – it's one of those 'less is more bikes' where simplicity is the name of its game. It's one of the workhorses that fly under everyone's radar.
Engine and Performance:
Powering the 100cc Honda Shine is the all-new 98.98cc air-cooled single-cylinder motor which makes a fraction over 7PS of max power and 8Nm of max torque. Out on the road, the motorcycle manages speeds of around 50kmph very nicely, but the more momentum you carry the rougher this bike begins to feel. The engine isn't as refined and as 'Honda' as I'd expected it to be. Still, it manages up gradients well even with two astride. It's a smooth engine initially, feels quite frugal given what this motorcycle is set out to do, but then again given the way this motorcycle is setup in terms of its suspension and brakes, it isn't really meant for speed.
Even if you do find the time and space to take the bike's speedo needle past the 80kmph indication on the dial, braking in time may be an issue because although there's CBS (Combined Braking System) you don't have the reassuring feeling or consistency of a disc brake at either end of the bike. The 100cc Shine's engine is very tractable and even though it's got just four gears, it feels like a motorcycle that will allow you to potter in and around town in comfort, at the speed of 50, all day. In fact, that's one of the main USPs of this motorcycle – its level of ride comfort.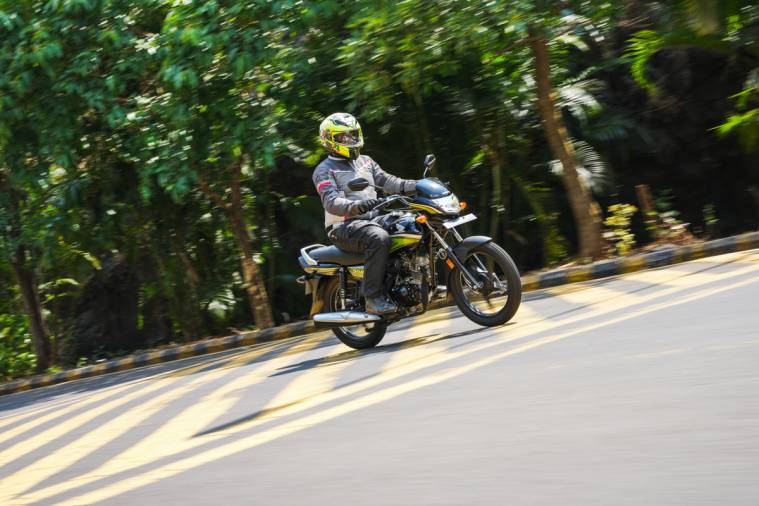 Ride and Handling:
The Shine 100 feels light and with a small 9-litre tank between your knees, it's so easy to manage. It's got a great turning radius so getting through gaps in standstill traffic will be a breeze. The suspension is very absorbent and will keep you isolated from a good amount of the rough stuff on the road, provided that you're taking it on at the right speed. Go any faster with a pillion aboard and things can get bouncy and uncomfortable. The flattish single-bench is a tad narrow, still, very accommodating and you could spend a good amount of time in the saddle with no aches and pains.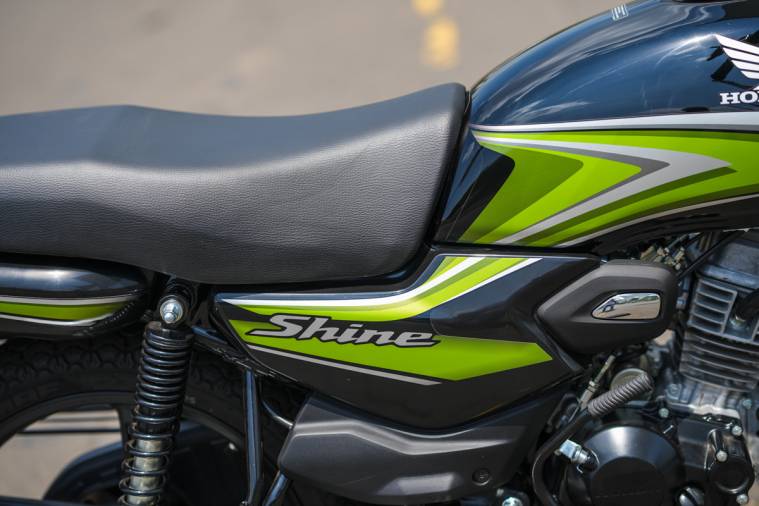 Obviously, it's no corner carving scalpel but the Shine 100 doesn't mind taking on bends at 50-60kmph. Overall, it does everything you'd expect from a commuter motorcycle from this sort, just that it doesn't feel exemplary or excel at any particular riding aspect. Apart from maybe the mileage of course. But maybe that's what motorcycles of this type are all about. Keeping things simple and tidy.
Summary:
Now the 100cc Honda Shine costs around Rs 64,900 (ex-showroom, India) and that's a good Rs 14-15,000 cheaper than the 125cc version of this same motorcycle which is quite substantial. But to sum it up, is this one great to look at? No. Does is come with a good amount of features? Heck no. There's barely any of them in the first place. But then again, this A-to-B commuter bike – it's affordable, comfortable, it's light and easy to manage out on the road – so it does manage to do what it set out to in the first place pretty well. Now, the main selling point of a motorcycle of this sort has to be its fuel efficiency, because that's why anyone would buy a bare-bones commuter bike like this in the first place. Unfortunately this time around, we couldn't get down to that on account of time and event constraints. But overall it is competitively priced and comes across as a decent and affordable package overall.
Price (Ex-Delhi)
Starts Rs 72,900