Exclusive comparison test: 2020 Skoda Karoq vs VW T-Roc
It's the two SUVs you never really knew you needed but suddenly find yourself wanting, for no reason other than perhaps that they're both from premium brands, command a premium over the other SUVs that are technically their rivals and are full-imports into the country. Maybe it's even the fact that these CBUs have been limited to just 1,000 units each at this point, guaranteeing exclusivity no matter which way you pick. Under the skin, they're essentially the same – riding on the VW Group's modern and modular MQB platform, powered by 1.5-litre TSI EVO engines mated to 7-speed DSG automatics, and only available in a front-wheel drive format. Not to forget, that they're both offered in one fully-loaded variant. Given the similarities, just how different can they be?
Styling
Well, apparently, as different as chalk and cheese. The T-Roc, for the sake of this argument and by virtue of its colour, being the cheese, that's outwardly at least what you would want to reach for. It's a striking looking car, but definitely more crossover than SUV with its low-set front end and steeply raked rear windscreen.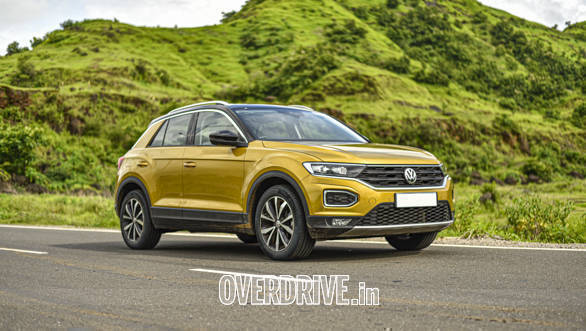 Everything from the unique LED light signature, and its wide, squat stance to the sinewy muscle in its flanks (those rear haunches, wow) demands a second look, though from some angles it does look suspiciously like a hopped-up hatchback. Which in effect is what it is – essentially being a Golf Mk7 with more ground clearance. Speaking of which, the T-Roc has an advertised laden clearance of 160mm (or 11mm more than the Tiguan), which may sound worrying but actually isn't, with the stiffly-sprung suspension helping keep it from bottoming out over even the most monstrous of speed breakers. Having the wheelarches form cutouts in the shoulder line of the car was certainly a good move, giving it the appearance of being even lower to the ground than it is, which reinforces VW's tendency to purposeful design. Though with overall dimensions of 4,234mm length, 1,819mm width and 1,573mm height, it certainly does come across as petite, even against something like a Hyundai Creta (at 4,300mm length).
The Karoq, on the other hand, is a size larger even if it's not immediately apparent, with dimensions of 4,382mm length, 1,814mm width and 1,624mm height. Importantly, the Karoq is 48mm longer between the wheels, which helps it when we get to talking of cabin and luggage space. To look at, if you've seen a Kodiaq and admired its handsome, understated design, you'll likely have the same impression of the Karoq. It's pretty much the spitting image of its larger 7-seat brother, right down to the split headlight/fog light treatment, sharply pressed lines, squared-off wheelarches and subtle brightwork. The Karoq is taller, and far more upright than the T-Roc. It's also more SUV-like, with the rear quarter glass area sealing that impression, over the T-Roc. Both cars ride on 17-inch wheels, wearing 215/55-sized rubber, and the turbine-style wheels on the Skoda do look more striking than the T-Roc's wheels.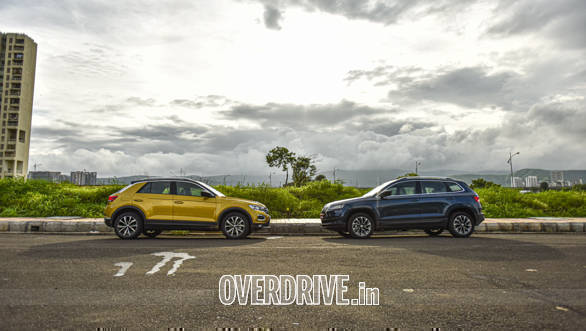 Interiors
At first glance, the T-Roc stands out as having the more driver-focussed cabin of the two, with its flat-bottom steering wheel and entire centre console canted towards the seat of power. Excuse the lame pun, because that's the second thing you'll notice when you get into the T-Roc and reach for the seat adjustment controls. There are none! It's all manual here. Still, the seat does go quite low, far lower than it does in the Karoq, making for a sportier-feeling perch, or at least one that's more car-like, if that's what you prefer.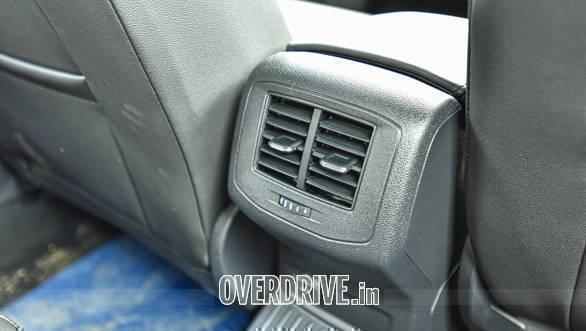 The cabin's layout and design doesn't try and break the mould in the way the exterior does, and the exterior-colour dash inserts we liked on the car we saw at the Auto Expo has made way for sombre metallic grey trim. Disappointingly, the entire cabin is covered in hard plastics, which may or may not be a dealbreaker for you but it's certainly something you're reminded of often. Helping distract you from the fact that the door handles creak when you put weight on them is the infinitely-customisable digital instrumentation, and fluid touchscreen infotainment. It's a large-feeling cabin up front, and is ergonomically sound too.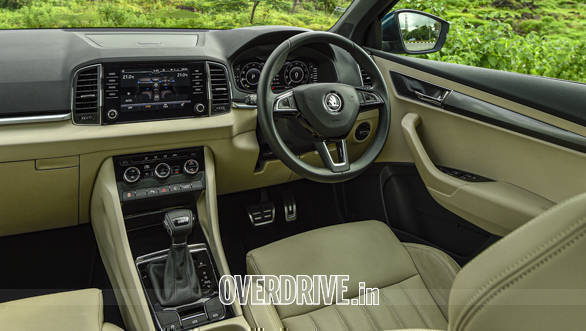 Stepping into its Czech-cousin, you can tell where the extra asking price goes. The Karoq's cabin is almost exclusively made with premium soft-touch materials, easily besting anything else at this price point, and even above it! It's not for nothing we call it a mini-Kodiaq, really. Even the seats are better bolstered and wear more expensive-feeling leather upholstery. And while both cabins boast exacting fit, there's definitely less give to certain panels in the Karoq when you push against them. The two cabins actually feel like the inverse of each other in a way, with the Karoq getting a light lower cabin and dark headliner, with the T-Roc reversing that. As a result, the Karoq does feel more airy inside, helped no doubt by its panoramic sunroof that's a size larger than the T-Roc's.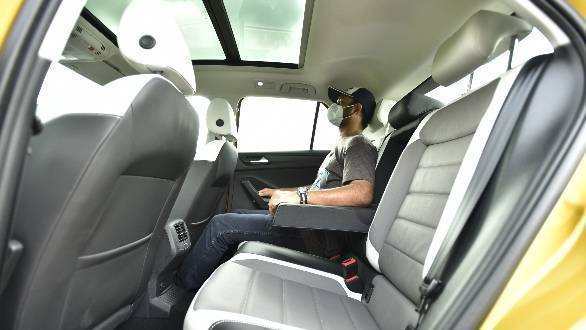 That extra 48mm in wheelbase that the Karoq touts is just about evident in how much further the driver's seat seems to you when you're in the second row. It's not a huge difference, mind you, but it's likely to be very noticeable to anyone over 6ft tall. The seat backs in both these cars may feel a bit too upright, but the flatter seat on the Skoda sort of remedies that by offering a touch more under-thigh support. The extra wheelbase also shows itself in the 521-litre boot capacity on the Karoq, versus the T-Roc's 445-litre boot. Importantly, the Karoq's boot lip itself is lower, and Skoda's packed in plenty of little touches, like the bag hooks, velcro partitions to hold small knick knacks, removable torch light and such that'll make you go, "Ah! Simply Clever!"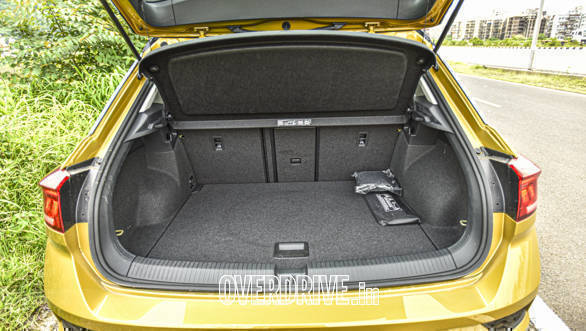 Comparing features, the biggest, most obvious difference is the powered driver's seat and cruise control on the Karoq, though the T-Roc adds in heated seats, which is somewhat pointless unless you stay up North. Both cars run different skins on their digital instrumentation and infotainment screens but follow largely similar menu systems, with similar audio quality too.
Safety features
The Karoq goes above and beyond in offering nine airbags, to the T-Roc's six, though both have got 5-stars in Euro NCAP crash safety tests, testament to the strength inherent to the MQB platform. Both also get rear parking cameras, with parking sensors both front and rear, with active safety systems like an emergency brake assist to avoid forward collisions. The T-Roc does have a nifty lane-keep assist feature that can steer itself, even at speed, on roads with clearly marked lanes. It's a helpful feature, especially on a long drive when fatigue sets in, or when your attention wanders. Though we found ourselves switching it off for city driving, since it tries to steer you back into your lane if you try and overtake without engaging the turn indicator first.
Engine, performance and efficiency
Packing the same 1.5-litre TSI EVO motor, with a 7-speed DSG routing the engine's 150PS/250Nm to the front wheels, one doesn't really expect the two to offer a significantly different driving experience. And that's largely true.
It's a lovely, lovely engine! Silent and refined at low revs, it's got just enough of a snarl to it as revs rise to keep you interested, with the slick shifting DSG keeping up admirably. Both cars do come with paddleshifters and shifts are quick and smooth, both up and down the 'box. Though, I do feel the low- and mid-range is where this engine shines. It picks up fairly early in the revs, with peak torque coming in at 1,500rpm, and stays nice and strong till around 5,700rpm. And while this motor will rev out to between 6,200-6,500rpm depending on which gear you're in, you're better off short-shifting into the meat of the power in the next gear.
This approach seemed to pay off in our performance testing as well, shaving a good half second of the times in pure automatic mode, even with the gearbox slotted in the sportier 'S' mode. This gearbox is the dry-clutch DQ200 though, and doesn't really allow quick launches, with revs limited to 1,200rpm, needing precise timing to get off the brakes before the revs drop further. Even so, the T-Roc managed a 9.1s run to 100kmph from standstill in wet conditions, while the Karoq's best was a 10s timing in the dry. One explanation for the difference in outright performance could be the Karoq's 1,395kg kerb weight, against the T-Roc's 1,350kg kerb, but it's not a very satisfactory one.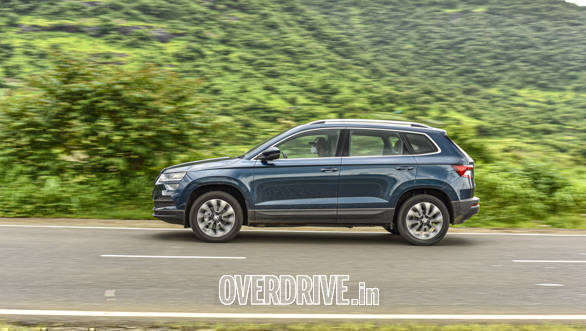 In both cars, under certain circumstances, like when you go to full throttle from a cruise, there's a split-second hesitation from the gearbox while it decides on a gear to kickdown to. The pause felt a little more deliberate in the Karoq, which could also explain the 0.2-0.4s difference in favour of the T-Roc in our drivability tests. The T-Roc, for example, posted 1.9s in the 30-50kmph run, and 2.2s to go from 60-80kmph, while the Karoq's figures were at 2.2s and 2.6s respectively. But given the seamless nature of the shift quality under regular driving, we doubt most people will really notice a practical difference.
The engine feels gutsy enough to get the two to high-triple digits without really breaking a sweat, and it settles into a nice rhythm at 120kmph, with revs resting at 2,200rpm. Both cars are similarly efficient, getting us between 8-9kmpl in the city and 15-17kmpl on the highway.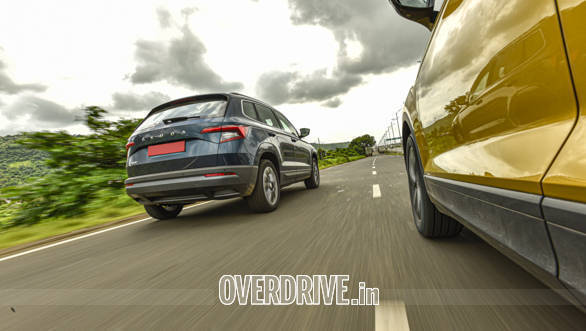 We see another difference in how the brakes work, with the T-Roc's pedal feeling sharp through the range of travel, while the Karoq's pedal feels easier to modulate at the top, needing more force to really clamp down. Both cars were tested back-to-back but fickle Mumbai weather meant one set of tests were wet figure tests. In the wet, the T-Roc stopped from 100kmph in 42m/3s, while the Karoq managed 41m/3s in the dry.
Ride and handling
Ah, the heart of it. This is where the decision for either will probably be made, cabin quality notwithstanding. In short, the VW is the sportier handler of the two, but with caveats. Mainly, the extent of the firmness of the ride quality versus the Karoq, and the lightness of the steering. While the electric steering on both cars feels light at city speeds, and I'd prefer more weight at speed, in the T-Roc it results in a car that can be best described as light-feeling and super agile.
Coupled with the stiffer suspension setup, it's a car that you truly drive, responding more like a hot hatch as you go faster, than an SUV. Upping the pace over an unevenly-surfaced road will have you working the wheel, putting more and more trust into the bite from the front end, a task considering the steering isn't very talkative at all. Work through it, and you'll find a finely balanced car that can keep you on your toes at higher speeds. Which sounds pretty damn exciting until you find yourself cringing every time you go over a pot hole, or even when you're a little white-knuckled when the rear steps out one time too many. And while it's a better handling car outright, at its level of sharpness and agility the steering seems like a larger let-down, which equalises things somewhat.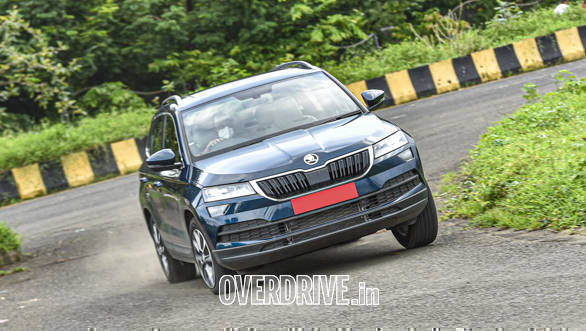 In comparison, the Karoq offers a lot more pliancy from its suspension. At regular speeds there's no question about it – it's less jarring, more comfortable, and quieter. Sure, it'll thud over sharp pot holes, but it won't happen as often. What you will notice is that that very-welcome extra comfort comes (expectedly) at the expense of handling. At a medium pace, the Karoq is more than perfectly capable of letting you enjoy a twisty road. But when you start braking later and pushing harder, you'll quickly find more dive under braking, and more body roll and understeer if you try to carry more speed into a corner than the Skoda is comfortable with. In its tendency to scrub speed and understeer, it feels like it'll be the safer handling car for most people, without giving too much away at speeds less than all-out.
Verdict
As much as we all enjoyed driving the T-Roc like a hot hatch, the Karoq's superior interiors and safety kit are almost enough to justify the price difference in itself, while the more rounded dynamics will fit more people's typical usage more of the time. Funny enough, depending on where you're buying, that difference between the two can be as little as Rs 4 lakh (on-road in Mumbai for example), growing to nearly Rs 6 lakh (in Delhi). It's a lot easier to recommend the Karoq when that gap is slimmer, obviously. But ultimately the Karoq offers much of what makes the Kodiaq desirable at a lower price point, while the T-Roc feels a little outclassed at its price, where not many may want to drop serious coin for a crossover. That being said, if you want a mildly hot hatch-like crossover, the T-Roc may be your only option for now.
Photography: Anis Shaikh
Price (Ex-Delhi)
Starts Rs 24.99 Lakhs
Price (Ex-Delhi)
Starts Rs 9.99 Lakhs
Price (Ex-Delhi)
Starts Rs 21.35 Lakhs