2024 KTM 390 Duke first ride review: A bettered breed
The first generation 390 Duke kicked dirt in every possible competitors face when it first came out in India, back in 2013. That motorcycle truly felt like a manifestation of raw-power on two wheels. An epic motorcycle of its time. The kind enthusiasts' dreams were made of. Four years later along came Gen 2 with its sharper styling, new chassis, stubby exhaust can and a plethora of tech along with some slightly diluted power figures from its upgraded engine.
Some liked the fact that KTM was catching up to the feature-rich times, but more thought that KTM was going astray from that brilliant raw, performance-riddled core that came with the first gen bike. Now, KTM has ushered in a new version of this iconic powerhouse with the all-new, third-gen 390 Duke, and with this bike it's as though the company took a step back realized that it was heading off course, made some alterations and got right back on track. Because this one's a real hoot of a machine. It's a mix of both worlds. Whether you're into performance or into a healthy features' list, this 2024 390 Duke won't disappoint. Here's why.
The third-gen 390 Duke looks a lot brawnier than before and it's even gotten new DRLs that give its otherwise sharp, split LED face some burly side locks. It gets the 17-inch wheels from the current RC 390 sold out here and this has reduced the unsprung mass by almost 2kgs. The new WP Apex open cartridge USD suspension is now adjustable for five clicks of rebound and compression with some preload settings, and the rear shock is adjustable for preload and rebound as well. The tank is now bigger than before at 15-litres and its extensions which resemble the sharp end of a knives show off its road butchering intent.
A nod towards the bigger Duke models in the company's lineup abroad, that. I quite like the look and layout of the new curved radiator as well and this one gets two fans, so that should help the engine keep its cool on long rides. The seating layout is all new too and the seat height is now down by 23mm, at 800mm. The revised underbelly exhaust manifold looks a whole lot neater than before and ground clearance is now at 183mm which is up by 7mm over the second-gen bike.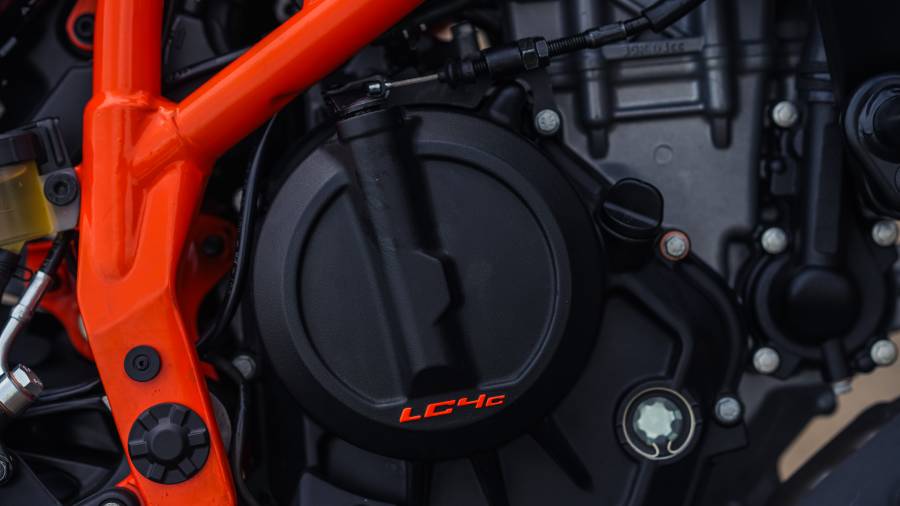 The biggest change with this motorcycle has to be the all-new liquid-cooled, 399cc, LC4c single-cylinder engine. It retains the same bore of the older 373cc motor but with a slightly longer stroke (89 x 64). Max power is now up to 46PS at 8,500rpm while max torque is also up to 39Nm and arrives much sooner at 6,500rpm. KTM say that almost 80 per cent of max torque is available at around 5,000rpm, which was always going to be good news, because as I'd soon find out, that's when this machine's mask of sanity falls off and all the fun begins.
The engine feels nice and composed low down the power band, with some potent vibes felt through the bars. The engine is ready to rock from 5,000rpm and goes bonkers further up the powerband all the way up to the red line around 9,000rpm, taking you to silly speeds with minimal hesitation once you give it the beans. With the older second-gen 390 Duke you'd have to wind up the motor a lot more to extract this kind of performance. So the changes are all there to be felt.
The chassis is all new too and it's a big step up over the older model. A new die-cast aluminum sub frame makes an appearance out here and comes attached to the new main trellis frame. Out on the test track the bike felt like it had a bettered center of gravity, which meant that it felt a lot more balanced than before, and this allows you to get a better feel at both ends of the bike, and make changes in direction effortlessly and even go knee-down into corners with utmost ease. As before, the riding posture is fairly relaxed with a hint of sportiness thrown in there with the slightly rear-set positioning of the footpegs. Although it may lack the sharpness and precision as say an RC 390 out on track, with the responsive bi-directional quickshifter and the Metzeler Sportec M5s on there, both standard trim with this bike, the new 390 Duke will keep you thoroughly entertained and urge you to go quicker in a scenario like this. It definitely is a motorcycle that you won't get bored of riding for years to come, at least, till they try to better it.
Suspension is another big area of change with the monoshock at the rear now being offset which has helped make room for a bigger airbox, which in turn helps the bike out with improved low-end tractability. And it's all there to be felt because at low speeds, you don't have to make as many gear changes as you'd have to with the older model. The new 390 Duke is a lot more comfortable in second and third gears, and you don't have to be constantly on the gas for the bike to feel right. Which in a way makes it a lot more rider friendly than before.
In terms of features, you still get a 5-inch TFT display like before, but on turning the key in the ignition, you'll be greeted by some much improved graphics and a host of motorcycle information. For the first time you get riding modes with the 390 Duke. There's 'Track' and 'Street' modes which give you access to all 46PS of power on tap albeit with different information laid out on the dash for you to take in. Also in track mode, you can activate the bike's launch control, yes that's right, launch control!... so you can have the throttle wide open with the engine peaking at 7,000rpm and send it with a clutch drop. All that while also timing your runs around the circuit that you're on. You also have 'Rain' mode which dampens the bike spirit and responsiveness. There's a healthy supply of rider aids packed in there as well including switchable cornering ABS, supermoto ABS and traction control.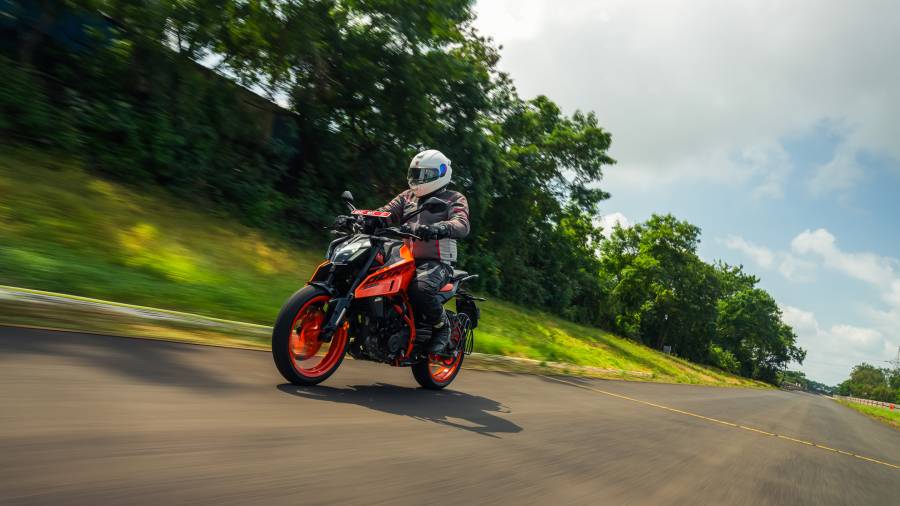 There's just so much to appreciate this new 390 Duke for. It's lighter and more powerful than before. It's a nimble handler and with strong punchy performance from that lovely new 399cc mill, this middle-weight bruiser is ready to take on any form of twists or turns. With some novelty rider aids, an all-new frame, adjustable suspension – and aggressive new looks, the third gen 390 Duke offers a mix of both worlds, as I'd mentioned before.
With this third-gen 390 Duke it appears that KTM have been listening to what people like us have been saying after the second-gen bike came out, and in return, given us a refreshed and more up-to-date version of a complete brute of a naked sports bike that first rolled out back in 2013. The best part is although it is an immensely fun bike, it isn't in the slightest form a hassle to ride. But we're soon going to check up on that again out a fairly long ride out of town. So, look out for that.
Priced at Rs 3.10 lakh, KTM is asking you to shell out just 13k over the older 390 Duke for the bike in its latest avatar. And after having ridden it briefly out here, it still comes across as more than fair that they've done so. Even with the arrival of the exciting new RTR 310 from TVS, KTM has clearly shown that it isn't ready to budge the top step in this displacement category any time soon.
Price (Ex-Delhi)
Starts Rs 2,52,928