2022 Mercedes-AMG EQS 53 review - real speed, synthesised drama
It's nearly impossible to approach the Mercedes-AMG EQS 53, the first-ever electric AMG, without some trepidation. AMG is celebrating its 55th year in existence, with a long legacy filled with everything from large capacity, thunderous V8s to the world's most powerful four-cylinder. The one thing they all share in common (apart from the ability to build white-knuckle speed rapidly) is the anger, fury and drama that arises from the engine bay.
The all-electric EQS 53 (essentially the AMG variant of the electric S Class equivalent) is already at a disadvantage there – you can't even access under the hood yourself, and even if you did, you'd find it stuffed full of electronics. But like any AMG worth its salt, it's got the numbers to boast of, even if it can't boast of having a motor handbuilt by one man.
All cars in India come standard with the otherwise optional Dynamic Plus pack, which boosts power to 761PS and 1,020Nm torque in the Race Start launch mode for a blistering 3.4s run from 0-100kmph. That's more power than you get with an AMG GT Black Series, the ultimate in the line so far! And it's only second in line to the plug-in hybrid AMG GT 63 S E Performance, with its 830PS and up to 1,400Nm, that's available internationally. But while that car can travel just over 11km in electric-only mode, the EQS 53 makes no such compromises. This electric performance car will do up to 586km (WLTP) on a single charge of its massive 107.8kWh battery pack!
Now, what's worth noting is that like most other four-door AMGs, the Rs 2.45 crore (ex-showroom), fully imported EQS 53 is based on a regular series-production Mercedes, the EQS 580, which will be assembled in India. So, it's got its twin electric motors rewound and tuned by AMG along with enhanced battery management, cooling, bespoke suspension components, and interior trim fitting of an AMG. The EQS 580 produces 523PS and 865Nm, with up to 770km (WLTP) of range, and can do the 0-100kmph sprint in 4.1s, which are all impressive by themselves. But also begs the question – do you even really need an electric AMG?
2022 Mercedes-AMG EQS 53 styling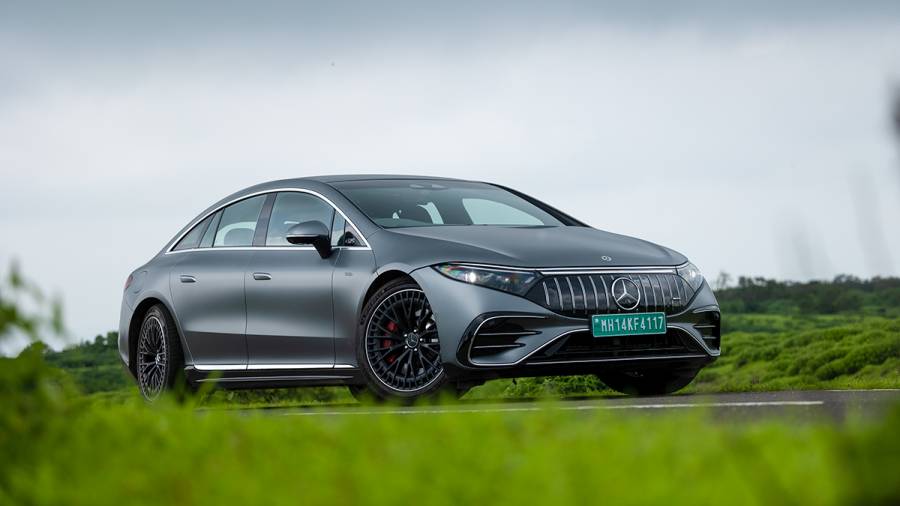 Just going by the looks of it, the EQS 53 has a good deal more character than the EQS 580 with its hot-stamped take on the AMG Panamerican grille, more aggressive front bumper and reworked side skirts and rear spoiler. But then again, it misses out on the AMG staples – power domes on the hood, widened track and flared wheelarches, and most importantly, the quad exhaust tips. Sure the 21-inch wheels and AMG-special Selenite Grey matte paint job help, but your first sign that the EQS 53 isn't an aggressive AMG comes from the way it looks. It still manages to draw attention though, at 5.2m long it dwarves nearly everything else on the road, like it's a big, grey meteoroid.
2022 Mercedes-AMG EQS 53 interiors, comfort and features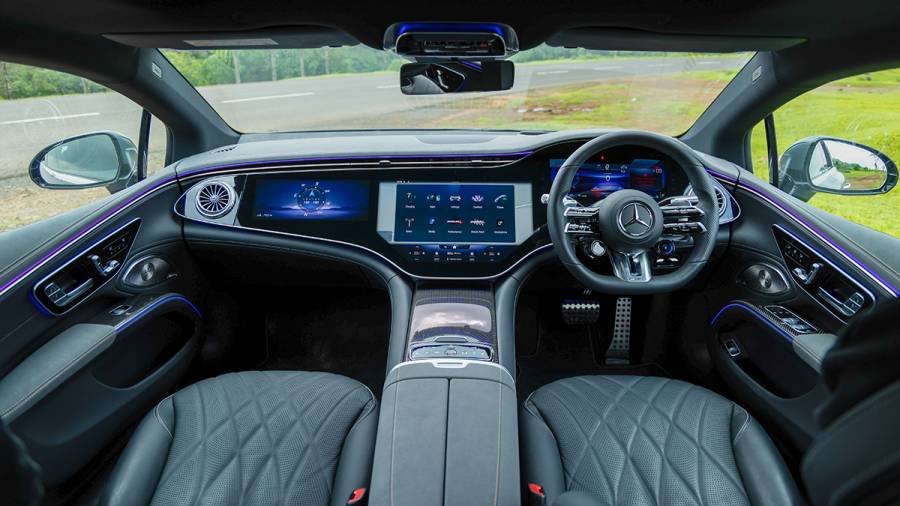 The first thing you notice when you're sat in the hugely comfortable front seats with its padded neck pillows (!) is that the 56-inch MBUX Hyperscreen takes up nearly a third bottom of your vision! The three screens that actually make the Hyperscreen up and the downfalls of touch controls for everything, the EQS 53 is the most usable of AMG interiors because there's so much space!
Sure, the central console not being laid out like the banks of a V8 is a bummer in a top-tier AMG but the trade-off is the dual-level console with plenty of charge points around, with carbon fibre finishes thrown in for good measure, along with the steering mounted drive mode controls. There's some truly futuristic instrumentation display modes too, which light up as you put the power down and build some drama into the experience, but we'll get to that.
There's more space in the rear than you would expect, and despite the batteries in the floor, you're not sitting too knees up. But again, expectations of S Class-like rear comfort can't be met but it's a large measure more comfortable than something like an AMG GT 63 S 4-door, which has equivalent performance, but isn't on sale in India any longer.
2022 Mercedes-AMG EQS 53 driving impressions
Does the EQS 53 feel like an AMG to drive? The short answer is – it depends. In its most comfortable of drive modes, you probably won't be able to tell that it's got AMG adaptive air suspension and stiffened bushings and more aggressive rear sub-frame mounts. This is the most comfortable AMG I've ever driven, though I do hear the AMG S 63 Coupe would have you float along. The ride quality, even on the 21s, is stellar for an AMG, with the wheel size and low profile rubber only noticeable over sharp bumps.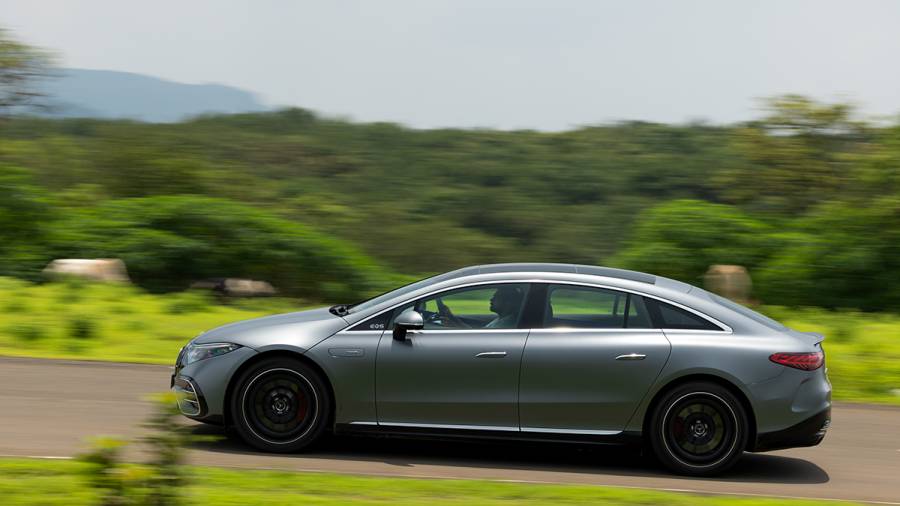 Now that we've made you wait long enough for it – the build in speed is immense. Putting your foot down at any speed results in being pushed back into the seat with enough conviction that this is a very quick car. However, it could just be any other high horsepower electric car. The speed feels very sanitised, even if you find yourself doing high triple digits mere seconds after pushing your foot down.
That all changes when you slot into Sport+, or set the synthesised sounds to its most dramatic setting. At "idle" the EQS 53 sounds like its radiating energy, both from inside and outside the car. It's not the burble of a V8, or even an I4, but it's something alright.
And when you choose to Race Start launch, it's a true spectacle. There's an AMG-appropriate build up of sound to a crescendo that can be best described as a jet turbine spooling up – and then all hell breaks loose. There's immediate traction, and the feeling of your stomach being tugged at, while that synthesised whine builds, and builds and builds. It's quite the party trick!
I suspect many may find it a gimmick, and maybe if the EQS 53 made these sounds by default, it may have come across a tad more authentic. But then there's always the risk of alienating those who find synthesised "speed" sounds offensive. That said, there's more than enough drama and speed, balanced with comfort and luxury in the EQS 53 in the right drive mode, which only furthers the duality of purpose that's the hallmark of the bigger AMGs.
The EQS 53 isn't just a one-trick pony though. This 2.7 tonne sedan can handle! The steering is weighty and precise in all the right ways, even if it isn't the most feelsome. With rear-wheel steer up to 9 degrees to aid agility at low speeds and stability at high speeds, the EQS 53 can be at home taking tight U-turns in the city, as it is carving up twisties.
It may not a highly emotional experience, but it's a different level of driving, that requires more commitment in a way. Because when you brake, turn in and feel it change direction magically, there's all that torque waiting for you at the press of the throttle, ready to slingshot you out again. The soft brake pedal takes some getting used to, needing a firm push to really access all the brakes have to offer. The most aggressive of regen brake modes (accessible via the paddleshifters) is too aggressive for quick driving, but perfect for one-pedal driving in the city.
2022 Mercedes-AMG EQS 53 verdict
The EQS 53 rivals other electric sedans like the Audi RS e-tron GT and Porsche Taycan Turbo S on price and power, but is the most expensive and most powerful, though the Porsche is the quickest. We haven't driven that car so we can't speak of the comfort, but that's one area the EQS 53 excels at, while still offering the drama, even if it requires you to forget that the sounds are synthesised, and give in to the experience. Electric cars are the future, to a large degree even for enthusiasts, and we might as well embrace it. The EQS 53 may not be an AMG as we remember it, but proves performance electric cars can still do drama and fun. And that's the most important part.
Also read, 
Mercedes-AMG EQS 53 performance EV launched in India, prices start from Rs 2.45 crore
Spec comparison: Mercedes-AMG EQS 53 Vs Porsche Taycan Turbo
Locally assembled Mercedes-EQ EQS electric sedan to launch on September 21
Price (Ex-Delhi)
Starts Rs 2.05 Crore