Mercedes-AMG EQS 53 performance EV launched in India, prices start from Rs 2.45 crore
Mercedes-Benz India has launched the first-ever fully electric AMG with the Mercedes-AMG EQS 4Matic Plus. Priced from Rs 2.45 crore this electric sedan sits at the top of EQS line-up and boots of some serious technology and performance numbers.
Mercedes-AMG EQS 53 performance, 0 to 100 kmph, AMG-specific changes
The AMG EQS 53 is derived from the standard EQS, the EV equivalent of the S-Class, but comes with a host of AMG-specific enhancements. The dual-motor set-up uses AMG-specific motors with more windings, stronger currents and software tweaks that allow for more power, especially from the rear moor. There's better heat management to go with this too. So in standard form, the AMG EQS 53 puts out 667PS and 950 Nm. Specified with the optional AMG Dynamic Plus package and with launch control activated, the electric AMG ups this to 771PS and 1050 Nm. In this guise, the AMG EQS 53 can do 0 to 100 kmph in 3.4s and reach a 250 kmph top speed. In standard form, this drops to 3.8s and 220 kmph.
A host of other enhancements accompany this performance. Most unique are sound modes that match the driving style. As standard, there is balanced, sport and powerful with a further performance mode being added in the optional pack. Also seen here is an AMG-tuned AWD software that becomes more rear-biased in the Sport and Sport Plus modes. The latter too is specific to this variant and aside from sharper responses also enhances cooling. There is also an AMG-specific air suspension package and enhanced brakes.
Mercedes-AMG EQS 53 battery, range, charging
The Mercedes-AMG EQS 53 is powered by a 107.8 kWh battery pack. The pack uses AMG-specific wiring to focus on range or performance as per the chosen mode which means that the WLTP range figure is rated between 526 and 580 km. The figure is further enhanced by the low 0.23 drag co-efficient.
As for charging, the EQS 53 can charge at up to 200 kW which allows for 300 km of the range being added in 19 minutes. There are also three regen modes that can recuperate up to 300 kW.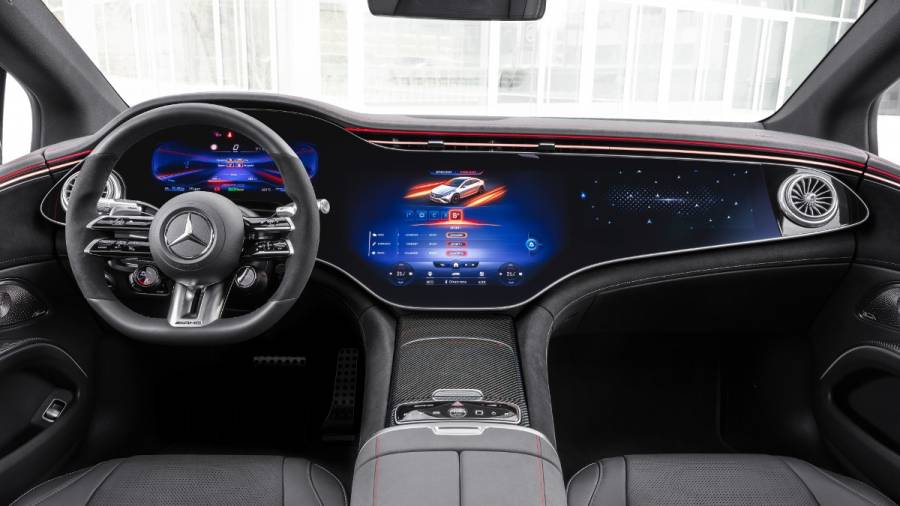 Mercedes-AMG EQS 53 interiors, exteriors, features
AMG has also spruced up its version of the electric sedan to visually differentiate from the standard EQS. The visual treatment has been done to maintain the low-drag figure with the functional gloss black splitter and side fins. There is a gloss black side sill and air intakes that aero-shield the front wheels. There is a rear diffuser as well as a larger rear spoiler, again for more aero efficiency while 21 or 22-inch alloys are available in aero-optimised designs
On the inside, the full-width 56-inch hyperscreen continues to be the focal point but now gets AMG-specific graphics and information.  There are AMG-specific seats, steering wheel and pedals while the interior is done up in leather and micro-fibre highlights.
Mercedes-AMG EQS 53 price, rivals
The Mercedes-AMG EQS 53 competes with the likes of the Audi RS e-tron as well as the higher-spec variants of the Porshe Taycan.
Also Read:
Mercedes-Benz EQS - The Best Electric Car In The World? | First Drive Review