2021 Tesla Model 3 Performance first drive review
It was on a chilly autumn day in November, when the beech and basswood trees had laid out a thick golden carpet of leaves in the yard, that I found myself pulling my sweater close as I peered into the boot of a rental Tesla Model 3. Sprawled within it, his body extending all the way from the rear seats that had been folded flat, to the boot, was my husband Ronny. He had a look of irrepressible glee on his face as he said, "I told you the 'Camping Mode' was perfect! And if I fit in it comfortably, you'll fit in it." 
The story of how it was that I came to be in the yard, peering into a rental Tesla Model 3, had begun a few months ago, when Ronny had suddenly said, "What if we get a Tesla?" It was so absurd a thought that I paid him no attention. After all, this was the very same body who a couple of years ago had mourned the impending death of the internal combustion engine. In fact, back then he'd lamented the loss of those beloved blocks, pistons, cylinder heads, camshafts and crankshafts so vocally, that I'd begun to believe he was headed the way of dinosaurs and fossil fuels himself. Imagine my surprise, then, to find out that while I'd been wistfully looking up used MG As and Triumph TR6s, he'd been doing a deep dive into eMobility, and that his interest in the subject wasn't strictly academic. When we'd agreed to a pandemic-related downsizing of our two-vehicle garage, trading in the Crafter and Golf Clubsport S for a Tesla certainly isn't what I had in mind. 
To every question that I had though, a well-thought-out answer was delivered swiftly. Finances? Between the money we'd get from selling the old car and the financial carrot the German government was handing out to people buying electric cars in 2020, it was the best decision we could make. In fact, not buying a Tesla would be the opposite of fiscally prudent. What about the grunt from the 310PS hot hatch that I'd grown to love so much over the past few years? Grunt shmunt, he retorted. With around 500PS at your disposal, you're not going to miss a thing. The hassle of charging the car? He pointed out the window of our living room, to a public charger that stood, fortuitously, across from our flat. And added that between the somewhat decent charging network that had been built through Germany, and Tesla's Supercharger network, we'd have double the charging options. What of the fact that the cars we owned were almost always used in his stunt shows? Which is when he got a wicked look in his eyes and said simply, "The Model 3 Performance comes with Drift Mode." 
The only thing I was convinced of at this point was that Ronny'd been drinking the Kool-Aid. After all, automotive forums seemed rife with Tesla owners complaining about quality issues. Other parts of the internet seemed to be full of horror stories about software malfunctions in Tesla's "Autopilot" system that led to marauding Model 3s wreaking mayhem all over the place. And Elon Musk had a habit of saying bizarre things on a regular basis, which probably wouldn't make a difference when one was behind the steering wheel, but irritated me anyway. Living with a rental Model 3, then, was Ronny's way of trying to assuage my fears. Three days (and one gleeful human being prostrated in the back of a car) later and I had to admit that I'd run out of arguments. Or, the energy to argue, at any rate.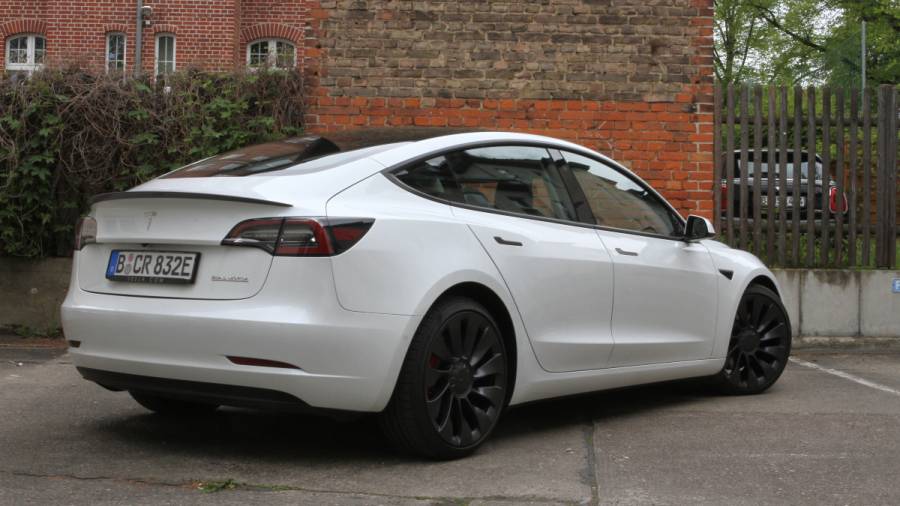 A month or so later, and the rental had been replaced by something more permanent. And it was making me feel like an absolute luddite. I knew that Tesla was essentially a software company that built cars, but experiencing it was another thing entirely. Not needing to turn a key in order to start a car is one thing, but the fact that there's no starter button either made me feel like a rotary dial phone user in a smartphone world. I even got slightly cross at the fact that I needed to learn things anew - depress the brake pedal and punch a code into the touchscreen in order to get things going. And figuring out how to control everything - from the outside rear view mirrors to the navigation system to which axle of the car I wanted to send power to - from that touchscreen unit wasn't entirely easy. I'm not saying it is in any way counter-intuitive or impossible to figure out - just that it takes a little time and getting used to. The touchscreen itself is hard to find fault with - it's got iPad levels of quality.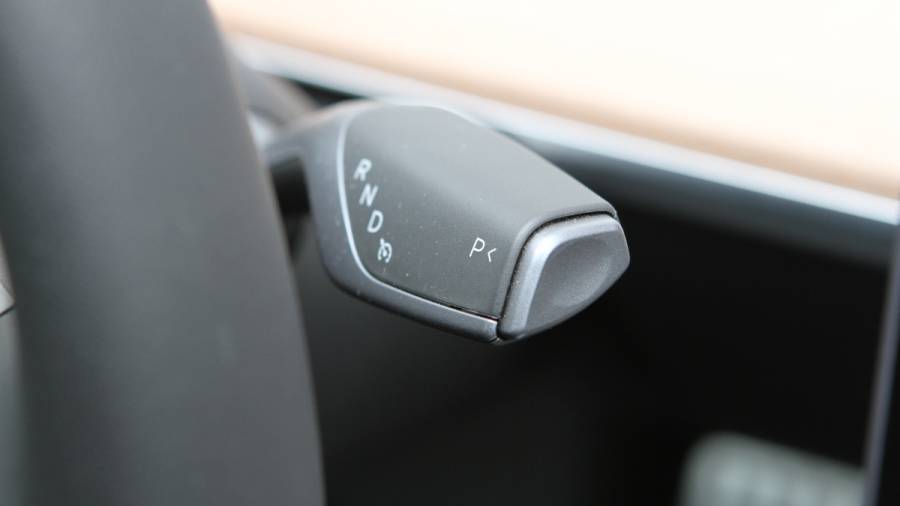 Speaking of quality, though, the rest of the interiors don't exactly embody that very word. But let me start with the plus point - simplicity. The fact that Tesla has managed to keep things simple on the inside definitely works to the Model 3's advantage. The wooden dash is so clean that it borders on stark, and while it might not appeal to everybody, it grew on me. And given the quality of the plastics on the inside, I'm glad that there's not a lot of it staring me in the face. The door panels have buttons on them instead of traditional door handles, although there's a manual handle if the button fails, and there are standard buttons to roll the windows down too. The steering wheel gets a pair of knobs that allow you to control the volume and set the cruise control speed. But there are no other knobs or dials anywhere. Nestled below the touchscreen are a pair of wireless charging panels, on which you can charge two phones. This continues on to a centre console, which houses a surprisingly capacious cubby hole - amazing the amount of space you gain when you don't need a transmission. The front of the cubby hole is covered by a panel that slides open (and also houses within it USB charging ports) while the back of the cubby hole can be accessed by lifting the broad and comfortable armrest. The seats are comfortable enough, but I imagine that the less ethically-minded Tesla owner might not be impressed with the quality of the vegan leather - it looks inexpensive and has a tendency to show signs of wear if it isn't treated very carefully. Since I'm not Cruella De Vil, I don't mind the lack of animal pelt in a car, but some people might expect leather interiors as an option at that price point. 
Now onto the driving. The Model 3 Performance feels sporty enough, and the steering response is very immediate (although some people might be a little surprised at higher speeds by just how immediate it is). On the good old Autobahn, at speeds of around 150kmph, the car feels solid and planted. However, take the Model 3 Performance down a cobblestone street, and the stiff suspension means that you will feel the bumps. Put the Tesla Model 3 Performance in "Chill" mode, which means you have less than half the power from the car's two motors at your disposal, and you have a fairly nice, relaxed driving experience. You also have the peace of mind that comes with knowing that the battery (which is placed under the floor of the car leading to the Model 3's very low centre of gravity) is going to deliver the very best range that it can. But there's no pretending that the Tesla feels as solid as anything that might come off the production lines from Zuffenhausen or Ingolstadt, so don't expect, for example, Porsche Taycan levels of quality. For context, though, the entry-level Porsche Taycan 4S is priced a full 30,000€ more than the Tesla Model 3 Performance.
If I had the extra amount of money lying around, I'd spring for a hot hatch like the VW Up! GTI, you know, to maintain a healthy balance in the garage. But I digress. Put the Model 3 Performance in "Sport" mode, and you get peak performance and all the power on offer, around 513PS (Tesla advertises the Model 3 with 450PS and 640-660Nm, though different Model 3s have clocked varying numbers on dynos, going up to 520PS and about 700Nm of torque), from both motors. This is the mode in which you can get that supercar beating 0-100kmph speed of 3.3 seconds. It makes you quietly confident at every traffic light grand prix, unless you have the misfortune of having a Lamborghini Huracan right next to you. In fact, one of my favourite things about the Model 3 Performance is that it doesn't look fast, and is in no way ostentatious, but when you really want it to go, it goes. 
But what makes the Tesla Model 3 Performance the Swiss Army Knife of EVs, is "Track" mode, which allows you to customise the power delivery and save them as presets under names of your choosing. Essentially, you're allowed to do some torque vectoring, using a slider on the touchscreen. Just go into your settings and decide if you'd prefer sending most of the power to the front axle, if for some reason you like a lot of understeer. If you want to spend a few hours going sideways, while countersteering and destroying your tyres, the slider will let you send most of the power to the rear axle. In fact Ronny's been so drift happy that I'm worried we might need a new tyre fund. Now my experience going sideways in a car is limited to an AWD machine on a frozen lake. Which meant that when I had trouble getting the hang of countersteering, and was beginning to get irritable, my in-house driving instructor (not part of the standard kit in the Model 3 Performance) was able to adjust the slider in such a way as to balance out the power delivery a little more. So, I found a sweet spot somewhere between AWD and RWD, and had a few sideways moments. If you're really particular about the settings you want, you can even adjust the regenerative braking to influence the load change on your car (an option that apparently is no longer available on some newer versions of the Model 3). And while I might not have fiddled around with Track mode too much, Ronny's gone and put in customised modes that, confident chap that he is, have curious names like "Porsche Killer", "Lambo Killer", and "Stunt Hero". He's also indulged in a few airfield drag races - beating a 2016 C63 AMG at the quarter mile mark, and coming out equal to it at the full mile mark.
There's simply no way to talk about any manner of Tesla without addressing the elephant in the room - "Autopilot". I'm of the opinion that had they named it something else, people wouldn't get as hot and bothered about it as they do. The fact is Tesla's Autopilot really is a combination of adaptive cruise control, lane assist, blindspot monitoring, and steering assist. And it does a decent job of helping whoever is behind the wheel. We sprung for the optimistically named "Full Self Driving" package that Tesla offers. This means that the car can change lanes on the highway, and, based on the destination set in the navigation system, even choose the exit you need to take and head in the right direction overall. When we tried it out, while remaining fully focussed on the road and not really relinquishing control to the car itself, it worked fine. But that doesn't mean that the quality of the functions on offer is seamless. When there's an overwhelming amount of traffic, and lanes have been merged due to construction work, the car's sensors find it hard to comprehend what's going on, which in turn bungles up how the "Autopilot" works. In one instance the car slowed down because it predicted the truck ahead of us was going to change lanes, although it didn't. If you must use these functions that try and mimic some level of autonomous driving, be prepared for the odd surprise. Also remember you can override everything the car wants to do by just taking control of the steering, brake and accelerator yourself. The plus point about using the Autopilot function, though, is that it adjusts its speed in a manner that might just help you eke out stellar range - we got 400km on a single full charge during a highway run, but arrived at our charger with around five percent battery left. A quick caveat - in the long run it isn't recommended to let the battery go as low as five percent. So charging it between ten and eighty percent seems to be the best way to maintain battery health. 
The Smart Summon, which is also a function available in the Full Self Driving package, is honestly a party trick. I've only ever used it in the building just to see if it works - five seconds of seeing the Model 3 Performance move without a driver behind the wheel was enough to spook me. And if, like me, you live in a building with no security cameras, you might appreciate Tesla's Sentry Mode. When it's on, it records all activity taking place extremely close to the car. So you'll know exactly who dinged your car when it was parked. And if someone tries to break in, it lets out a terrifying alarm that's enough to scare anyone away.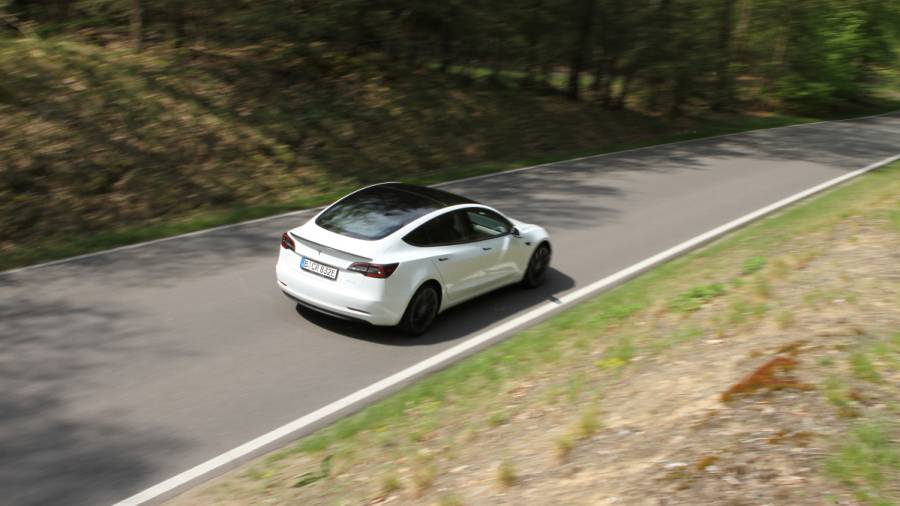 A lot of what I've talked about with regard to the Model 3 Performance is knowledge that we've acquired over the 5,000km the car has racked up since we first got it. And while it's been a pleasant experience for the most part, there have been a few niggles along the way. Take for example the fact that the paint job on the car wasn't perfect when we first got it. It might be a minor detail, but there was a thin line of paint missing where the boot-lid touched the bumper. The inside door panels had some sort of glue on them. And the panel gap between the roofline and the window isn't very impressive. But we logged onto the app, booked a service appointment with Tesla, and were pleasantly surprised that they addressed all our complaints, including replacing the inside door panels, for free. They even added anticorrosion protection on various spots we'd requested, and we haven't (yet) been charged for it. After he dropped the car off for a service, a nice gentleman from the service centre even drove Ronny to the nearest train station, which gave him the chance to examine yet another Model 3. This is his theory: the Model 3 Performance arrives as a CBU from the USA, and seems like it isn't the best quality. But the Standard and Long Range Model 3s are assembled in China and are spotless. I haven't been able to verify this myself though. 
What I also am yet to verify, is the level of comfort that "Camping Mode" will offer us. We've acquired a Model 3-specific air mattress, which now occupies permanent place in the boot. The one time we tried it out, while still parked at home, it seemed like it might make for a comfortable overnight sleeping option. What certainly helps is that the Model 3's glass roof makes things a lot less claustrophobic. I'm honestly looking forward to trying it out.
So does this mean I've jumped aboard the Tesla train? Well, perhaps I have, but sans rose-tinted glasses. I think it's a pretty good machine. It's not perfect, but it does everything that two very different people require of it. If, like me, you don't want to relinquish control to AI because the very concept terrifies you, you don't have to. If you're like Ronny and have been waiting your whole entire life to have a car that will be the KITT to your Michael Knight, the Model 3 Performance will come pretty darned close. And what the Model 3 Performance simply can't do, we've managed to come to terms with. No, I'm not saying it's all the car you'll ever want. But I am saying that it's got the possibility to be many types of car that you might want, in a single parking slot. Which, if you ask me, isn't too bad a deal.   
Photography by Vaishali Dinakaran
Price (Ex-Delhi)
Starts Rs 3.21 Crore