2020 Tata Nexon EV first drive review
Looks like 2020 is shaping up to be the year of the electric car here in India, with the Tata Nexon EV being the latest in a line of affordable electric mobility coming our way. Now, it may be India's first homegrown electric SUV, but it's not Tata's first gander at an EV, with the Tigor EV earning that distinction. Earlier only available to commercial buyers, an updated car with a larger 21.5kWh battery and longer certified range of 213km can be had by anyone now, and is currently the top-selling EV in the country, priced at about Rs 12.5 lakh. But Tata's not stopping there – it's got a new line of EV technology it calls Ziptron, debuting in the Nexon EV you see here. So, what's the deal then?
First, what is Ziptron?
Think of it as a long-range motor and battery package that is modular, and can be shoehorned into any of Tata's future cars/SUVs, with Tata already having confirmed the Ziptron electric underpinnings will soon find its way into the Altroz hatchback, for starters. The main difference between Ziptron and Tata's earlier EV efforts are in the high-voltage 300V permanent synchronous motor and 30.2kWh battery, which together promise over 250km of real world driving range. This compared to the 72V (41PS/105Nm) motor in the Tigor, which when paired with either a 16.2kWh battery, or more recently, the 21.5kWh pack led to very conservative driving range figures of between 140-213km, but only as certified. Additionally, Ziptron will feature quick charge times, liquid cooling for the battery for temperature management in hot weather, the safety net of IP67 water resistance (can be submerged under a metre of water) and a standard 8 year/1.6 lakh kilometre warranty on the motor and battery. Apart from which standard connected car technology and telematics will be standard. How's that for electric peace of mind?
Back to the Nexon EV
You'll notice the Nexon EV looks far more grown up than the Nexon, with an overall more squared off face and profile thanks to the new headlights, grille and bumpers. There's definitely more than a hint of Land Rover in there and it's resulted in one of the best looking compact SUVs there is. Detailing, like the Nexon badge in piano black between the headlight and flatter hood is executed well, and while most of the exterior changes will make their way to the Nexon facelift soon, the Nexon EV will stand out with its teal trim and tri-arrow motifs all around the car. The headlights, halogen projectors and not LED, do feature LED DRLs which double up as the front indicator on the higher trims, like on this XZ+ we've driven. The Signature Teal shade on our tester is complemented nicely by the white roof too. 16-inch wheels come wrapped in low-rolling resistance tyres, except we're not sure how the MRF Wanderer Streets on all the test cars certify as such.
Inside the cabin
First off, fitting off what will be a higher priced Nexon, there's dual-tone interiors, with more teal detailing and what feels like better plastics in key areas, though some panels (like the one over the central tunnel) will wobble when pressed. The instrument cluster is new and includes a 7-inch digital display with state-of-charge of the battery, driving range, energy consumption, and even navigation information via your smartphone connection.
The 7-inch touchscreen infotainment continues and is paired with an eight-speaker audio setup which sounds as good as it always did. And while the sole USB port in the front is still inside a narrow recess, there's no gear lever to have to fumble around to get to it.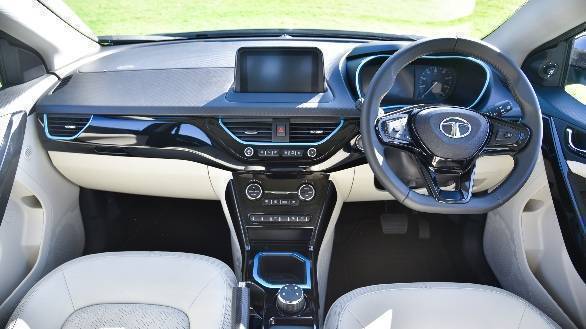 Instead, gear selection falls to the knob that was earlier the drive mode selector, further freeing up a bit more space. Seating, both front and rear, is how we remember it and that's surprising considering EVs are prone to have a high floor at the rear, what with the batteries under them and all. Boot space too is claimed to remain exactly the same. We wish a bit more space had been carved in the door pockets at the rear though, which still fit only half litre bottles, especially considering there's no pockets on the seatbacks. The Nexon EV (structurally identical to the GNCAP 5-starred Nexon) will offer two airbags as standard, with ABS, EBD and Corner Stability Control, but we wish more had been added here, as you'll see later.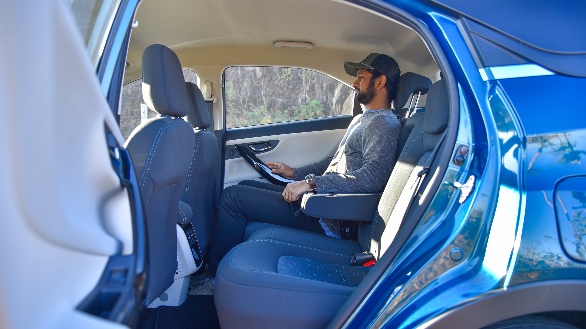 How does it drive?
Numbers out of the way first, since they're key to understanding why the Nexon EV drives as it does. Tata's managed to extract a healthy 129PS and 245Nm torque from the motor and 30.2kWh battery, and it finds its way to the road via a single-speed automatic. Slotting the rotary gear selector into Drive, which requires a deliberate action, is met with quick, yet perfectly metered responses in city traffic. And while the throttle feels a little abrupt between on-off transitions, it's nothing a little recalibration of your right foot won't fix. Maintaining a steady speed in traffic might take some more effort but overtaking definitely won't. This thing is quick, at any speed!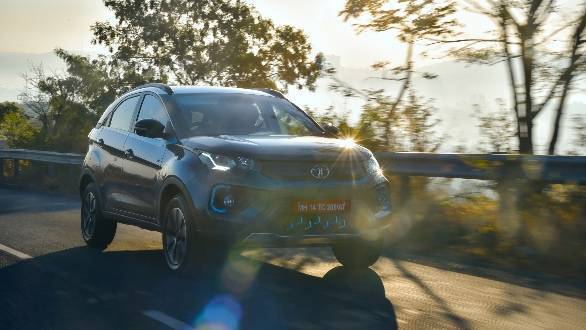 And that's before we even get to the real fun part of the Nexon EV, its Sport mode. With 60 per cent more torque in Sport, the Nexon EV transforms into a full-on hooligan! Forget about needing to go pedal-to-metal, even pressing down part of the throttle is met with some amount of torque steer as all 245Nm pulls the car forward. We're not quite sure everyone will appreciate it, least of all new drivers, but, hey, that's what the Drive mode is there for. Considering Sport mode doles out all that torque instantly, we reckon some form of traction control, or an electronic stability program, will help make the Nexon EV quite the fun SUV for all levels of drivers, not to mention less of a handful. Further, there is a bit more rollback on inclines than most would find comfortable, though the Nexon EV does come with hill ascent/descent assist, which requires some planning while stopped on an incline.
Obviously, the 312km ARAI-certified range is in the conservative Drive setting, while the 0-100kmph in 9.9s figure, as claimed, is with the dial set in Sport. We began our drive with about 90 per cent charge, and a range of around 250km, and our 110km drive with a mix of spirited pulls and city driving saw that drop to 25km range at the end, with about 15 per cent charge left. Obviously, saner driving will get you close to the 250km of real-world range Tata claims, and regenerative braking really does make a huge difference.
With the instant-torque tour done, you'll notice that the Nexon EV rides a fair bit firmer than the standard car. Suspension has been firmed up to deal with the EV's heavier 1,400kg kerb weight, and you feel it over sharp joins and pot holes, the Nexon EV no longer soaking up bad roads the way the Nexon does. It's still comfortable, and far from being a back breaking ride, but the trade-off is a compact SUV that corners quite flat with its perfect 50:50 weight distribution, if you drive the car within the limits of understeer set by its tyres. As before, you won't get much feel from the steering, and it's been set up to be light and nimble for city driving, rather than outright sporty driving, a move that's just fine with us. Braking is via discs up front, and drums at the rear, and you feel the drag of regen braking the moment you get off throttle.
Initial thoughts
Okay, back to the important stuff. Tata says a realistic driving range of 240-265km is possible under most conditions, which makes for a perfectly usable daily car, needing recharging at the end of every work week if your commute is under 50km a day. The smarter thing to do would be to charge it overnight – the Nexon EV will charge from 20-100 per cent in eight hours via the supplied home charger, while a 15kW fast charger will charge from 0-80 per cent in just 60 minutes. Tata Power is being partnered with to set up charging stations, so range anxiety shouldn't be an issue within city limits. The clincher will be the price for the Nexon EV, a compact SUV that makes perfect sense as a daily driver. If Tata can price it within a few lakhs of a fully-loaded petrol automatic Nexon, which means an on-road price of Rs 15 lakh or thereabouts, the Nexon EV will really be THE gamechanger.
Also see: Tata Nexon EV | First Drive Review

Photography by Sumit Gaikwad
Price (Ex-Delhi)
Starts Rs 13.99 Lakhs
Price (Ex-Delhi)
Starts Rs 6.95 Lakhs