2020 Bajaj Chetak electric first ride review
Bajaj Auto started its automotive journey in India as an importer of 2- and 3-wheelers. From that tiny market place in the '40s to the juggernaut it is now, Bajaj has had an eventful journey with several milestones marking its journey. One important milestone was the move to shut the scooters business in the 2000s, the very business that established the company's reputation as an automobile maker and focus solely on motorcycles.
It wasn't a smart move, because the scooter segment went on to become extremely lucrative in the years to come and Bajaj was the only manufacturer without any presence in this space. For reasons best known to the top leadership at Bajaj, the manufacturer stayed away from the scooter business. But finally, with the advent of EVs, an opportunity opened up to return, without the baggage of the past, to the scooter segment. And the brand Bajaj chose to make a comeback with Chetak! The scooter that made them a household name and paved the way for the manufacturer's journey into the future. It's a brilliant comeback story, but not to be delved into right now.
Bajaj Auto in its comeback to scooters has gone electric with its all-new Bajaj Chetak. The EV segment is growing strong, fast. While initially most of the push came in from cities like Bangalore where most of the EV 2-wheeler players are based, it's quickly spreading wings to cities like Hyderabad, Pune, Mumbai and others. Established and well-networked players like Bajaj stepping up to this market, only enhances the proposition EV 2-wheelers make. Not only is Bajaj looking at the domestic market with the Chetak electric scooter, but they will also soon be extending the platform to the KTM and Husqvarna business ends as well. So what is the Bajaj Chetak like? Here is our first ride impression.
Design
Doesn't it look similar to...? Just to refresh your memory, the classic Bajaj Chetak was based on the Vespa Sprint scooter back then and featured the characteristic round headlamp, large rectangular storage section and a spare wheel mounted on the tail. I am sure you will still find many specimens of this classic in your neighbourhood resting in peace at some bylanes. The modern-day Chetak electric has undergone a stylish design makeover to make it belong to the present times.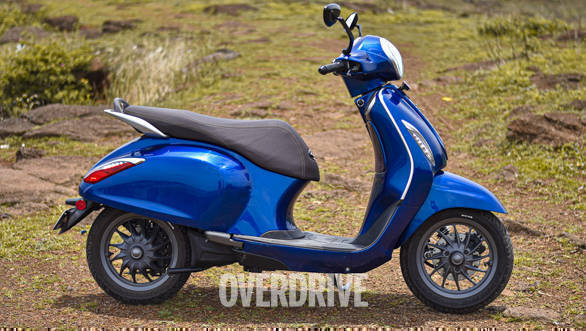 However, one can draw the stark resemblance of the Bajaj Chetak electric with that of the Vespa Elettrica. The Chetak EV's modern classic design does look way more attractive when compared to its other OEM rival. What impressed us about the Chetak, in addition to its sleek design, is the premium paint quality and the attention to detail.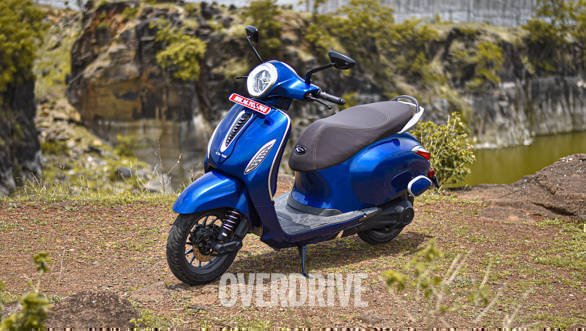 The Chetak EV gets a horseshoe-shaped LED headlight with DRLs paired with the smart apron design with neat detailing and LED indicators, which makes for a clean front profile. Further, the e-scooter comes with a trailing link suspension in the front and a single-side swingarm in the rear. This was done by the designers to give the Chetak a clean floating profile, with the exposed front and rear alloys. Adding to the side profile is the well-contoured seat, that offers generous space for the rider and a reasonable area for the pillion. On the nicely tapered tail, you get dynamic turn indicators that are part of the taillights and a sturdy grab rail that has been tastefully integrated with the overall design.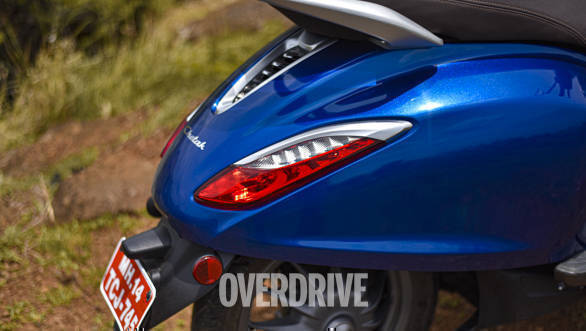 Features
Jutting out buttons and switches is passé as Chetak's premium feather-touch switchgear requires a tad more effort than what you'd put into your smartphone. The switches on the handlebar let you change ride modes, engage reverse, open the glove box, access under-seat storage and also change music tracks on the go.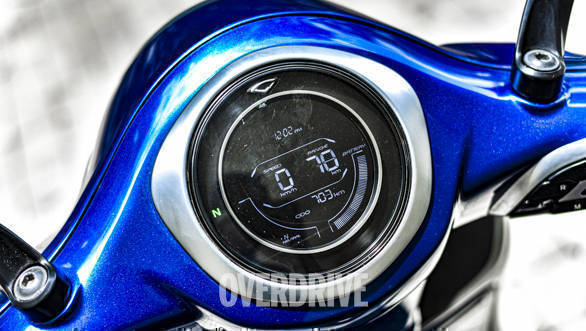 The all-digital inverted LCD instrumentation displays battery status, distance till empty charge and the ride modes. Further, the Chetak app can help you access music or send emergency alerts in case of an accident. It also offers geofencing and location tagging.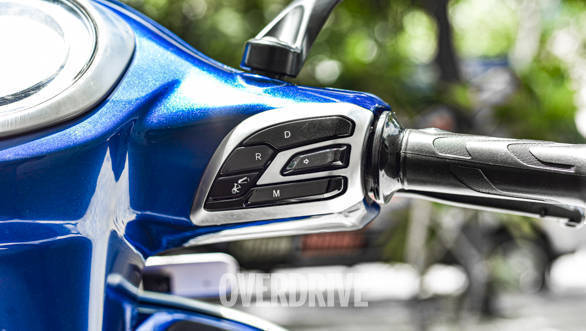 Performance
Bajaj Auto has gone premium with the way you start the Chetak. With the keyfob in the pocket and a gentle touch, the electric motor with 4.08kW peak power and a torque rating of 16Nm is all set for motion. Giving energy to this motor is a 3kWh battery pack, strategically positioned in the centre of the steel frame for better stability. Both the units are sourced from Bosch and are IP67 rated which translates to being functional even when submerged in 3 feet of water for half an hour.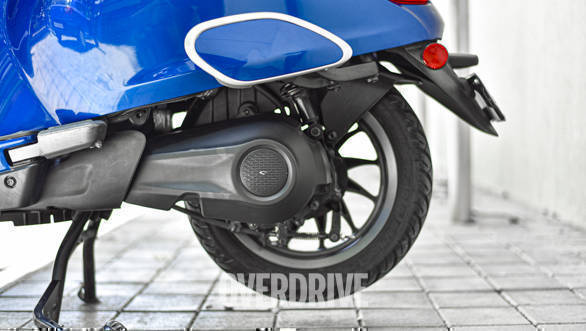 Thankfully, we did not have to test that claim. Instead, we experienced the smooth performance of the electric motor. Alright, it isn't very enthusiastic from a standstill, but then at the same time, there is enough punch to glide through the city traffic. During our commute in Pune, we were keeping abreast with the city traffic with ease.
Even though commuting on a Bajaj sans the trademark exhaust note was different, at the same time, it was relaxing as well, especially when you are stuck in traffic jams. While regular commuting is taken care of by the Eco mode which promises a 95km range, the Sport mode offers a more active response, with a shorter claimed range of 85km. However, in situations where you need additional power to overtake or ride uphill, a sharp twist of the throttle activates Sport mode automatically. Because a majority of the time would be spent on inner-city commuting over short distances, the top speed restricted to 70kmph is something you can live with.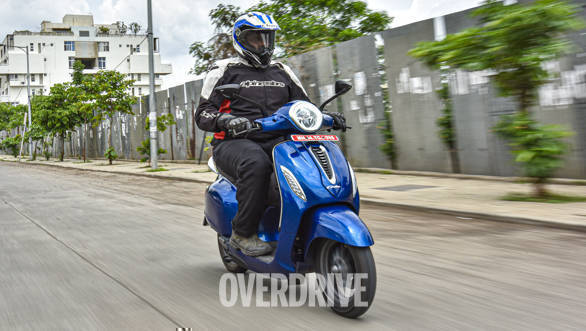 Charging it
Along with the Chetak comes a lockable IP67-rated charging setup at no additional cost, which will be installed by a company technician. As a part of standard equipment, the company provides a nearly 3m long charging cable with a 5A plug and an adaptor that offers the convenience of charging the Chetak from any household power source. According to Bajaj, charging the battery to 100 per cent takes close to 5 hours.
However, you can get it up to 25 per cent in an hour. In a situation where the battery charge drops to 10 per cent, the scooter goes into limp mode with a drop in throttle response and max- speed. If that drops to a further 5 per cent, you are forced to come to a halt as the remaining juice in the battery is used to perform limited functions. The company is offering a warranty of 70,000km on the battery.
Ride quality
The trailing link suspension setup, that pays homage to the classic, does its best to keep you disconnected from the undulations and disturbances of the surface. However, the ride quality is on the stiffer side, which is felt every time you enter a pothole or go over a speed breaker, especially at speeds above 35kmph.
Slipping through traffic feels easy and nimble, with the 12-inch wheels with MRF tyres offering decent grip through turns at city speeds. The Chetak comes with a combi-brake system with regenerative braking, that offers enough bite to quickly bring the scooter to a standstill, with a claimed 60-0kmph distance of 2.8m.
Verdict
What works in favour of an EV against an IC engine scooter is that they have significantly lower maintenance costs. The service intervals are longer, which in the case of the Chetak is 15,000km as compared to 5,000-10,000km for an IC engine scooter. In case of an EV, there is no oil change or filter change but just adjustment of the brakes, suspension settings and tightening of some contact points. Additionally, even the running costs are lower. For example, it takes approximately 3 units of power for an e-scooter to deliver a range of 100km. For the same distance in an IC engine scooter, it will take close to 2.5 litres of petrol, which amounts to an approximate Rs 220. On the other hand, in Maharashtra, it is Rs 8-9 per unit which makes it Rs 24-27 for every 100km.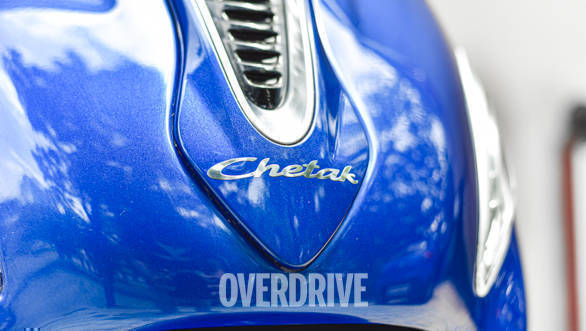 The fact that Chetak EV comes from an established two-wheeler manufacturer like Bajaj Auto, gives it a huge edge over most of its rivals in terms of product reliability, spares availability and also dependability on the brand for after-sales support. Depending on your preference of front disc brake, type of paint and trim details, there's the Chetak Urbane priced at Rs 1 lakh and the Chetak Premium available at Rs 1.15 lakh, ex-showroom. The e-scooter is being sold through the KTM-Husqvarna showrooms.
Images: Anis Shaikh
In conversation with Eric Vas, President, Urbanite Business, Bajaj Auto
Why a fixed battery setup?
We started with looking at range as the fundamental. We targeted specifically a 90Km+ range. And then you work backwards on costs and try to optimize the battery for that as batteries are horribly expensive. And that is how we came down to fixed battery configuration with a particular setup for cooling it. If you look at statistics, the average daily riding distance for a scooter in India is around 30km, which can go up to 35km in cities like Bangalore. Then you take the 90 percentile utilization that has a cut off at around 57-60km which means 97 per cent of Indian popular do not ride for more than 67-70km in a day. Then you put in a factor of safety that nobody wants to be at zero charge when he/she comes back. The rider would also want a little extra and that is why we came with a range of 90km+.
Electric vehicle space: OEM vs Start-ups
A vehicle comprises of two parts, one of the powertrain and other are the things on the vehicle like suspension, body, chassis, chassis dynamics, brakes, lights, ergonomics, handling, etc. I would say that a traditional OEM has a huge edge on that part because they understand how to set the suspension, dynamics and other bits, which a startup has a huge problem to deal with. The domain knowledge doesn't exist with them. Of course, on electric powertrain, one would say there is not much to choose because today both are new to the electric powertrain business. Given this fact, a traditional OEM has a huge edge because 50 per cent of the vehicle, not by value but work content is known. The electric part powertrain has a level of parity between a startup and a traditional OEM. Even there, the OEM has an edge because they know how to manage the network of suppliers better compared to a startup.
Read OVERDRIVE's detailed interview with Eric Vas here. 
Price (Ex-Delhi)
Starts Rs 1,00,000