2019 BMW 8 Series Convertible first drive review
We in India have not taken to convertibles in a big way due to our hot sunny weather, polluted air and all the dust and noise. But they do provide such an exhilarating open-top driving experience that it is worth getting one, just because it will give you a reason to get away from our cities and drive in unspoiled regions.
Styling
This is a handsome looking sport convertible designed to provide pure driving pleasure and put a smile on your face. It is low slung and wide and has a proper road gripping, low centre of gravity stance. The proportions are elegantly well balanced and just looking at the 8 Series gives the impression that this is a fast machine that will be fun to drive. It has a large single-piece BMW signature kidney grille with a new design language. While other new BMWs like the 7 Series and X7 have big and tall grilles, the one on the 8 Series is much thinner but wide and low-set. It also has the slimmest headlights of any BMW model, which is in keeping with the low sporty stance. In fact, the entire design emphasises this car's width and low centre of gravity.
The massive front bumper has a jutting out apron incorporating large air intakes and there is a prominent spoiler to minimise lift at the front, that will prevent too much air from getting under the car. The long bonnet has prominent contours exuding an 'I mean business' attitude and there are two prominent character lines along the flanks, which also express strength. The slender LED tail lights on the wide sporty rear that is also styled to emphasise that the low slung stance extends well into the fenders, and encapsulate the well rounded and muscular body. The gently rising shoulder line and lid for the soft-top merge nicely, and like most convertibles, the new BMW 8 Series also looks best with the top down.
Interiors
This convertible has a classical style soft-top roof, with fully electric operation. At the touch of a button, it opens and closes in 15 seconds, and you can also do this on the move at speeds up to 50kmph. The 8 Series also has convertible-specific features like pop-up wind deflector in the rear and neck warmers integrated into the front headrests. It also has leather appointments with Sun Reflective Technology. The top seals nicely and keeps out noise and wind, but how effectively it keeps out water in our heavy rains, remains to be seen.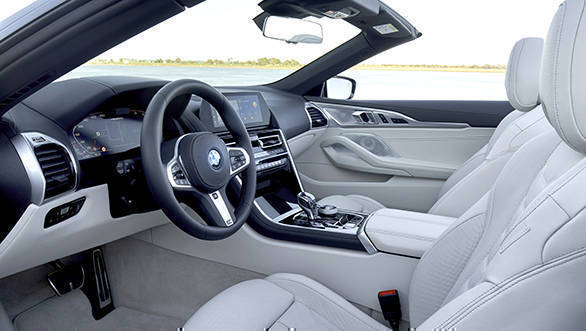 The seating is low and sports-car-like and the interior is very well made and finished with the highest quality of materials. The driver-oriented cockpit is a great workplace to focus on the engaging driving experience that this convertible provides. The front seats are comfortable and shaped to grip you well, even when cornering hard. But the rear seats are really small and only good for kids. It comes with BMW's latest generation head-up display and the new 7.0 operating system enables extremely fast access to settings and functions, and all other adjustments via the touchscreen display, iDrive controller, or steering wheel buttons and voice control. Yes, it also has a digital co-driver controlled by voice commands. The BMW digital key enables access to the car and engine start-up via smartphone and the remote software upgrades allow updating of vehicle functions over the air. The 8 Series also has – a heat comfort package (something unlikely to be needed in India), active seat ventilation, automatic soft close door function and a glass gear shift lever.
Engine and transmission
The new BMW 8 Series presently comes with two engines. The V8 petrol in the M850i generates 537PS and 750Nm of torque and gets to a hundred in just 3.9 seconds. The 840d is powered by a six-cylinder diesel making 324 PS and 680Nm and this takes 5.2 seconds to reach 100kmph. Both engines are mated to an eight-speed automatic that is smooth, and fast to respond to driver inputs. The various driving modes like eco, comfort, sport and sport plus, of course, change the character significantly.
The power delivery from both engines is linear and as the roof can be opened, you almost get into a meditative or hypnotic state listening to the wonderful rumble and super soundtrack of the powerful V8 petrol. It's a tune that you want to keep playing, long after the 8 Series has been switched off. Another additional benefit of being in a convertible, especially if you are driving in a pristine area like we did in Portugal, is that you can hear the birds and also take delight in the fragrances of the plants and trees in the forest.
Driving Impression
As mentioned in the beginning, the 8 Series is designed to deliver "sheer driving pleasure". As this was BMW's aim right from the beginning, they say the convertible was developed alongside the BMW 8 Series Coupe, BMW M8 and BMW M8 GTE endurance racer. They focused on the low centre of gravity, even weight distribution, an aerodynamically optimized and almost lift-free body and lightweight construction using aluminium, magnesium and carbon-fibre-reinforced plastic (CFRP).
The 8 series convertible body also feels strong and stiff, and BMW says it has convertible-specific underbody bracing and special occupant protection measures, including strengthened windscreen frame and rollover bars behind the rear seats that extend by pyrotechnic charge. The steering is direct and very communicative and the handling sharp and responsive. This is a car in which you will love tackling the turns, but one has to watch out for the width. Doing away with the rear seats, which are almost useless anyway, and some reduction in size would make this a much more fun to drive the car. The low slung stance which is good for handling and aerodynamics, unfortunately also means the ground clearance is not very good, and you have to be careful about almost all imperfections in the road.
As with most other BMW's nowadays, it has many drivers assist systems like collision and pedestrian warning system with city braking function, lane departure and lane change warning, rear cross traffic alert and collision warning, parking assistant including reversing assistant with surround view, evasion aid, etc.
Initial Impressions
The biggest attraction of the BMW 8 Series convertible is topless motoring. But as convertibles are not so popular in India, it's the coupe version that will be launched here first. Wait for it if you like driving out into the countryside to enjoy pure air and getting close to nature. It's obviously not going to be cheap, but a better estimate of cost will be available closer to the launch date, which is not anytime soon.
Also Read,
2019 BMW 7 Series facelift first drive review
Also watch the first drive video review:
Price (Ex-Delhi)
Starts Rs 1.3 Crore
Price (Ex-Delhi)
Starts Rs 1.38 Crore