2019 Audi e-tron first drive review
The e-tron is Audi's first all-electric car and the best thing about it is that it drives; rides and handles somewhat like an extremely silent petrol powered car. In an electric car, you expect all the torque delivered in a surging manner, but in the e-tron, the power delivery is a bit more restrained. The Audi e-tron also sounds a little different. Usually an electric car has its own distinct noise, a sort of high pitched humming from its electronics. This high frequency sound has been subdued too with extensive insulation, especially of the electric motors, both of which, especially the one at the rear which is closer to the cabin, being covered with sound absorbing materials. One more dissimilarity between the Audi e-tron and most other electric cars is 'energy regeneration'. Typically this is done most aggressively in electric cars during braking or while coasting. But in the Audi e-tron, its advanced energy recuperation control system permits one to decide on the amount of regeneration. Yes, the driver can opt to make the e-tron free-wheel like it's in neutral or even decide on the degree of retardation for regeneration. It's almost akin to using a gearbox to determine the level of engine braking in a car.
The reason Audi has focussed on all this is because for most of us, an electric car is not the norm, and something we still have to get used to driving on an everyday basis. But the e-tron is designed and engineered to drive just like any other Audi, and this is possibly its biggest USP.
Styling
Sadly, the Audi designers have also fallen prey to the tendency of making electric cars look different than their fossil fuel powered counterparts. Fortunately they have only used the futuristic treatment on some elements like the big grille with several adjustable slats, alloy wheels that also have numerous slits and headlights and taillights that sport a stack of LEDs. Of course the rear diffuser has no exhausts pipes or ports as this is a zero emission vehicle. The sill area is boldly contoured and the black inserts on the door trim are meant to visually convey the location of the battery.
Overall, the e-tron does look like an Audi SUV, a bigger version of the Q5. Which means it's smart with a fair amount of street presence and some sharply sculpted body panels. Interestingly, to get the maximum range and juice out of the electric battery, the designers focussed on aerodynamics and have achieved a drag coefficient of 0.28 with conventional door mirrors. But you also have optional virtual exterior mirrors that reduce the cd to 0.27, which is remarkable for an SUV. Compared with standard mirrors, these reduce the width of the Audi e-tron by 15 centimeters, but look way too small for a vehicle of this size.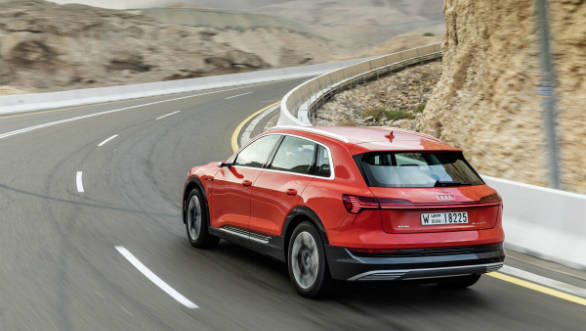 These virtual door mirrors also reduce wind noise that is more noticeable in an electric machine as they are far more silent. The mirrors are actually cameras and the processed images from them are displayed on high-contrast OLED (organic light-emitting diodes) displays or screens placed in the front doors. The mirrors adjust automatically to three driving situations: highway, turning and parking. In the highway view, the field of vision is reduced and other vehicles appear larger in the display. If the driver uses the turn signal indicator, the indicator view extends the image detail on the relevant side reducing the blind spot. And if reverse is selected, then the visibility of the curb view improves for maneuvering and parking. The image is also extended downward – similar to the automatic lowering function in conventional exterior mirrors. But honestly, getting used to looking down at the door instead of into the outside mirror, is something I never quite got used to during our drive. The projected images also look quite odd compared to the real reflected images that you see in the inside rearview mirror. Then of course there is the fact that such mirrors are still not legal in some countries, including India. Not because we have thought this through, but because we have just not considered the possibility of such features. So if they don't know what it is, how can our authorities legalise it?
Interiors
The passenger compartment of the e-tron looks like an Audi, which means it's inviting and plush with almost everything well built and easy to use. I particularly like the fact that Audi has not made it gimmicky and there is none of that video game or space machine feel to it. As is to be expected, certain details make it clear that the Audi e-tron is powered solely by electricity. But even this is done nicely. You have a speedometer and alongside it, instead of an rpm meter, sits what can be termed a power meter. When you accelerate, this shows how much of the power you are utilising. The levels of energy recuperation are also shown at the bottom left of this meter.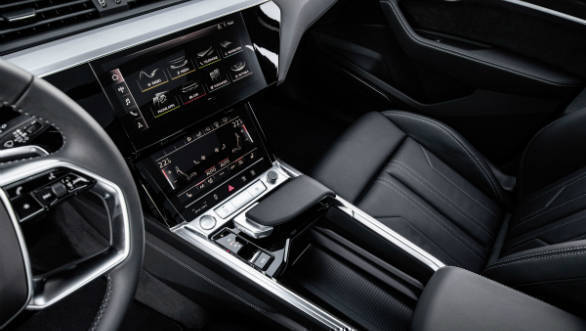 The interior is spacious and comfortable with enough space for five people and their luggage. The almost completely flat floor helps and the manner in which all the space is utilised, shows that from the very initial stages itself, the e-tron was designed to be an electrically driven vehicle with proper planning of the placement of the battery and other electronics.
The e-tron has lots of interactive multimedia features and internet connectivity and also Amazon's voice-activated assistant 'Alexa'. One can use Alexa to get news, weather information, and also order groceries! Besides all this, Alexa streams music and audio books and Audi says they have seamlessly integrated the Amazon voice service into the MMI system of the e-tron.
Power, Range and Charging
The Audi e-tron is driven by two electric motors jointly generating 360PS and 561Nm of torque. In boost mode, asynchronous motors can raise their output for a maximum of eight seconds with the front electric motor's rising from 170 to 183PS, while that of the rear motor increases from 190 to 225PS, which is an overall increase of 13 per cent. The torque too is substantially raised by over 18 per cent to 664Nm. In this boosted or Sports mode, the e-tron gets from 0 to 100kph in 5.7 seconds and otherwise, in 6.6 seconds.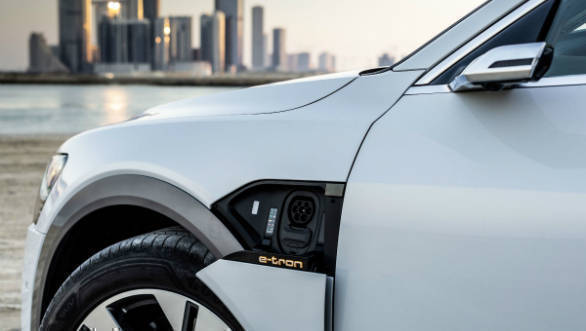 The lithium-ion battery powered Audi e-tron has a claimed range of 400 kms, but this is really dependent on driving condition and style and we will have to test what it is in the Indian driving cycle. On the super smooth and fast and flat highways of Abu Dhabi where we drove it, the Audi e-tron used up its juice at a fairly rapid rate. The battery operates with a voltage of 396 volts, storing 95 kWh of energy and comes with a range of charging options; including a 'fast charging station' that Audi says can give an 80 per cent charge in 30 minutes! But given our present power grid system, this is unlikely to be available in India. In fact, the charging time taken in our country will possibly vary substantially from that achieved in Western nations.
Driving Impression
As mentioned, the Audi e-tron, largely drives like most other Audi SUVs. But because one motor propels the front wheels and another the rear ones, it has an electric version of Audi's famed "Quattro" all-wheel-drive. Being battery powered, the e-tron is no lightweight. Actually the battery alone weighs some 700 kgs, taking the e-tron's overall weight to over two tons. Despite this large load, the Audi e-tron handles fairly well as the battery is placed in the floor with a low centre of gravity. The weight distribution has been well managed too, and due to this, the Audi e-tron does a good job of concealing its bulky weight.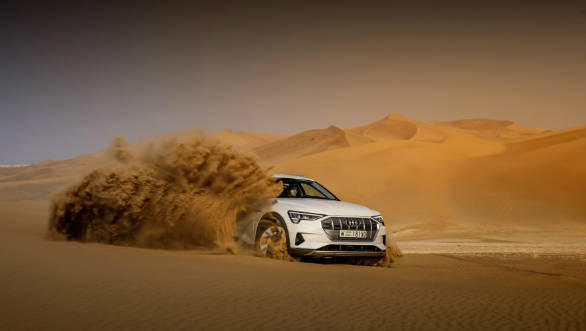 For me, the biggest highlight of driving the Audi e-tron is its adjustable energy regeneration or recuperation system that can almost be used like an automatic gearbox. This system of brake recuperation and coast recuperation is said to regenerate a very substantial amount of the energy the e-tron expends. It is operated by the paddle shifters and if you shift (max two stops), the Audi e-tron freely glides or coasts forward making best use of all its low rolling resistance ability. But when you shift down one or two stops, it's like pulling the reins and getting engine braking or in this case, electrical energy braking along with recuperation. The lazy sorts will also enjoy this 'one pedal driving' feel as you can use the accelerator to both, increase speed and slow down the Audi e-tron.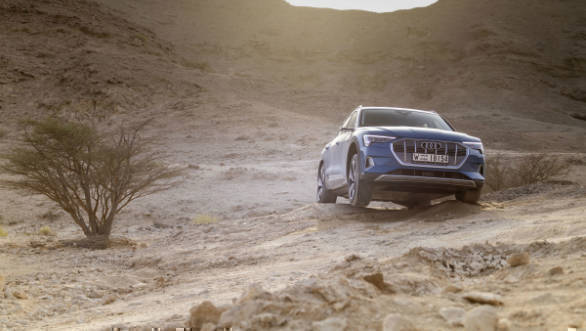 One more striking thing in the Audi e-tron is the superb drivability, or what we would normally describe as the in gear acceleration. The power delivery or response from the electric motors is instant and unlike in regular vehicles, there is no need to go into lower gears or for the engine to build revs to provide acceleration. In the Audi e-tron you just ask, and you get.
Initial Thoughts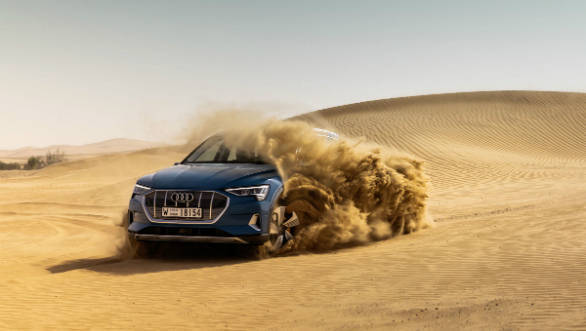 We started our drive of the Audi e-tron from Abu Dhabi's Masdar City, which has been designed, to be the world's first emissions-free city, when fully functional and built to plan. Embarking on our drive in Audi's first ever all-electric car from a city that is intended to be ecologically friendly is obviously appropriate with what Audi plans to achieve with the e-tron. Audi hopes to launch the e-tron in India late next year, but with the challenges of charging infrastructure and an initial cost likely to be upwards of 1.5 crore of rupees, we see only a few select people opting for it. And this too purely because of the Audi e-tron's eco-friendly credentials.
See our video review of the Audi EV SUV below:
Also see: Audi e-tron SUV first drive Video
Price (Ex-Delhi)
Starts Rs 99.99 Lakhs