2017 Kawasaki KX100 first ride review
The KX100 exists as a bridge. It fills the gap between mini-bikes and full size motocrosses that no other manufacturer has managed to do so far. So if your kid has outgrown his KX85 and is looking to up his game, but is still too small to fit on a full size motocrosser, the KX100 is what you should get him.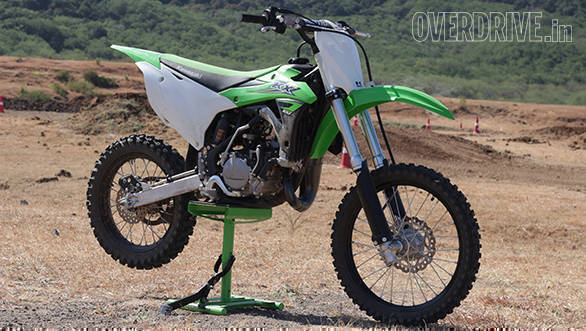 It uses a 99cc two stroke motor that uses KIPS, Kawasaki's power valve system that varies the exhaust port size and timing along with varied ignition timing to deliver a broader range of power. This makes the engine lose a bit of its manic, two stroke temperament. At lower revs the motor isn't completely dead. It's unhappy for sure, but it doesn't die on you. But when you do hit the powerband, prepare for fireworks and tears. Like all two strokes, the power comes in with a vengeance. In fact, it is so violent that you can easily have your wheel pointed skywards when you hit the powerband in first and second gears.
As surprising as the power delivery is, the KX100's chassis matches the motor's ferocity perfectly. The KX100 is built around a steel perimeter frame and uses 36mm inverted fork up front with a Uni-Trak monoshock at the rear. The front end is adjustable only for compression while the rear suspension is fully adjustable. Both front and rear suspensions allow for 275mm of wheel travel, which is enough to dampen out the forces from everything short of an Evel Kneivel stunt. Like its bigger brother 250, the 100 too comes with Dunlop rubber. The suspension squat and grippy rubber give the rear end lots of drive out of corners. And the well damped front end with the knobblies means that you can lean on the front brakes as hard as you want without tucking it. And even when you're at the edge of traction, there is enough feedback coming at you to let you know.
If you look at the KX100, it doesn't look much smaller than the bigger KX250F. In fact, with the new graphics and styling it looks pretty much the same size. But for a fully grown adult, it still is a bit small. And at 77kg, it feels more like bicycle than a motorcycle. The advantage of this is that it is a great confidence booster. You can go as hard into corners as you want and still know that the weight will never overwhelm you - very important when you're a teenager still building your big boy muscles.
For a teen, the KX100 makes perfect sense. It adds tremendous amounts of performance on top of what a 65cc or 85cc minimoto has to offer and also gets them used to handling heavier and larger motorcycles. As I said before, it is a great bridge that will take them from mini to full size motorcycles. Agreed, at Rs 4.68 lakh (ex-Delhi), it is an expensive motorcycle. But think of it this way. More than a toy, the KX100 is a learning tool that will eventually become the stepping stone to bigger, faster motorcycles and, hopefully, competition success.
Price (Ex-Delhi)
Starts Rs 4,87,600