2015 Mahindra TUV300 road test review (India)
I've reached the Vashi toll booth, long queues, irritated and impatient commuters honking, the truck smoke hangs heavy in the air. From the corner of my eye I can see a silver Duster precariously darting in and out of the snaking queues, honking madly, flashing lights wildly and generally making a nuisance of himself. I spot a flag of India stickered onto his bumper and another dangling on his dashboard that looks a bit sarkari, and I can only surmise he's with some government office trying to bulldoze his way through. I look away as the queue ahead of me crawls forward and then I notice the Duster has crept up to me. The rear passenger window is rolled down and I notice a burly moustachioed man, shiny Ray Bans, white shirt unbuttoned to his navel and gold jewellery everywhere grinning like a school boy. He's obviously seen the Mahindra TUV300 I'm in and so I expect a barrage of questions which come up in just a few seconds. As the two of us crawl forward there's a volley of questions and answers yelled out between him and me. How's it? Worth the money (he thinks I've purchased it)? Enough interior space? What about the engine? Fortunately he does not ask about the mileage, probably guessed that the TUV300 is too new for me to know what sort of mileage it delivers. Seconds later and with the banter drying out, he raises a hand in a sort of gesture that looks as if he's blessing me and he's off. Obviously he does not stop to pay a fee at the toll booth but I do. And the booth attendant begins, oh is this the new Mahindra TUV300? How's it? There we go again...
I've been encountering questions and inquisitive stares all the way from Mahindra's plant in Chakan to Mumbai. Cars have zipped over to me on the expressway only to slow down next to the TUV300, then move ahead, then pull back, move over to the other side and finally when it looks like the driver's all ready to literally drive into my seat, zip off again. It's alarming to see just how much attention the Mahindra TUV300 is attracting. And it's not even a handsome SUV. In fact when I first saw images of it circulating on the web I thought it was downright ugly. So ugly in fact that I was about to pen down a column for our website questioning the ability of Mahindra's design team. I didn't, wanting to see it for myself in the flesh before I cemented any opinion. And it's not bad, it's not great either but the TUV300 is a good place to start off for Mahindra to build critical and lasting design aesthetics.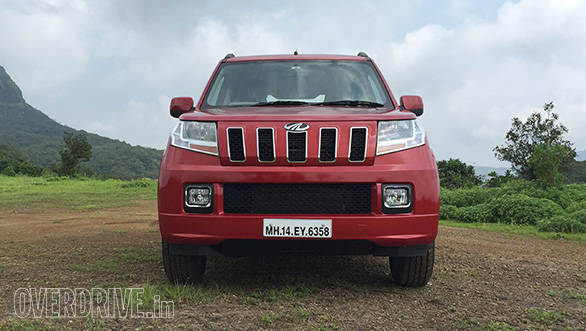 The TUV300 first off all I must say is imposing, for a sub 4-metre SUV the TUV300 almost dwarf's its closest competitor, the Ford EcoSport. Despite staying under that length limit, Mahindra have managed to pull off a vehicle that looks larger than it should. That also means it has a fairly strong presence which manages to attract enough glances. Once you've had that first glance you should notice the minimal body work which for Mahindra is something they have never done before. No sculpting and scooping and oddly shaped surface detail. I like the neatness of the TUV300, it is to me in this sea of curvy and complicated automotive shapes that keep emerging with alacrity, refreshing! Yes it is boxy, I admit the design might take you back a few years to the days when we automotive scribes actually used the term boxy. And yet there is something that is strangely appealing to me. There is a hint of badass, mean streak in it, a slightly rugged rustic veneer that is both hard to digest yet strangely arresting. Yes Mahindra may have aped the Grand Cherokee and wrought something out of the Quanto in the overall design, but it's getting people to take notice. And isn't that above all the engineering and practicality, what a design must achieve to do? All the time I spent in the TUV300 I noticed enough envious or admiring stares to know Mahindra are onto something here. I'm not a fan but I can clearly see what the appeal is.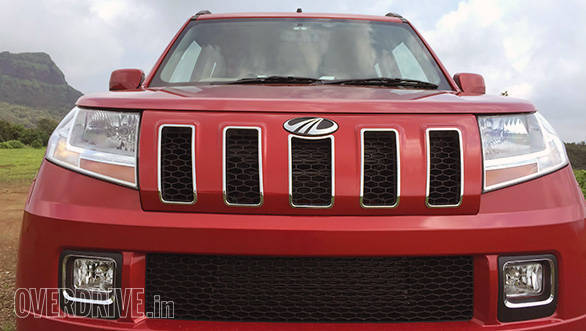 The TUV300 (Tough Utility Vehicle) was modelled on the lines of a battle tank. Don't ask me which one and definitely don't ask Mahindra either, because neither of us know. As mentioned before, it's a sub 4-metre SUV, a few millimetres shorter in length (3995mm) than the Ford Ecosport but taller (1839mm) and wider (1835mm) substantially. The chassis is reworked from the Scorpio, shortened to take advantage of the sub 4-metre duty benefits, yet it's sufficiently rigid and is capable of loading 7 passengers. Of course more would fit and the TUV300 would happily accommodate them, seeing how Mahindra's are greatly favoured in rural areas for being immensely strong load bearers. Perhaps that also explains why the fifth door or the tailgate isn't the kind that opens upwards but sideways. Ever seen how a whole village loves to crowd the boot and leave the door ajar as they perch precariously on the bumper or on the outside step? Yup, the TUV300 has to be a tough utility vehicle.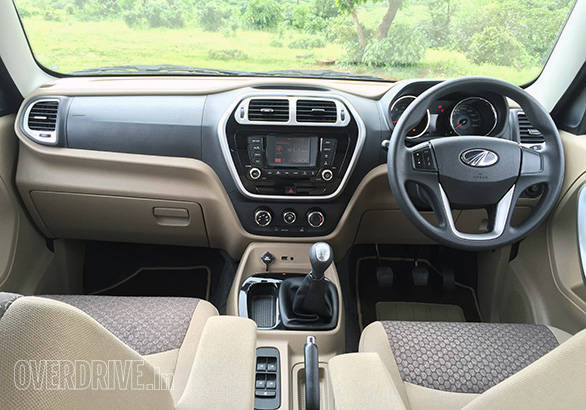 That however, does not mean it needs to be rustic and one look at the interiors will clearly indicate how far ahead Mahindra have moved in terms of aesthetics and design. That they have adopted a global design standard, the air con vents for instance are simple rectangles or square-ish and not the fancy lattice work kind seen in the XUV, is just one of those indicators. Even the simple clean lines of the dashboard playing with black and beige tones, piano black surfaces with aluminium looking plastic bezels and ordinary controls elevate this cabin to a new level. Mahindra could have used better quality materials, you can see that the finish on some of the surfaces isn't that great but I'm not complaining as there is just so much more to appreciate in this cabin. And one of those things to appreciate is the space in this cabin, especially for the middle row. It's generous and how, there's ample width and knee room for three passengers and with an almost flat floor all three are bound to be comfortable no matter how far you drive. The last row or the two jump seats is the only space where two passengers would be uncomfortable as there is not enough shoulder room and they'd have to sit with their knees intertwined.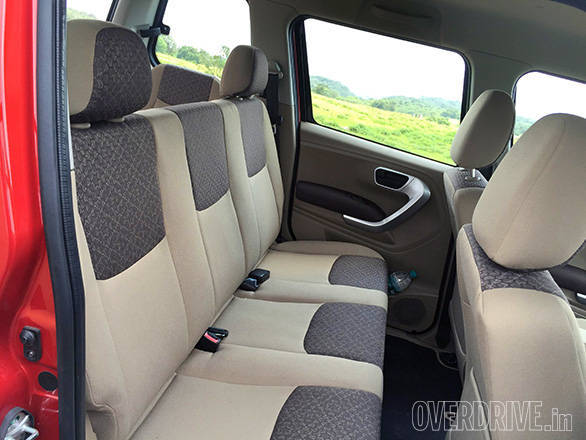 Build quality overall is also impressive. There are a few areas that could have been looked at closer, but I'd be nitpicking here to find fault. What I am hoping however is that quality is consistent, and as we have seen in the past, it tends to differ from vehicle to vehicle.
Passengers at the front get lumbar support and armrests but none at the rear. Also there are no air con vents for the passengers beyond the front seats, but then keep in mind the overall length of this cabin is somewhere under 3 metres so cooling should not be a problem. Then there are the abundant storage spaces inside the TUV300, all of which are a 100 percent useful and also two charging points, one for the front and rear.
Boot space is a decent 384 litres but it can expand to 720 litres by folding the middle and last rows. Several of these features however are standard equipment in the higher variants and don't exist in the base T4 and T4+. There is also a new infotainment system and it's pretty advanced but not very reliable. So while for instance it hooked up with my iPhone, there were a few issues I noticed when the player had to switch between Bluetooth and wired connectivity. A feature that impressed me to no end were the cornering lamps. Turn the steering to the right and the driving lamps inserted into the bumpers light up, illuminating the area around the corner. This is a very useful feature especially in rural areas where street illumination is non-existent.
Powering the TUV300 is a new 1493cc mHawk diesel engine (called the mHawk80 and based on the 2.2 mHawk used in the XUV and Scorpio) that has positively got to be one of the best engines of 2015. That is because it's only a 3-cylinder engine but delivers 85PS and an abundant 230Nm of max torque available from 1500-2250rpm thanks to a 2-stage turbocharger. So not only is the torque overwhelming, but it's well spread so at no point do you get any turbo lag. Small inputs on the gas pedal elicit massive responses from this engine. I do wish the revs climbed faster and smoother, compared to the EcoSport. The Ford's 1.5-litre diesel feels significantly more seamless and effortless. This engine as I understand it, is tuned to perform as a workhorse and not a racehorse. Hence drivability is unparalleled as even from under 1500rpm in 5th gear, you can sense the torque flowing seamlessly through the drivetrain to help the TUV300 build speed. Mahindra claims that almost a 187Nm of torque is available at just 1100rpm, and that is impressive. So, as long as you tread lightly on the throttle pedal the gains are fluid, jab it hard and the engine may feel a bit jerky.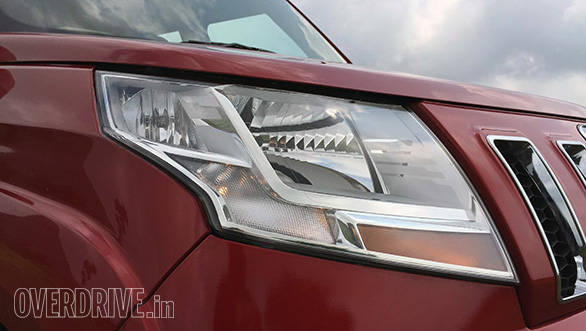 The torque is delivered to the rear wheels through a 5-speed transmission for now, though in the future expect a 4WD version as well. You get both a manual and an automated manual transmission, though the AMT configured TUV300 delivers only 81 horses. In my opinion, the AMT may seem quite convenient, but drivability won't be as seamless as the manual. There are a couple of drawbacks of this drivetrain which pales a bit in significance to its otherwise superb character. These are the few vibrations that you feel in the gear shift lever and foot pedals. It's not intrusive and something you'd barely notice. NVH overall in fact is quite impressively controlled, even at high speeds. The other issue is the shift quality that is notchy between the forward gears. On occasion it's also refused to go into reverse, but I've realised that the way to do this smoothly is to release and depress the clutch completely, after which it slides into reverse smoothly.
In this configuration, the TUV300 does a 0-100 in 17.4 seconds. That's incredibly slow, especially since the TUV300 takes 7.1 seconds to get to 60kmph. However acceleration performance isn't the suit the TUV300 intends wearing otherwise the  transmission would have been optimised for outright performance. On the other hand fuel efficiency isn't too great either, our tests revealed an overall of 14.65kmpl which is significantly lower than the figures claimed by ARAI. On the highway we saw 19.3kmpl whereas in the city we got 13.1kmpl which are not too bad. However given that in this day and age diesels tend to deliver a lot better efficiency, I was hoping to see an overall figure above if not close to 20kmpl at least.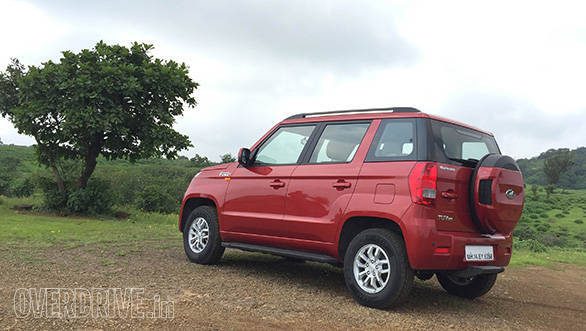 The TUV300 resides on a ladder frame chassis that has been worked on considerably, though I expected more. It exhibits a fair amount of rigidity but body roll needed a bit more control, which would have truly made it sublime. As it is, the shortened wheelbase with that 1.83 metre height and a high 191mm ground clearance pulling the centre of gravity high spell sufficient handling woes. Thankfully the 215/75 15" tyres give it decent grip and a reasonably confident demeanour around corners, as long as it's flat and not rough.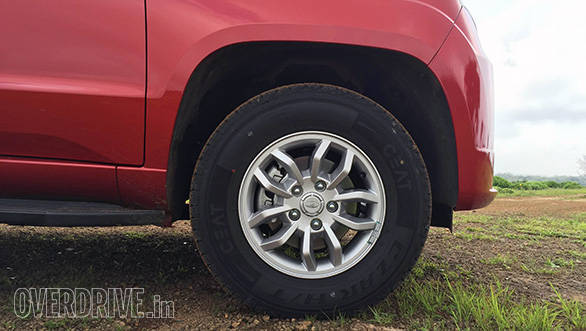 Over rough tarmac, the all terrain tread patterned tyres tend to feel quite out of place. A simple change of tyres to proper road biased ones should bring about immense improvement in the TUV300s handling character and I can't understand what the reason for using these particular tyres is. Better tyres would also help achieve better braking. Thankfully when I did hit the brakes hard, at just a pinch over 100kmph the TUV300 came to a halt, albeit with a bit of screeching but without the historical rear overtaking the front syndrome that has afflicted various Mahindra's for years. The T8 variant I was in had ABS; standard in all variants but the base T4, again something I don't understand especially since Mahindra is strongly advertising its commitment to safety.
Ride quality is quite impressive and is something I should have mentioned before handling. It's one of the most positive aspects of the TUV300 and something I'm sorely going to miss when I drive home another vehicle tonight from our long term fleet. Nothing gets past those dampers into the cabin, nothing. The moderately heavy steering chips in to boost confidence and despite being electrically assisted the weight felt good in my hands. It's not over assisted, even at crawl speeds, there is a fair amount of weight, which you may not find to your liking but I think is just right.
OVERALL
I'm quite taken aback by the Mahindra TUV300 and any preconceived notions I harboured about the way it looks or feels to drive no longer exist. Yes there are issues, some creases need to be ironed out and some kinks hammered in, but in the grander scheme of things this is a huge step forward for Mahindra. I suspect Mahindra will discontinue the Quanto in some time, especially since sales of that product are diminishing. The TUV300 is thus brilliantly placed to replace that vehicle.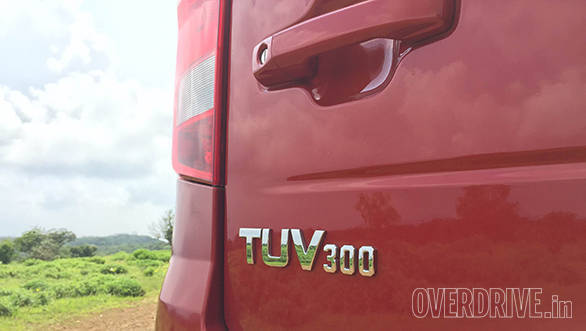 Mahindra enjoys a fair amount of appreciation from the masses for whatever they do, and it doesn't matter if it actually translates to sales numbers or not. I can clearly see encouraging numbers coming in from non-metros and the hinterland where people will devour the upmarket feel of the TUV300. For a more demanding buyer too, you need not be a hardcore Mahindra fan or on a budget looking for a badass imaged SUV to pick the TUV300. I for instance may never own one, but I can clearly see what I'm going to replace my dad's ageing Bolero with!
For more stories from OVERDRIVE on the new Mahindra TUV300, click here
Images by Rohit Paradkar
Price (Ex-Delhi)
Starts Rs 8.4 Lakhs
Price (Ex-Delhi)
Starts Rs 7.99 Lakhs