WRX 2016: Mattias Ekstrom wins HockenheimRX
Mattias Ekstrom leads the way during the final race of the HockenheimRX
Mattias Ekstrom took a fine win at the second round of the World RX championship at Hockenheim. In what was a good weekend for the EKS RX team, Toomas 'Topi' Heikkinen, Ekstrom's team-mate, finished second. Third place went to Ken Block in the Hoonigan Racing Division Ford Focus RS RX Supercar.
The drivers who had made it to the finals were Topi Heikkinen, who won Semi Final 1, Ekstrom, and Robin Larsson, along with Liam Doran, who took a fine win in Semi Final 2, Petter Solberg and Ken Block. Block had made it to the semis was something of a surprise, as he had ended 13th after the qualifying sessions but was promoted to 12th when Timmy Hansen's Peugeot was disqualified after being found under the stipulated weight limit.
Toomas Heikkinen and Mattias Ekstrom celebrate giving EKS RX a one-two finish at HockenheimRX
The final race saw a close battle between Ekstrom and his team-mate, although the DTM driver made good use of the joker lap to get ahead of the Finn. Once he had made it to the head of the order, he stayed there and allowed some measure of chaos to continue behind him. Although Heikkinen too appeared to be safe from any threat behind, there were scraps aplenty lower down the order. Ken Block, however, held his own and managed to finish fourth. Behind him Robin Larsson managed to topple his car, land the right side up and continue driving to finish last. Petter Solberg fought as hard as he could for position but couldn't do any better than fourth overall, in a weekend that was plagued by mechanical issues - first the car's differential, and then engine woes and an overnight engine swap. Fifth overall went to Liam Doran in the JRM World RX Team BMW Mini.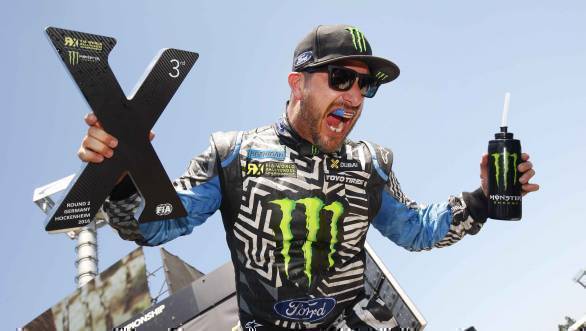 Ken Block visibly elated at his third place finish at Round 2 of the 2016 WRX championship
"I've never been happier in my entire life – to win in World RX and now in front of my loyal DTM fans is a dream come true," said Ekstrom. The win at Hockenheim means that the Swedish driver is currently tied for points at the head of the championship standings, with both him and Norwegian driver and twice WRX champion Petter Solberg having scored 48 points apiece.
Ranked seventh overall after the Hockenheim RX is Johan Kristoffersson, who put up a brave fight in the Semi Finals, leading most of the way, only losing out on making it to the finals due to a rear-left puncture. Kristoffersson is currently fourth in the championship standings, with 39 points, while Heikkinen is six points ahead with 45.
Round three of the World Rallycross Championship takes place at the Mettet circuit in Belgium in another four days - May 13 to 15, 2016.