WRC 2019: Ott Tanak finishes first for Toyota at Rally Portugal
Ten years after starting his WRC career in Portugal, Toyota driver Ott Tanak won the Rally of Portugal for the first time. He beat his championship rivals Thierry Neuville (Hyundai) and Sebastien Ogier (Citroen) in an event in which all four WRC teams suffered suspension and steering failures, though each team had a car in the top four places at the finish. In very hot conditions, Toyota had impressively been leading 1-2-3 before Jari-Matti Latvala finished seventh despite missing a stage through suspension failure and Kris Meeke crashed on the final stage. Bold, tactical time control moves at Hyundai were employed after disastrous first morning fuel problems delayed Dani Sordo, who initially led, and guest driver Sebastien Loeb in order to support Neuville. Seventeen-year-old Kalle Rovanpera was the top R5 driver on the WRC debut of Skoda's new Fabia R5 Evo and seven Fabias finished in the top eight of the R5 category, though Ole Christian Veiby's Volkswagen Polo GTI R5 led until it was badly damaged by fire. At the halfway point in the 2019 WRC series, Hyundai now leads Toyota by 20 points in the Manufacturers' championship while Ogier leads Tanak by two points in the Drivers' series.
Ott Tanak and co-driver Martin Jarveoja celebrate their win at Rally Portugal
At first glance, 2019 is becoming the year of the WRC duel between Hyundai and Toyota, but just beneath the surface there is a team which can easily be missed. The six-time world champion Sebastien Ogier continues to find unexplored ways for Citroen to penetrate the current domination of the Far East manufacturers, overcoming handicaps which would eliminate the aspirations of lesser mortals at a glance. As he explained before the rally, the running order rules deny any hope for high scoring points for a reigning champion whenever he has to run ahead of his colleagues on gravel rallies. The only chance to score high points comes towards the end of the season when someone else has taken over the championship lead. Yet once again Ogier has defied the rules and at halfway through the season he continues to be ahead. His dogged attention to opportunities and avoidance of damaging errors pays off. On this rally, his rivals Ott Tanak and Thierry Neuville both scored five stage wins but Ogier's only stage win was on the PowerStage – when for tactical reasons Tanak deliberately slowed down! The Estonian did this to avoid driving first car on the road on the following championship rally, in Sardinia.
Tanak powering through the stages at Rally Portugal en route victory
The smooth roads in Portugal, when it is dry and hot, look enticing but they are tricky in cars that are subjected unexpectedly to higher stresses than on other gravel events. Toyota has already suffered problems earlier in the year, often ostensibly with punctures and broken wheels but the strain on suspensions is part of the problem. When both Jari-Matti Latvala and Tanak had suspension trouble on the Saturday afternoon, it looked like Toyota's only hope for success rested with Kris Meeke. Tanak however was lucky, his car could be repaired but Latvala's could not. They were not alone in despair, Hyundai had electrical troubles and this forced Dani Sordo and Sebastien Loeb to lose a lot of time on Friday, leaving Hyundai to rely on Neuville who drove carefully in the dusty stages early in the event, and who then found it difficult to keep up with his rivals. Hyundai ordered Sordo and Loeb to fall back, incurring time control penalties, to give support by way of road cleaning ahead of Neuville.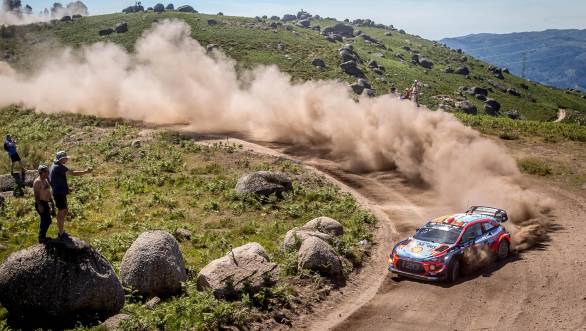 Thierry Neuville and co-driver Nicolas Gilsoul finished second in their Hyundai Coupe WRC at the 2019 Rally Portugal
It was Latvala's suspension problem which allowed Neuville into a podium position and then to climb to second when Meeke first spun and then on the final stage crashed. Earlier, Tanak had been completely in control with a lead of a quarter minute before his suspension broke. When Meeke retired, Tanak could finally feel at ease and cruised to the finish, worried about how the next rally would pan out. That was when he deliberately eased his speed on the final stage, knowing this would put more pressure on Ogier on the next event. Ogier's teammate, Esapekka Lappi had been lying fifth but rolled on the final morning and then hit a bank which broke the rear suspension.
M-Sport entered three cars. Gus Greensmith was allowed to drive a World Rally Car on this occasion and went splendidly until six stages from the finish when he went off, then on the final stage he spectacularly crashed at the famous Fafe jump, just after his steering had failed. Images showed his front wheels had been at undesirable angles before he landed. The ensuing crash caused the PowerStage to be Red Flagged and caused organisers to decide on a fair notional time for Latvala. Elfyn Evans started well before his car suffered an electrical problem and he fought hard for the rest of the event to catch up with his teammate Teemu Suninen, the cars finishing fourth and fifth.
Sebastien Ogier and Julien Ingrassia finished third at Rally Portugal
After a slow start earlier in the year, the WR2 Pro category took off with new energy with the arrival in the WRC of the new Skodas. Kalle Rovanpera led until he punctured on the Friday afternoon which allowed Ole Christian Veiby into the lead with his Volkswagen Polo until his car retired. Rovanpera regained the lead on Saturday morning and led all the way to the finish. An early challenger was the development Citroen C3 R5 of Mads Ostberg which missed stages, because of brake and suspension troubles and punctures because of rim problems, but he struggled to the finish far behind. Rovanpera finished sixth overall and Jan Kopecky finished eighth, being separated by Latvala's WRC car, after the organisers selected Latvala's notional time. Pierre-Louis Loubet (son of the former WRC driver Yves) won the highly competitive WRC2 Amateur category.
Price (Ex-Delhi)
Starts Rs 6.8 Lakhs
Price (Ex-Delhi)
Starts Rs 6.17 Lakhs