WRC 2019: Gaurav Gill gears up for World Rally Championship return
It was a shock in the Indian motorsport community when their country's legendary rally driver Gaurav Gill announced he was changing his long time allegiance to the MRF tyre company and moved to the rival JK tyre company thus reigniting the WRC programme which MRF had recently been running. Finally the day has now come, Gaurav is going to Rally Turkey and the new programme was up and on its way.
"At the moment the plan is for us this year to enter Rally Turkey, Rally GB and Rally Australia, all gravel events, with the possibility of entering maybe also a tarmac event. It will be a one car entry in Fiesta R5 Mark II prepared by M-Sport sponsored by JK Racing, but this year the car will not use JK Tyres. The branding on the car will not be JK Tyres, instead it will be JK Racing. The decals are not ready yet because they're going to finish them off in Turkey at the venue. We will be testing on Monday before the event so we don't want to ruin the impact of the full livery for the rally".
First look at the JK Racing livery that Gaurav Gill is expected to run on his MSport Ford Fiesta at the 2019 WRC Turkey
It has been stated that the object of the exercise is to get current experience of tyres in the WRC ready for future production, but what tyres will you use in WRC competition this year? "We will go ahead with Michelin, so we will take advantage of M-Sport's experience with Michelin? M-Sport will be our partner and they are giving me a new car to drive. Hopefully we can get some strong results this year. I have not driven the car yet. First time will be in Turkey, just the week before the rally. Unfortunately that's the only test plan we could manage. So we just have to make the most of a one day test with some Shakedown runs on the Thursday".
You said you were also thinking of doing a rally on tarmac, but at the moment I believe the programme is for JK to develop only gravel tyres? "As of now we are looking into the gravel tyres only, but in the future also the tarmac tyres. We are waiting for extra partners to come onboard to allow us to have some more budget so we can use that for some tarmac experience this year." All the rallies will be alongside Glenn Macneall? "We've been good friends for over ten, 12 year now. He's got great experience and we have a good friendship, so it works fine. Also he has a good sense of humour and he likes to eat a lot of curries and chilli so that adds to it!"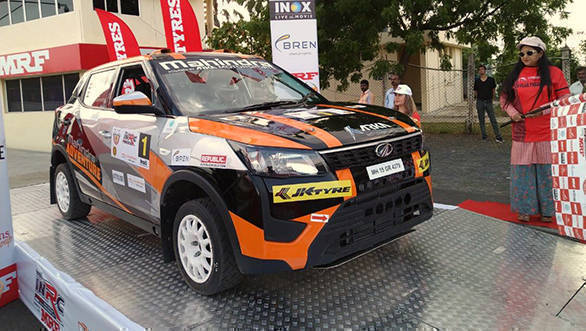 Gill's Mahindra R2 that he is currently rallying in the 2019 Champions Yacht Club Indian National Rally Championship
Gaurav's experience with JK gravel tyres has already begun in India. "We are running tyres on a Mahindra XUV300 R2, and I'm now developing their rally tyres for JK. It is all part of their programme to put together some cars for new and younger drivers. This includes training and forming a team for the future for the Indian rally championship with another R2 car. We are taking things one step at a time. We are currently developing the tyres for the Indian market for the R2. Whatever experience we learn in the WRC we can feed that down for the local market and then begin to start developing tyres for the global market later".
The Mahindra XUV300 project started a few weeks ago in Chennai but it was only a very provisional specification though the car was already almost up to the mark in terms of the Indian championship. "Unfortunately we had an issue with one of the parts so we did not finish the rally. Since then we have tested the car in full R2 spec and we have another rally in the next three or four weeks, near New Delhi. We should have all the parts hopefully with a full R2 spec with 200bhp engine and a dog box instead of the sequential box I've got now. I have a teammate, Amittrajit Ghosh, running in another Mahindra in the same spec car. Opposition in the INRC comes mainly from Volkswagen who have a couple of semi-factory Polo R2s."
Gill is a busy man. "My job is to help them manufacture the tyres and also run a team with new younger drivers. That's our agenda and objective for the next couple of years. Plus we are hoping to have another partner with our long term goal competing in the world championship in the WRC2 class for a few years." Recently Gaurav was conferred the highest national sporting award for his commitment and performance in rallies from the President of India. Catch him when you can!
More on Gaurav Gill:
Know your Indian racing star: Gaurav Gill
Gaurav Gill: Theory of evolution
All the world's a stage for Gaurav Gill who heads to WRC2 in 2018
Price (Ex-Delhi)
Starts Rs 7.95 Lakhs