WRC 2019: Dani Sordo takes surprise Rally Sardinia win as Ott Tanak suffers steering failure
Sudden steering failure on the final stage, Toyota's second such problem on this event, denied Ott Tanak a third successive WRC win, gifting a career second victory to Hyundai's part-time driver Dani Sordo. After an amazing earlier drive defying a running order disadvantage, fifth finishing Tanak regained the championship lead over Sebastien Ogier. Hyundai cars finished first and third (Mikkelsen) extending their championship lead to 44 points. M-Sport came second (25-year-old Teemu Suninen, a career best placing) and his teammate Elfyn Evans was fourth. Tanak's dramatic problem climaxed an event where the three top championship contenders had problems, Ogier wrecking his suspension on Day 1 and Thierry Neuville losing heart after losing time off the road. The event started with five different drivers representing all four teams leading in the first six stages. Skoda Fabia cars finished 1-2-3 in R5, Kalle Rovanpera winning the WRC2 Pro category and Pierre-Louis Loubet, the WRC2 Amateur class. Jan Solans won the Junior WRC which was led for most of the event by Dennis Radstrom.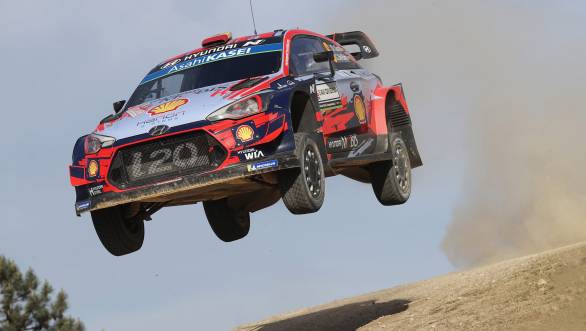 Dani Sordo on his way to a surprise victory for Hyundai at Rally Sardinia
Sometimes even the most carefully thought out plans do not succeed. The record states that Hyundai won the rally but it was never ordained that Dani Sordo should win. It is difficult to know exactly why team leader Thierry Neuville had such a bad event. He had won the event twice in the last three years, this time he scored only five stage times in the top five places and never lay higher than sixth. It is reported there was tension in the cockpit and his rally never recovered after a pacenote misunderstanding saw the car off the road for a half minute. As the team's highest placed championship driver the team supported him strongly, prepared to sacrifice the position of teammate Andreas Mikkelsen to gain Neuville a position in the final result. Sensing this plan, Mikkelsen made fastest times on the final four stages and was the team's fastest driver on the event. Hyundai chief Andrea Adamo's plan came to nought when Mikkelsen overtook Elfyn Evans on the final stage and when Tanak's misfortune dropped an innocent driver into the middle of Adamo's carefully considered time control manoeuvre! Sordo meanwhile took the lead on Friday afternoon and held this before Tanak recovered from his early running order handicap and moved ahead. Sordo was in the right place to be Spain's first WRC winner since his own win in Germany in 2013. A word from Adamo: "I'm happy he's winning but I would prefer to win arriving first. When you see something like this happening I really feel for Toyota in this moment".
Ott Tanak looked set to take victory for Toyota at Rally Sardinia, until a steering failure ended his hopes
Toyota cars were lying 1-2 at Friday midday but then the leader Jari-Matti Latvala made a mistake at a hairpin and rolled with no spectators nearby to help right the car. This was bad enough, losing well over eight minutes, but two stages later the car mysteriously swerved off a straight road when the steering locked up. Tanak was brilliant as he fought his way during the first day and superb when he won all six stages on Day 2. His last stage agony, captured by TV, was heart-rending, but this time there was little impressive about Kris Meeke's run on his way to sixth place, only once in the top three on the stages – before a final stage puncture dropped him to eighth. Toyota Gazoo's test driver, Juho Hanninen was enlisted for useful on-event test work and after reaching ninth place, his entry was withdrawn on the final day, the purpose of the entry already achieved.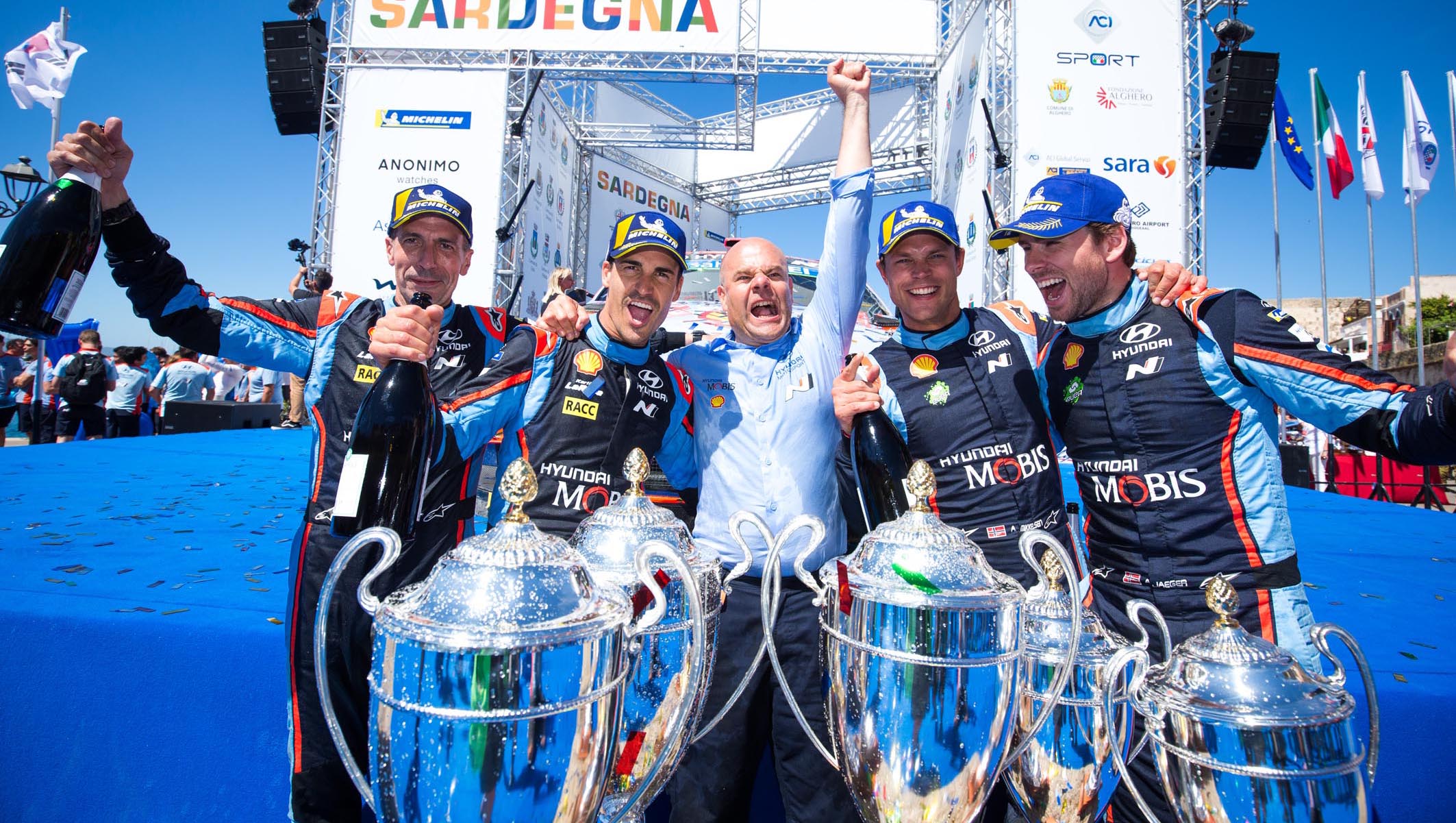 The Hyundai podium finishers celebrate their first and third place at 2019 Rally Sardinia
There was plenty to be happy about at M-Sport. It was a late decision to install their former team co-driver and later Toyota Team Manager, Jarmo Lehtinen, alongside Teemu Suninen. On the second stage of the rally, they were leading the rally! It was an immensely mature drive to second place. Suninen lost some time with a spin on Day 1 and on occasions where he was not confident to ease his pace, all of which put him in a position to take second place on the final stage. Like Teemu, Elfyn Evans' starting position gave him a good start on the rally. For half the event, he was embroiled in a fight with Hyundai's Mikkelsen before losing the chance of third place on the final stage. M-Sport's 30 points from this event was the team's best result this year. Citroen's 12 points however were their worst score of the season. Ogier's impact in broad daylight with a huge marker rock on the opening day led to him being forced to spend the rest of the event carrying out on-event testing duties. He later incurred huge penalties for changing his running order to provide more representative testing conditions. Teammate Esapekka Lappi was no happier and drove to finish inside the top WRC positions.
Teemu Suninen on his way to second place at Rally Sardinia
There is little doubt that the official Skoda team with their new Evo cars should be considered top of the class in R5 while M-Sport makes themselves ready for introducing their new "Evo" model, due on the next WRC event in August, but things were not like that. While Kalle Rovanpera skilfully kept his lead despite various minor problems he was backed up by Jan Kopecky, but there was challenge for attention. Once again the Citroen team brought along a C3 R5 for Mads Ostberg which had recent upgrades on the car and was fastest on three-quarters of the stages. Unfortunately there was a problem, Mads went off the road in a thick dust cloud. He lost nearly 12 minutes on stage 2, "Until I hit a rock I thought I was on the road." He used the rules so he could continue on the rally later on in good conditions, which enabled him to show the new performance of the car. Early R5 leaders included Nikolay Gryazin and Pierre-Louis Loubet in old model Skodas). Loubet falling back with differential trouble and the car running in two-wheel drive mode, finally finishing third behind the works entered Skodas and winning the WRC2 Amateur category for the second event running. The Junior WRC category saw Dennis Radstrom leading for a long time before being finally overhauled by Jan Solans, and who had now taken the lead in the series.