WRC 2017: Latvala returns Toyota to the top step of the podium with Sweden win
Eighteen years after their last WRC victory, Toyota was again winning a World Championship Rally, and the winner was Jari-Matti Latvala exactly nine years after his first WRC victory when he became the WRC's youngest victor. Now he is the championship's most experienced driver, and during this time he has won this specialist event in three different makes of car. The 2017 event started with a great battle between Hyundai's Thierry Neuville and Latvala but on the final stage of the Saturday, just like in Monte Carlo, Neuville went off the road when leading. Ott Tanak overcame mechanical troubles and finished second, while his M-Sport teammate Sebastien Ogier suffered from road conditions and scored no fastest stage times for the first time in four years, and struggling to finish third. Citroen drivers again had a disappointingly inconsistent performance not helped by technical problems. Pontus Tidemand dominated the WRC2 category through Days 2 and 3, winning 11 of the 17 stages. After pre-event worries, the weather provided classic conditions and created a unique show.
The first win for Toyota Gazoo Racing comes in only the second rally since their return to the World Rally Championship
As at Monte Carlo, Thierry Neuville was the pacemaker in the early stages, taking full advantage of disadvantageous running conditions for rivals further in front. Suffering especially were Ogier, Latvala and Tanak, but Latvala and Tanak (despite more gearshifting problems) impressively defied form and gave chase, while the later running Citroen of Kris Meeke spent time in a snowbank and he misjudged his tyre wear, but was still not far behind the leaders. By virtue of a major attack on the penultimate stage of the first day, Friday evening saw Neuville nearly a half minute in front. A big surprise after three stages was the privately run 2017 Fiesta WRC of Mads Ostberg lying fifth ahead of the three official M-Sport cars. Later that afternoon however Ostberg suffered a frightening moment when the whole rear wing detached itself at a jump. Happily the car stayed on the road but it is the first really worrying moment in the new aero rally car era. The car was withdrawn so safe repairs could be effected. On the Saturday the new rules changed the top driver running order and was less significant. On the penultimate Saturday stage Latvala dropped back with badly wearing tyres, he was now 43 seconds behind. But then on the short publicity stage Neuville broke his steering and suddenly Latvala was in the lead, 3.8 seconds ahead of Tanak with Ogier close behind. It was suddenly Game On, with three drivers within sight of victory with three stages of the event left. This was where nerves had to turn to steel. Latvala publicly said "even if I cannot win, second place would be very good for me and the team", a neat wind-up line which revved up Tanak and Ogier beautifully! Ogier spun on the first corner of the first stage on the Sunday and fell out of contention, Tanak found the handling of his Fiesta a handful "the car is always trying to spin" and Latvala walked away with the seventeenth victory of his career.
Jari-Matti Latvala and co-driver Miikka Anttila in their WRC Yaris en route victory at Rally Sweden
The first WRC win for Toyota since China 1999 was impressive. At Monte Carlo their second place came from consistency, they scored no scratch times. In Sweden Latvala was fastest even on the very first stage scoring a total of six fastest times. On Monte Carlo they did not lead the rally but Latvala led at the start in Sweden, before his battle with Neuville began. Like Toyota, Hyundai had reliability on their side but needed more driver consistency as Hayden Paddon had power steering troubles and tried hard to understand how to get the best out of his central differential and Sordo found consistency difficult. Reliability continued to plague M-Sport. Tanak's drive was remarkable considering the repeat of his gearshift and handling troubles which cost him his final day fight for the lead. Inexplicable and worrying was the detachment of Ostberg's rear wing, and surprising that Ogier could not fight his way through the running order handicap on this occasion. This brings us to Citroen, a team in trouble. Interesting to see that Craig Breen on his first ever event in a 2017 car was able to drive through a variety of technical troubles with the car that also affected Meeke's. For Meeke, the mantle of team leader was proving heavy to wear.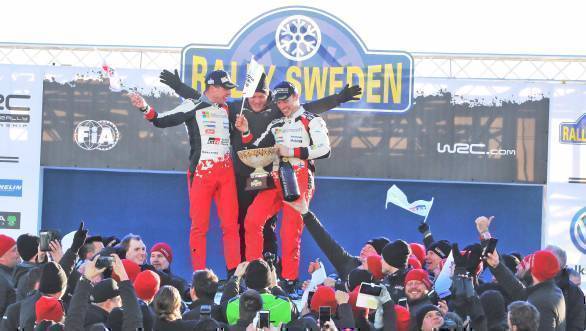 Latvala and Anttila celebrate their win at Rally Sweden with Tommi Makinen
14 entries were registered for WRC2 points which included one car from Skoda Motorsport for Pontus Tidemand while M-Sport had entries for both Eric Camilli and Teemu Suninen and Tommi Makinen Racing entered Fiesta R5s for Takamoto Katsuta and Hiroki Arai. Days before the start of the rally, Henning Solberg cancelled his entry for a 2017 specification Fiesta WRC and gained permission to replace this with a Fabia R5. Missing among the entry was the Monte Carlo category winner, Andreas Mikkelsen.
The first full day of competition on the Friday soon turned into a battle between the Skodas of Tidemand and Veiby. Suninen was lying third at midday ahead of Eyvind Brynildsen and Camilli. Solberg stopped with suspension damage after hitting a stone, Jaroslaw Koltun lost five minutes having to change a tyre, Alexey Lukyanuk lost four minutes stuck off the road tantalisingly close to the end of the first stage of the day, Camilli stalled and lost time trying to restart his engine, Hiroki Arai and non championship driver Simone Tempestini punctured. After the second run in the afternoon Tidemand finished the day with a 45 second lead, ahead of Suninen while Veiby had dropped to third after a spin. Missing were Pierre Louis Loubet's Citroen (engine) and the Fiestas of Anders Grondal (withdrawn after struggling with the differential set-up) and Lukyanuk (broken prop shaft). Tidemand continued his domination of WRC2 and was in controlling mode. Non championship Henning Solberg was in action again, this time rolling but lost only a couple of minutes but had to continue with a cracked screen. Bynildsen lost five minutes with a puncture. The race for second place was on in earnest with Suninen 5.5 seconds ahead of Veiby at midday. There was only one entry in WRC3 but Louise Cook withdrew on the Saturday afternoon. Of the two entries in WRC Trophy, Lorenzo Bertelli had engine trouble while Valeriy Gorban finished to gain maximum points.