WRC 2016: Ogier wins in Corsica
Achieving its 40th WRC victory was Volkswagen in the hands of Sebastien Ogier on his fourth win of the 2016 WRC season, as he inched closer to his fourth world rally championship title. He led the Tour de Corse from start to finish, winning six of the ten special stages and pulled even further ahead of his closest rival, fellow Volkswagen driver Andreas Mikkelssen, who finished third. VWs finished 1-3-4, with second place going to Thierry Neuville's Hyundai. The only title won in Corsica was the Junior WRC, when Romanian resident Italian Simone Tempestini became unbeatable. The event was popular with drivers because the challenge of the uniquely complex of mountainous asphalt stages but less so for supporting personnel, on account that it was based in the north of the island, but lengthy journeys to the start and the finish. The traditionally mercurial weather, which caused huge disruption last year, only played a marginal role this year, with rain arriving late on the second day. The event was in total not so much as a fight for victory but may if the uncontracted WRC drivers wanting to show their true talents. Drivers who impressed potential team managers on this event included Neuville, Breen (on this his first WRC event on asphalt in a world rally car) and Elfyn Evans who led WRC2 from start to finish.
Sebastien Ogier and Julien Ingrassia on their way to their fourth win of the 2016 season of WRC
There were the full four top manufacturers on this event but by the end of the event Hyundai were the only remaining challenge for Volkswagen's hopes of a fourth manufacturers' title while only Mikkelsen and Neuville retained the mathematical chance of beating Ogier to the Drivers' title this year. Ogier was in a class of his own, involving endless expressions of admiration from other drivers. Unusually the challenge of correct tyre choices was not a major factor until the rains came at the end of Day 2, Ogier's skill was to maintain a steady unbeatable pace, especially through the two long - 50km - stages which characterised the event. VW were confident, they did not test their current cars before the event, but not everything worked perfectly. Jari-Matti Latvala particularly suffering - brake problems which reduced his self confidence.
Hyundai were the only serious championship rivals to VW in Corsica though they only won one stage, the last one on Day 2, when the rain came Neuville and Sordo scored 1-2. Neuville was consistent after early handling problems while Sordo was more cautious after losing a couple of minutes with a puncture. Paddon lost time and confidence with his set-up. This event saw the arrival of the NG i20 R5 car of which there were three taking part. Kevin Abbring dropped out after lying third for half the event.
Citroen had hoped to have Stephane Lefebvre drive for them in Corsica but the injuries sustained in Germany prevented that, so the Abu Dhabi Total team comprised Meeke and Breen as a dream team for this event. This was Breen's first asphalt rally in a World Rally Car and had an impressive event, holding fifth right from the first day. Meeke planned the event as a chance to improve his Drivers' championship ranking, to assure as favourable running order next year, but all went wrong when he impacted a tree and broke a driveshaft. He made three fastest times when things were going well.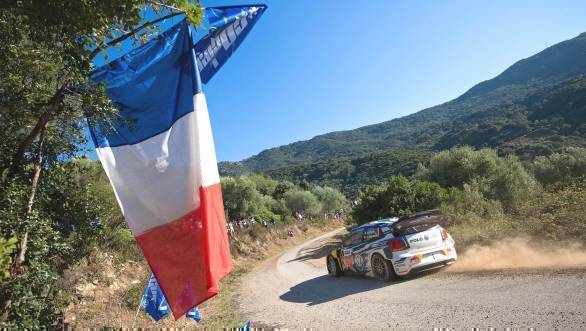 No points for guessing who the French fans were supporting at his home rally
M-Sport continued again off the pace, struggling all through the event and their two team drivers and their DMack driver scored only one top six stage time between them, except when Tanak was fourth fastest in the rain. Ostberg was using the event to develop his asphalt driving style, not helped by brake cooling trouble on Friday afternoon. Until then he was battling with his teammate Camilli, who finished eigth, three quarters of a minute in front of Ostberg with Tanak tenth towards a minute further back. It had been a very tiring event, it was the second longest event in stage terms of the year, after Mexico, but it was a much slower event. So it was that Ogier had finally won the event. "That's just what we really wanted this weekend, we really wanted to win this rally, first time in Corsica. It's so good because it is a historical rally. I think this weekend we had everything, we saw quite strong place on first day and then we just managed the rest of the weekend quite perfectly. So very happy, very pleased with everything. Mathematically we still a chance (to be champion again,) I think it smells quite good for us".
In WRC2 Elfyn Evans kept his championship hopes alive by dominating the category, leading end to end. It was a measured performance, keeping Jan Kopecky at bay. Kopecky was lying second all the way. The level of championship driver entries in this category was low, so Evans now has to wait and see whether Suninen (entered on this event in a non-points scoring capacity) can gain enough points in Catalunya and Britain to pass Evans' score. Kevin Abbring made a promising debut in the new R5 Hyundai, but retired with a water leak. Among the WRC2 retirements were Suarez in the Peugeot Academy car, while Quentin Gilbert struggled to the finish with engine trouble. Catalunya is going to be the critical fixture in WRC2. Tidemand and Suninen have both entered the Spanish event on a points scoring basis but theoretically championship contenders Kopecky may not start the event and Esapekka Lappi has not been entered. Skoda have not formulated their policies, not helped by the distraction of the results of private Skoda team driver Suninen. With a bit of luck, Evans is still in with a splendid chance.
The big news in WRC3 was the title win for Tempestini in the Junior championship, not quite the style of a champion. He only finished fourth in the WRC3 category, and his gearbox was stuck in second! The stars of the show were the two young drivers entered by FFSA (the French federation). For over half the event there were only seconds between Laurent Pellier and Yohan Rossel. On the final morning Rossel lost time on the 53km stage with serious brake problems and this meant that Pelleir won the category by around a half minute. Martin Koci was third the leading regular championship driver, finishing in front of Tempestini. Has the FFSA produced another rally prospective champion? Remember both Sebastien Loeb and Sebastien Ogier found their careers were kick-started by the FFSA…