WRC 2016: Kris Meeke wins Neste Rally Finland
Ulsterman Kris Meeke became the first British driver to win the Neste Rally Finland, winning his second WRC event this year at the wheel of an ex-works Citroen DS3 WRC. Championship leaders Volkswagen had a disastrous event apart from second place for Jari-Matti Latvala (winner the past two years) while M-Sport brought only one car home in the top ten places.
Kris Meeke celebrates his second win of the 2016 WRC season, this time at Rally Finland
After suffering a run of uncharacteristic off-road excursions, this was the first time for four years that VW's Sebastien Ogier had finished a rally without scoring Drivers' championship points. Hyundai had an unhappy event with their drivers never confident with their cars although they scored the highest total of Manufacturer points.
It was a very special event for the Irish with Meeke and Craig Breen both on the podium, the saddest driver was Ott Tanak who was spectacularly fast with his DMack tyres but who went off the road on the final day when chasing for the podium after earlier delays. The event saw renewed controversy as to the effect of continued running order rules and the implications of a second victory this year for the part-time Abu Dhabi Total team of old Citroen cars competing against regular championship drivers who are governed by special rules.
There were runaway wins in the categories for the Finnish WRC2 driver Esapekka Lappi, for the Norwegian Ole Christian Veiby in WRC3 and for Max Vatanen (son of World Champion Ari) in the DMack Fiesta Trophy. It was a popular win for Meeke, the oldest top driver in the event, whose winning speed (126.61kph) was the highest ever recorded in the world championship. His car was built four years ago and which had never previously won a rally in Europe.
When the Start List was published showing the Portugal winner Meeke was to run eighth on the road and Ott Tanak (a pace maker in Poland) seventh, on another event where road opening was a severe disadvantage, the writing was on the wall for Sebastien Ogier and his fellow VW driver and Poland Rally winner Andreas Mikkelsen,. They were due to run first and second, and the situation was none too promising for third runner Hayden Paddon. And so it was. Meeke took the lead which he held from stage two to the end of the rally. Tanak chased Meeke until he spun (on a straight road!) and then suffered punctures. Ogier impressively persevered in adversity until the middle of the first afternoon when he slipped off the road in the middle of a hairpin losing a quarter hour when lying third. Mikkelsen had an horrendous time, especially on the second day, and eventually struggled to finish seventh overall. VW's hopes therefore rested with Latvala whose fortunes were thwarted by a puncture on the Friday but through determination held on to second place after Tanak fell back. There was a sense of relief for VW at the end of the event to discover that notwithstanding all their problems, their drivers were now holding the top three places in the Drivers' championship.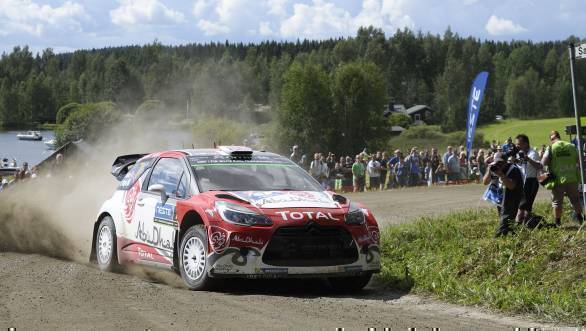 Meeke en route victory at the 2016 Neste Rally Finland
It was hard to put Citroen's success into true perspective. It was a mighty effort for both Kris Meeke and Craig Breen, but Abu Dhabi Total are not a registered team meaning their cars run under different rules. That is one thing, but also because of their lack of accumulated championship points their drivers enjoyed favourable running order positions, as they also had when Meeke won in Portugal. And victories in qualifying rounds of a championship based on manufacturer participation can throw doubts as to the value of regularly competing in the WRC. Or so the argument goes! Then over at M-Sport team similarly does not carry the Ford name, their team continued unsuccessfully to evaluate their true performance level, hoping that Ott Tanak, whose DMack-entered car was in the same specification as the M-Sport's registered team, would give encouragement. Tanak however was running DMack's tyres the latest version of which were specially designed for performance on two specific events, Poland and Finland. Again Tanak showed consistent stage winning pace between frustrations by punctures, and then in Finland by an accident on the final morning. Eric Camilli continued to improve his pace until he also had to retire when he crashed, leaving Mads Ostberg once again the provider of championship points for the team. For now the hero was Meeke, who had another golden chance of success and enjoyed the opportunity in full measure.
Jari-Matti Latvala took second place at Rally Finland, an event that was otherwise disastrous for VW
Nothing seemed to go very well in the Hyundai camp. Drivers were complaining endlessly about lack of grip and lack of confidence but it was spectacular to see Thierry Neuville and Hayden Paddon finish 1-2 on the Power Stage at the end of the event. Third Hyundai driver Kevin Abbring (substituting for the recuperating Dani Sordo), had minor difficulties but gained Drivers championship points for the first time with his ninth place overall. Neuville finished 2.3 seconds ahead of Paddon in fourth and fifth positions, a good result after all the problems, on an event where any problem will usually end hope of success. The next three events in the WRC this season will be run exclusively on asphalt when a new set of challenges will doubtless emerge!
Last year's WRC2 winner Esapekka Lappi led the category from start to finish, fending off challenges from both Elfyn Evans and Teemu Suninen. Lappi's official Skoda teammate Pontus Tidemand fought hard to take second place but on the (Power Stage) when he was first on the road he crashed. There was strong competition expected with six of the top eight ranking drivers having selected this as a points scoring event for them. There was mystery at the non appearance of the official Peugeot Rally Academy driver Jose Suarez (208 T16 Evo) giving rise to rumours that the team was having problems with the new model, especially when Quentin Giordano also non-started his new model Peugeot. Henning Solberg was given a waiver to change from a World Rally Car, in which he had entered, to an R5, his first rally in an R5. Lappi took off, leading firstly Evans, who first had a pop off valve problem and also power steering trouble and a sticking throttle which dropped him to sixth. Evans overtook Solberg and Karl Kruuda, who went off the road and lost two minutes stuck in a ditch and who later crashed. Skoda maintained their 1-2-3 in the category going into the final day when, with the retirement of Tidemand, Evans' Fiesta finished third behind Suninen. Emil Bergkvist missed stages after sliding irretrievably into a ditch while Pierre-Louis Loubet when he hit a tree. Hiroki Arai retired after stage 21 with a broken damper, Marius Aasen was sixth despite a broken driveshaft, Henning Solberg survived power steering trouble to finish fourth. The best 6 scores out of 7 results can be retained. Evans (6 starts) continues to hold his lead now down to two points from Suninen (5) with Lappi (4), 38 points behind Evans, now up to fourth ahead of teammate Tidemand (4).
Finland ranked as a qualifying event for both the Junior WRC and the WRC3. WRC3 series leader Michel Fabre had tactically selected not to enter this event but nine Junior drivers were present. Ole Christian Veiby led from the start from Simone Tempestini and then the 19 year old prize drive winner Juuso Nordgren who dropped back with a spin and a puncture, damaging the suspension, after briefly sharing the lead with Veiby. Terry Folb went off, damaging the radiator, and retiring when his engine overheated. Martin Koci crashed. Fabio Andolfi (Peugeot 208 R2) led RC4 initially but stopped when he broke the suspension. Eventually Veiby beat Tempestini by 5.6 seconds. Andrea Crugnola retired on the penultimate stage with a water leak. In the WRC3 standings, Veiby and Tempestini had risen to hold second and third places, respectively 10 and 11 points behind Fabre. In the Junior series Tempestini maintained his lead, now holding a lead of 18 points from Veiby.
The Drive DMack Fiesta Trophy category was won for only the second time in four years by Max Vatanen, after a battle with the current series leader Osian Pryce who was one of many who went off the road. Second was Bernardo Sousa notwithstanding a double puncture on the final morning. Pryce still leads the series, five points clear of Vatanen, who in turn is ahead of Jon Armstrong and Sousa in joint third with rounds in Germany followed by a double round in Spain to go. Drivers who ended their rally off the road included Gus Greensmith and Nicolas Ciamin.