WRC 2015: Sebastien Ogier wins Rally Poland
Sebastien Ogier scored his fifth win of the season when he overcame the problems of starting first car on the road and resisted a challenge from fellow VW driver Andreas Mikkelsen for half the event. Earlier he had been struggling to keep up with Ott Tanak, running on cleaner roads in better conditions, who finished third, himself resisting a challenge from Jari-Matti Latvala. The fights for the lead and third places were hard-fought on an event where only one top driver had technical trouble (Evans) and where there were huge spectator numbers. Headed by Esapekka Lappi, Skoda scored a 1-2 result in WRC2 while Osian Pryce convincingly led WRC3 before electrical problems slowed him four stages from the finish, handing victory to Simone Tempestini.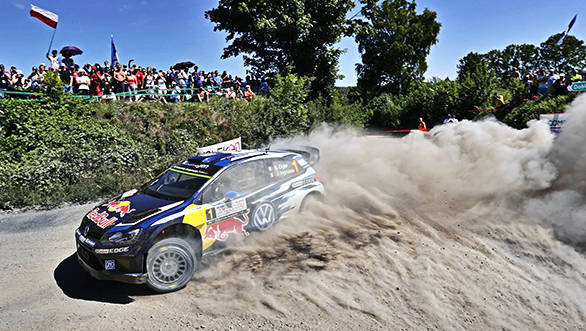 The master won as usual. By every prediction this should have been the rally which first running Sebastien Ogier was most likely to lose, because on all except the two final stages would he not be running first car on the road, on dry gravelly roads. Once again he proved everyone wrong, defying the predictions. Notwithstanding the road cleaning handicap, he also had the benefit of clear visibility when hanging dust slowed the cars behind him, but once again it took time before he could take the lead. In Sardinia the adversary was Hayden Paddon who had led for over half the event, this time it was Ott Tanak who was leading for four stages before brake issues caused his tyres to prematurely degrade and slowed him down. Ogier however was still not assured of victory, because Andreas Mikkelsen who was running two cars behind was consistently pressuring his team leader and finished 11.9 seconds behind. This event was not a complete walkover for Volkswagen because Latvala was unable to keep ahead of Tanak and went into a tree on the final stage. The event saw situations when the science of rally tyre technology ventured further into uncharted territory. Drivers experimented and often found successfully that Michelin's soft compound tyres were still preferable even on the hottest and fastest rally in the championship.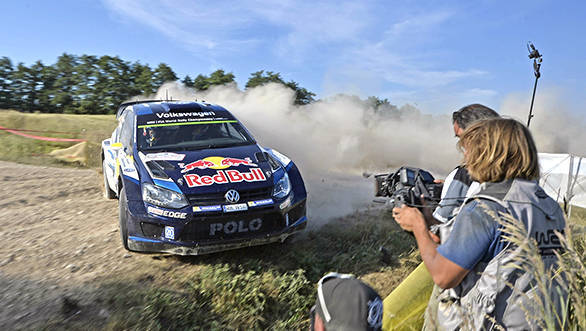 The speed of the rally and the available grip on the surfaces were a surprise to the drivers, who struggled to make suitable pacenotes. The average speed on the stages were virtually equal to those in the Finland. Long gone are the edicts of the FIA that stages should not be run at over 110kph with Finland being a traditional exception to the guidelines. Drivers enjoyed the challenge of the very fast and tricky roads but the organisers were nervous of the safety implications, with huge crowds arriving to watch the rally. In the end one stage was cancelled because of overcrowding, and that in turn led to congestion of the link roads between stages.
Meanwhile, the efforts of Ott Tanak very much encouraged M-Sport, especially after Elfyn Evans had to stop early on the full Day 1 with water pump failure (Malcolm Wilson observed: "It would have to happen on a proven part that was the same as on our earlier cars!") Evans was restarted, his third unsuccessful WRC event when things went against him but his car was withdrawn at the finish. Further, the performance of the private driver Robert Kubica on his home territory was much enjoyed by his countless fans, running for most of the event ahead of both official Citroen cars. For Citroen, Poland was a miserable disaster. Like M-Sport, Citroen did not make pre-event testing in Poland and they spent much of the rally changing the set-up of the cars, sometimes succeeding like when Ostberg suddenly found his form on Friday afternoon and gained a second best time. Kris Meeke had a miserable weekend, which started with him crashing his car at Shakedown – which the team repaired ready for the start on the Thursday evening and later suffering from tyre choice errors. An event to learn from and then forget.
Hyundai came for the first time with four cars and apart from Hayden Paddon were not in the race this time. Paddon had the advantage of running ninth car on the first two days and twice on the Saturday made second best times, and significantly after Thierry Neuville made the first of his two tyre choice errors, and was the top placed Hyundai driver all event. Eventually Paddon finished fourth when Latvala was four minutes late (40 second penalty) at the final time control. Any hope of honour for Neuville was lost with his second tyre choice error on the Saturday. Kevin Abbring came for his first planned outing in a World Rally Car, but had missed pre-evet testing through illness and finished 15th. As for Dani Sordo, oh dear. "Not many positives from this weekend", he admitted. So Volkswagen got most of their desired glory, Latvala's PowerStage misdemeanour when trying to catch Tanak dropped him from fourth to fifth after an event when he never really went well. After seven best times in Sardinia, a solitary best stage time here was not his style. Volkswagen and Ogier continue to extend their leads in the Manufacturers' and Drivers' championships, Ogier with nearly double the number of points of second placed Andreas Mikkelsen.
There was a convincing 1-2 result for Skoda in WRC2, with Esapekka Lappi (back in Poland on the third anniversary of his first important rally result) best part of a minute in front of team-mate Pontus Tidemand, while third was the Peugeot driver Karl Kruuda, whose hopes of challenging the Skodas were dashed by a puncture on Friday afternoon. The big surprise was the early exit of Nasser Al-Attiyah who swerved to avoid hitting a tree and ended up far away in a field with suspension damage, while Jari Ketomaa struggled with a lot of brake troubles and eventually finished fourth. Toyota's cadet driver Teemu Suninen was ordered to finish and came sixth, the highest placed old generation WRC2 car (Fabia S2000). Sander Parn's trouble-free drive was spoiled by an early arrival penalty at service at the end of the event. Ketomaa jumped from lying third to hold a lead of 7 points over Al Attiyah. The 1-2 for Skoda sees their drivers Lappi and Tidemand lying 4-5. .
Romanian resident Italian driver Simone Tempestini won the WRC3 category after taking the lead when Osian Pryce was delayed with misfiring trouble near the end. Third was the Finn Henri Haapamaki in front of Mattieu Margaillan. Only one of the 12 starters in the category retired while Andrea Crognola (Renault Clio Turbo, therefore one of the four drivers ineligible for the Junior series stopped on Friday afternoon when he went off and blocked the route, causing the stage to be interrupted, Quentin Gilbert challenged Pryce but had gearbox trouble on Friday evening and this led to trouble trying to change the clutch. He was eventually classified out of the points. Jean-Rene Perry retired on medical grounds, suffering from the hot weather. Ole Christian Veiby and Quentin Gilbert continue to hold joint lead of WRC3 now ahead of Simone Tempestini and Henri Haapamaki. In the Junior series Gilbert also continues to hold the lead now ahead of Tempestini.
Marius Aasen led the DriveDMack Fiesta Trophy category for most of the way, fighting off an early challenge from Max Vatanen and finally beating Tom Cave by 10.8 seconds. Three of the eleven starters retired, Edoardo Bresolin stopped with engine trouble, while William Hudson rolled and suffered a lot of damage, and Mats van den Brand hit a tree and rolled. Aasen leads the series by just two points from Max Vatanen.
Price (Ex-Delhi)
Starts Rs 6.17 Lakhs