Why Are Some Road Travelers Behaving So Badly?
Over the last few months there have been some shocking instances of insensitive and unruly behaviour by badly behaved domestic tourists. In April, a video of an Audi Q3 being driven in the pristine waters of the high altitude Pangong Tso Lake in Ladakh went viral. The video shows two idiots standing up through the sunroof and waving, while a third idiot is foolishly splashing water and stupidly grinning away.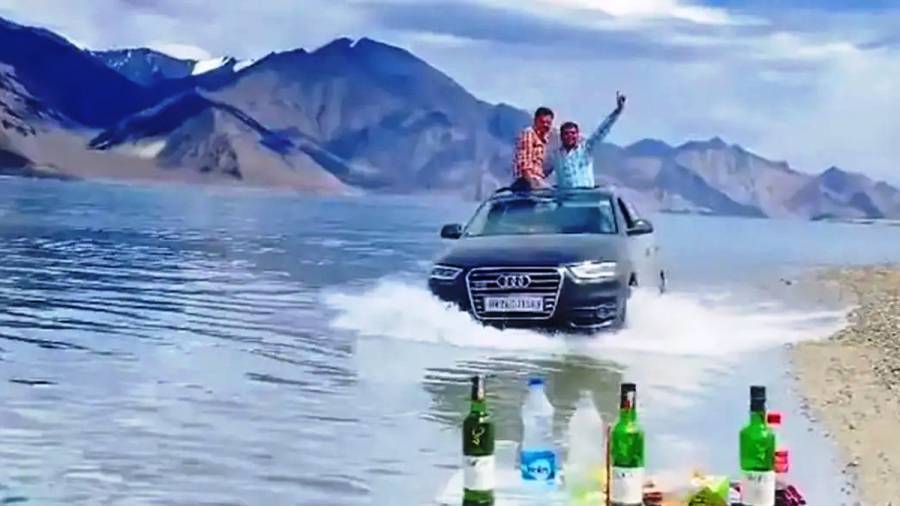 Idiots driving in the Pangong Tso Lake. Note the bar they have set up.
In the video one can also see a couple of folding chairs and a table with booze bottles and packets of chips, set up right at the edge of the lake. All this idiocy upset hundreds of people, many of who put out very critical comments asking for immediate arrest and punishment of these "3 Idiots". While a search on social media instantly brings up the said video, strangely there is no news or information that I could find, of the authorities taking any action against these jokers.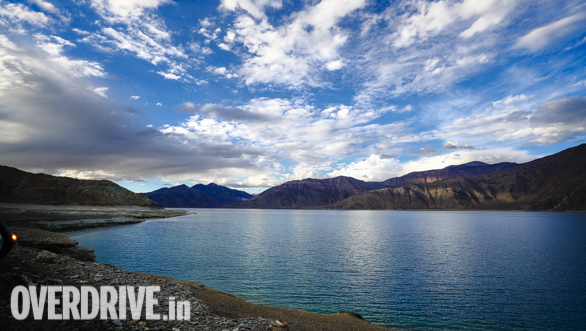 Pangong Tso is one of the most pristine and pretty places on our planet.
The Haryana registration number is clearly visible, so I am really surprised why no visible action has been initiated against them. Why are the wildlife lovers and environmentalists also silent? Especially when Pangong Tso is one of nature's finest creations and at 4267 metres, the highest lake in Ladakh. Located amidst a cold high altitude arid desert, Pangong Tso is a "Jewel of the Himalayas" and its deep blue waters also support a lot of bird life and it is even one of the breeding grounds of the migratory bar-headed geese.  If that is not enough, a third of Pangong Tso lies in Chinese territory and our army is in eyeball to eyeball contact with their armed forces on a regular basis.
The last thing anyone should be doing, is driving in this high altitude lake. Image courtesy Vijit Dutta on Unsplash.
This is an ecologically fragile habitat and also a politically sensitive region and the last place for anyone to indulge in insane acts. But still these "3 Idiots" did it and if you look at their body language and expressions, it clearly shows they think they are doing nothing wrong, and in fact are the cat's whiskers. These stupid idiots must be publicly punished in the strongest way possible. If this has still not been done, the authorities must act now and ensure that other idiots will fear doing such daft things.
Fortunately, the police have acted in another case. In June they announced on social media that "One tourist vehicle (a Toyota Fortuner) was found violating a directive not to drive cars over sand dunes in Hunder in the Nubra Valley. The couple was booked as per law and a bond of ? 50,000 was taken from them". The District police Leh further added "We request tourists not to drive on sand dunes as you damage the natural landscape and violate the prohibitory orders". Interestingly, this Fortuner had a Delhi registration and few people immediately pointed out online that some motorists from the NCR region, and especially Gurgaon, are known to behave boorishly and flaunt their money and bad manners wherever they go. There were also many people who praised the Leh police and complimented them for dealing sternly with these idiots.
Goa is famous for its beaches. Image courtesy Lenstravelier on Unsplash.
There were of course some who questioned the need for such strong action and few even condoned their conduct and said they were just having harmless fun. This clearly shows their ignorance because this is an ecologically fragile area. Many small animals like marmots, lizards and even ground nesting birds, make burrows or nests in these very same sand dunes. Driving vehicles on these sands can seriously disturb the soil and destroy the shelters or homes of these animals.
Sadly some idiots have been driving vehicles on its beaches, and even getting them stuck in the sea. Image Courtesy News 18.
And this awful attitude is not just limited to Ladakh, Indian tourists have also been going to Goa and driving on its beautiful beaches! Just recently a video emerged on social media showing a SUV zigzagging on Anjuna Beach. The driver then kept going around in circles, churning up sand, splashing water and almost ran over a dog. Ironically, after the idiotic driver Lalit Kumar Dayal from Delhi got his self-drive rental SUV stuck in the seawater, couple of dogs can be seen looking at him, with what I like to believe is both amusement and glee. Luckily, the response of the Goa police was prompt and they arrested Dayal and registered a case against him for endangering the lives of tourists and the general public on the beach. How I wish animal activists also intervene and add cases of threatening the wellbeing of the dogs too.
Why would you do something so idiotic? Image Courtesy News 18.
You must have noted that in all these cases the tourists are from Delhi or Gurgaon, and many people have remarked that they are famous for their boorish behaviour. Another thing you may have noticed is that I have used the term "idiots" fairly often. Let me tell you this is deliberate. Simply because I blame Aamir Khan and hold him responsible for the increase in the number of delinquent and troublesome tourists going to Ladakh.
In 2009, the super hit film "3 Idiots" released and its climax scene with Kareena Kapoor on a scooter and Aamir Khan was shot at Pangong Tso Lake. Ever since, idiots from all over India have been flocking in lakhs to Pangong Tso. A secluded and completely unspoilt natural wonder, now has numerous restaurants and hotels named 3 Idiots, Rancho (Aamir Khan's name in the film) and so on. There is also a selfie spot complete with Kareena's scooter, and butt-shaped 3 Idiots chairs! It's total destruction.
Price (Ex-Delhi)
Starts Rs 32.48 Lakhs
Price (Ex-Delhi)
Starts Rs 29.98 Lakhs