Volvo India inaugurates new showroom in Vijayawada
Volvo India has inaugurated a new dealership, named SRK Cars, in Vijayawada. Located opposite Chaitanya College, this is Volvo's biggest dealership in the country with an area of 26,000 sq. ft. across three floors. The dealership was inaugurated in the presence of Jari Kohonen, vice president, Asia-Pacific, Volvo Cars Group and Tom von Bonsdorff, managing director, Volvo Auto India.
The showroom has the capacity to display eight cars with an area of 15,000 sq. ft. The service section has four bays and is spread over an area of 11,000 sq. ft. With the opening of this new dealership, the Volvo India now has 16 dealerships in the country.
Speaking on the occasion, Jari Kohonen said, "India is an important growth market for Volvo Cars globally. With an expanding dealer network and an exciting range of car launches planned ahead in the year, we have a very promising year to look forward to."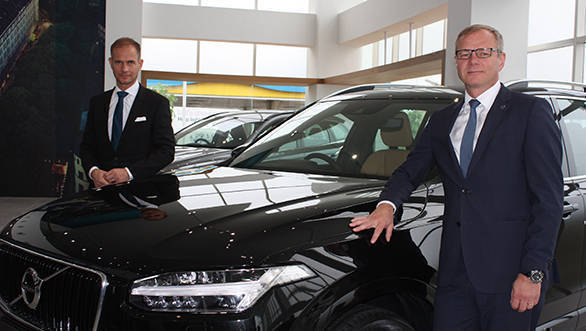 Commenting on the opening of the new dealership, Tom von Bonsdorff said, "Thanks to the great performance of SRK Cars, Volvo Cars' share of the luxury car market in Andhra Pradesh is among the highest in India. Opening a new dealership in Vijayawada is an obvious step towards amplifying our position further in the state. The city, also known as the 'Business Capital of Andhra Pradesh', is one of the major trading and business centers of Andhra Pradesh. With the launch of Vijayawada dealership, Volvo Cars is happy to be strongly present at two major cities in the state, with the other being Visakhapatnam."
"India is a big growth market and we are continuously expanding our dealer networks with additional cities coming up later this year. This visibility not only enhances customer's confidence but also helps us fully capitalise the opportunities available here for our brand. Volvo cars will continue to strengthen its national footprint across the country and create more value for its customers by providing unparalleled Swedish luxury, modern Scandinavian design, class-leading safety and services to our customers," added Bonsdorff.