VJTI electric solar car to be powered by Waaree solar modules
While Tesla is in news for the all-electric Model 3 unveil, there is an enthusiast's group studying at VJTI College in India working on a new electric solar vehicle (ESV). It is being developed by VJTI Racing and Mumbai based Waaree Energies who are supporting the project by offering solar modules. The VJTI team plans on making a car that is affordable and at the same time feasible for full scale production.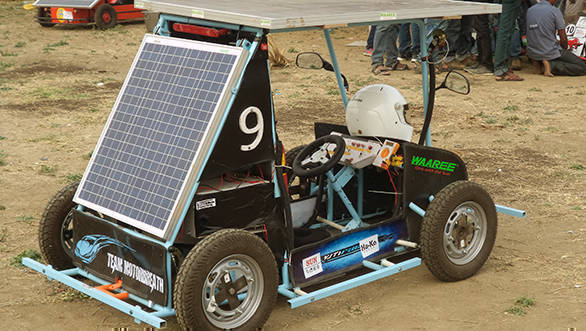 For the ease of manufacturing, the upcoming car will use a seamless pipe chassis design. VJTI Racing claims that the compact design of the car will help achieve greater manoeuvrability and a shorter turning radius. Powering the car is a 2KW BLDC motor that is claimed to offer high performance and at the same time consume less power. It uses Li-ion batteries for quicker charging and also keeps weight at check. The position of the solar modules has been chosen to make sure all the energy requirements are fulfilled.
VJTI Racing has also worked on the safety aspect as the car is equipped with dual braking system and an over-travel switch which as claimed by the team reduces damage due to braking in panic conditions. Additionally, it also has a regenerative circuit which optimizes power utilization.
Commenting on this occasion, Jignesh Rathod – SBU head at Waaree Energies Ltd. said, "It is a pioneering car design in the field of technology, optimisation and sustainability. We hope our small contribution for this venture turns out to be fruitful and the vehicle attains the outreach it is destined to reach".
"The sponsorship is really encouraging and inspiring. We are delighted with this support and believe in the vision of Waaree energies and solar power. However, to do this in a larger scale and make solar vehicle a big hit, the country needs better infrastructure and definitely the same zeal towards renewable energy demonstrated by the current government" said, a member from VJTI Racing.