Video worth watching: F1 Live in London
When it comes to putting up a show, the F1 folk sure know how to go big. Prior to the 2017 Formula 1 British Grand Prix, Trafalgar Square in London was abuzz with sights and sounds of Formula 1 cars, zipping past with drifts, donuts and burnouts thrown in the mix. The event was the first ever F1 LIVE.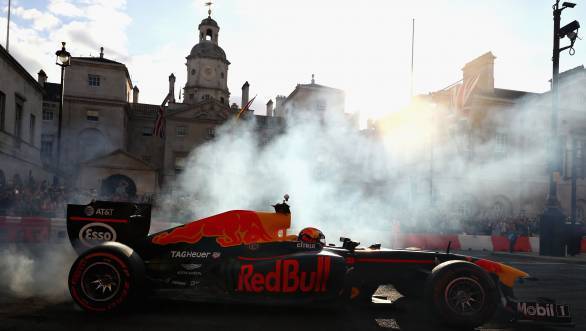 Max Verstappen driving the Red Bull Racing RB7 during F1 Live London at Trafalgar Square in London, England.
19 drivers took part in the day that included street demonstrations from teams such as Scuderia Ferrari, Mercedes AMG, Red Bull Racing, Scuderia Toro Rosso and Williams. The line up of cars included the Red Bull RB7 with the 2.4-litre Renault V8 engine,  the 2015 Ferrari SF-15T, 2015 Mercedes AMG W06 and more. There were also a few classic F1 cars, giving the audience a peek into Formula 1's glorious history. Be sure to turn up the volume and listen to characteristic sound of each F1 car, ricocheting off the buildings.
The best thing about such events is that it brings the sport closer to people. Watching F1 cars and the stars that drive them, with only a few feet separating you is definitely an unparalleled experience.
Besides the car parade, drivers also walked down the street and greeted fans. It sure must have been a treat to watch Sebastian Vettel, Felipe Massa, Valtteri Bottas , Daniel Riccardo, Fernando Alonso and many more, up close.
Watch the highlights of the epic event below.
For the best bits click on the link below.