Video: Polaris owned Victory Motorcycles to go racing in June
Victory Motorcycles, subsidiary brand of Polaris industries seems to be getting further and further immersed into the world of two-wheeled motorsport. This June, Victory will compete in two of the toughest races on two wheels – the Isle of Mann TT and Pikes Peak.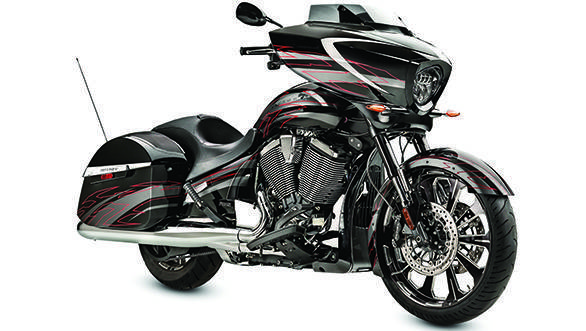 The Magnum X1 is a good representation of Victory Motorcycles' design language
The motorcycles they will be racing will also be a far cry from the cruisers and badger style motorcycles that they are known for. At the moment, Polaris has no plans to bring the Victory brand to India.
For the Isle of Man TT race on June 7, they will be participating in the electric class and this will also make it the first time they will be racing in Europe. The high power electric engines will be provided by Parker Systems, a world leader in control and motion technology, but considering that electric vehicle manufacturer, Brammo (also acquired by Polaris early this year) have already raced around the island track, it's possible that some of their know-how has also found its way into the design.
The Victory Racing Isle of Man TT race bike
For the mountain roads up Pikes Peak, Victory have partnered with Roland Sands Designs and he is building them a race motorcycle called Project 156. Or at least, that's the name of the project at present, named for the 156 turns on the way up to the summit of the nearly 20 kilometre long hill climb.
There are no specifications released for the prototype race engine that will reside in the custom frame but from these two videos above, it's clearly a sub-90 degree V-twin powerplant. Pikes Peak will be run on the last weekend of June and you can catch all the action on the official Pikes Peak International Hill Climb website.
Mock up of Project 156 - hand built frame, Ohlins suspension and blurred out prototype V-twin engine
Rear view reveals side mounted Ohlins rear suspension
Hand-built faux fuel tank looks like it's actually the air box
First pictures of the prototype engine