TVS Sherco announce 2017 Dakar plans
TVS, the Indian motorcycle maker, and its French partner, Sherco, announced their plans for the 2017 Dakar in Nimes, France, today. The team will enter the 2017 Dakar as TVS Sherco Factory Rally and will field three 450cc motorcycles specially prepared for the Dakar.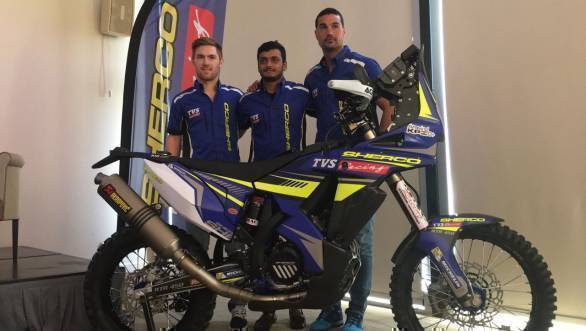 Adrian Metge, KP Aravind and Juan Pedrero pose with the TVS Sherco 450 Rally that they will each pilot at the 2017 Dakar
The riders will be Juan Pedrero Garcia, who recently won the Baja World Series for Sherco, and newcomer Adrian Metge. The third motorcycle will be ridden by TVS Racing's star rider, Aravind KP. This is the third year in which TVS will participate in the Dakar.
TVS says the tie-up between Sherco and themselves is purely about racing. It's a joint effort between their respective racing divisions, and is not intended, at the moment, to lead to joint product development. This is important to understand because the TVS Racing boffins are directly responsible for development and some marketing functions related to the RTR line of motorcycles from the Indian manufacturer.
R Prakasam, Aravind KP's race mechanic for the 2017 Dakar Rally, has already spent the year prepping for the event in France
TVS has had its race mechanics working with the team both in France as well as other rally raids that the TVS Sherco team participated in as preparation for the Dakar. Aravind's race engineer will be B Selvaraj, who shuttles between Hosur and Nimes, while Prakasam will be his race mechanic. R Prakasam, in fact, has already been in France for just under a year and has been the primary support for other TVS Sherco riders at the last Dakar. This year, he has worked closely with Aravind at the Morocco as well as Baja Aragon rallies.
TVS and Sherco say that they have learnt a lot from the previous two Dakars, and they are more prepared than ever. Pedrero is on form, and Aravind's skill, mental make-up as well as physical strength and stamina have come a long way. The Dakar is a uniquely long and gruelling challenge, and it is hard to prepare for because there is no other event quite like it.
The TVS Sherco squad hopes that they can manage a few stage wins at the 2017 Dakar
The plan is to win at least a few stages if possible along the way. While they would not be surprised to see one or more of their riders within the top 10 at the end of the first week, TVS Sherco reiterates that the second week is when the exhaustion and endless strain shows up in errors, breakage and problems. It is at this stage that TVS Sherco Factory Rally's new Rally Raid team manager, and experienced Dakar competitor, David Casteau will come in. He will ensure that the riders know when to push and when not to. And at the end of the week, he expects to make the decision to nominate the rider who is most likely to finish while the other two riders switch to riding in more of a supportive capacity. This is a common and effective strategy that all the brands use in a race of attrition like the Dakar.
Aravind KP told OVERDRIVE that he was extremely excited. He has had some challenges coming to grips with the nuances and complication that is navigation in a rally like this. But his consistent riding and good results earlier this year - he started 36th at Baja Aragon and finished a creditable 19th - suggest that he's as ready as one can be for the challenge of the Dakar.
The Dakar 2017 kicks off in Argentina on January 2, 2017 and will pass through Bolivia and Paraguay before returning to Buenos Aires. The rally covers roughly 10,000km over a 15-day period, including long 600km competitive days which require both speed and navigation.
Hero MotoCorp, as you know, will field CS Santosh and another rider through their team which is in collaboration with Speedbrain of Germany for the 2017 Dakar. When asked who will finish first, Aravind KP smiles. He says, "It's not personal but obviously I would be happy if I did."