Toyota, Panasonic mull jointly developing electric vehicle batteries
Toyota Motor is considering making batteries for electric vehicles (EVs) with Panasonic, as it ramps up battery development to help meet its goal for green cars to comprise half of its global sales by 2030. The joint announcement builds on an existing agreement under which Panasonic makes batteries for Toyota's petrol-electric and plug-in hybrid vehicles. Panasonic is the global market leader, making 29 per cent of all automotive lithium-ion batteries. The plan to cooperate more closely on batteries comes as automakers compete to develop more EVs in compliance with tightening regulations worldwide to reduce vehicle emissions. Toyota's battery needs are likely to increase after it said last year it would add fully-electric vehicles to its product line-up in the early 2020s, expanding a green-car strategy which has focused on plug-in hybrid and fuel-cell vehicles (FCVs).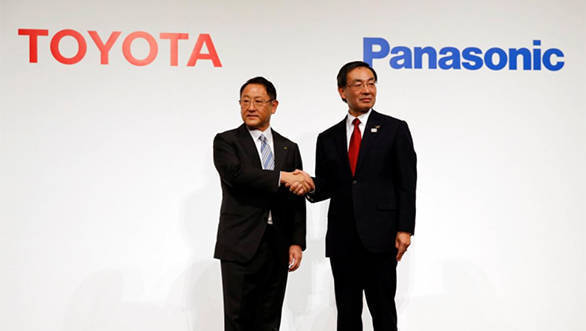 Image credit: Reuters
Toyoda said the automaker's annual sales target for petrol-electric and plug-in hybrids is 4.5 million vehicles by 2030, and 1.0 million units for EVs and FCVs. To that end, Toyota in September had formed an EV technology sharing venture with carmaker Mazda and supplier Denso. In India, Toyota had also announced its partnership with Suzuki. The latter meanwhile is slated to begin making batteries for EVs in Gujarat soon. Other players including Volkswagen as well as BMW have recently shown their level of interest in greener tech for future models.
"The auto industry faces many hurdles to developing next-generation batteries which are difficult for automakers or battery makers to tackle on their own," Toyota president Akio Toyoda said at a joint news conference. "It would be difficult for us to meet our 2030 goals given the current pace of battery development. That's why we're looking to Panasonic and other companies to help us develop ever-better cars and batteries," he said.