Toyota India looking to launch luxury premium Alphard MPV
In what can only be described as a bold move, Toyota is looking at introducing the Alphard MPV in India. The introduction could take some time and is probably at least a year away; however, there could be a couple of strong motives behind this plan.
First, the Alphard is a full-size luxury MPV that seats up to eight passengers, and even though the MPV market in India isn't getting much attention, no one knows this product segment better than Toyota. The recently launched Innova Crysta has clearly shown that a space exists for a luxury premium MPV, and the Alphard could just be the product to dial up the premium quotient by a few notches.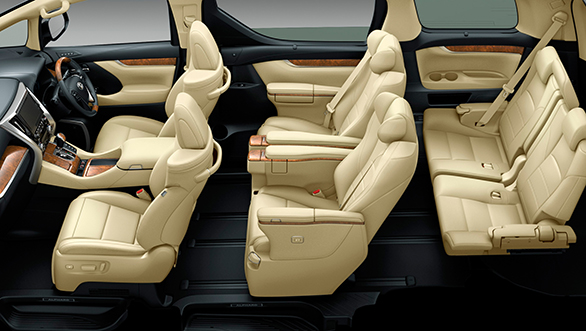 Second, the Alphard, which is also available as a hybrid, could strengthen Toyota's global environmentally friendly approach to motoring. Toyota India also falls strongly within this programme, and the Alphard could easily complement the third-generation Prius Hybrid sedan that is to be launched in India in just a few months.
Third, the Alphard uses the same 2.5-litre petrol hybrid powertrain that's used in the Camry hybrid that's already on sale in the country. The only challenge we foresee is the positioning. The Alphard will be a fairly expensive MPV, existing somewhere in the Rs 50-lakh range. At that price, however, it will come with all the premium trappings necessary to justify the price tag. So apart from the hybrid powertrain, it will have a full complement of luxury comfort and convenience features.
We got a small sampler of the product at the Fuji Speedway in Japan. It's a fairly large MPV with a huge cabin and panelled exteriors. The front face is its strongest suit and draws a lot of attention, but other areas, especially the rear, are equally attention grabbing. The centre door opens like a parcel van but is automated, so just pull the door handle and the door opens automatically. Similarly to shut, you need not exert any force, hydraulic actuators will slide the door shut at a touch of a button.
Inside, there is a certain level of plushness, but for Toyota to offer this in India, it will have to raise that level of luxury inside this cabin. There are three rows of seats, and all offer more than generous amounts of knee, shoulder and head room. It's also the first MPV that will probably provide adequate luggage space for a large suitcase or two without having to fold the third row of seats. In fact, you can simply slide the third row further ahead to liberate more luggage space when needed, and this does not steal any of the knee room.
India-spec versions could come with leather upholstery, state-of-the-art entertainment systems and even probably a panoramic sunroof. It's got a reasonably decent amount of ground clearance with stable dynamics, thanks to an electric four-wheel drive system.
This essentially means an electric motor also drives the rear wheels, giving it better performance and stability. Sight lines are a bit of an issue, but a light steering allows you to navigate through narrow and tight corners with ease.
The 2.5-litre 2AR-FXE hybrid motor is perky; there's strong performance on offer through a 6-speed automatic transmission, and with the hybrid powertrain efficiency should not be an issue either. We definitely see a modest market for this type of MPV. There're enough consumers out there looking for an uber premium vehicle with genuine seven- or eight-seater capability, and between the Innova and the GLS / Q7 there are simply no choices.
Toyota would have to play this one very carefully but the potential exists, and the gains could be multi-fold. More than profitability it would showcase Toyota's commitment to the environment. Since that area is under a fair amount of scrutiny, with Toyota recently having to bear the brunt of the diesel ban, it could only serve Toyota positively to have a larger ecologically sensitive footprint in India today to safeguard its interests.