Top five large displacement motorcycles on sale in India
Triumph Motorcycles recently launched the all-new Rocket 3 R in India at an attractive price of Rs 18 lakh, ex-showroom. As you might have already read, Triumph has completely revisited its power cruiser and made it more aggressive than before, equipped the Rocket 3 R with all the latest in terms of electronics and also claim to have made it lighter by 40kg which is a huge change over the previous model. While you can read about what all has changed in the 2020 Triumph Rocket 3 R here, the highlight of the cruiser remains unchanged. It is the large displacement engine. At 2,500cc, the Triumph Rocket 3 R has the largest displacement for a motorcycle in production. Here are the other large engined motorcycles on sale in India
 1) 2020 Triumph Rocket 3 R:
Displacement: 2,500cc
The liquid-cooled triple in the Rocket 3 makes an impressive 221Nm of torque. Even in terms of power delivery, the all-new Rocket 3 makes 167PS making it 11 per cent better than the previous model. Triumph claims that with an incredibly flat and rich torque curve, reaching a peak at 4,000rpm, it holds maximum torque all the way through the mid-range. It also features several mass optimised performance enhancements; including a new crankcase assembly, new lubrication system comprising dry sump and integral oil tank and new balancer shafts, totally contributing to 18kg engine weight saving over the previous generation.
The 117-cubic-inch Milwaukee-Eight engine generates 169Nm of torque and a 10:2:1 compression ratio, which is available exclusively in the CVO. Also called the Wafflehead due to the shape of the valve covers, this is the ninth generation of the engine. HD claims that this units makes more power, torque and offers lower vibration than the previous models with an addition of counter balancer. Since the twin cylinder make use of four valves each, the engine is called Milwaukee-Eight.aza
The Thunder Stroke 116 motor which is an air-cooled V-Twin unit powers the Springfield Dark Horse, Chieftain Dark Horse, Chieftain Limited, Roadmaster and the Roadmaster Dark Horse. This engine puts out 168Nm at 2,800rpm and uses both air- and oil-cooling. The throttle response of the engine can be altered using the on-board ride models. This one too features rear cylinder de-activation like the Thunder Stroke 111 motor.
The Milwaukee-Eight 114 engine is shared between Road Glide Special and Street Glide Special models that churns out 163Nm of torque. It is also offered in the Fat Boy as an option powertrain choice. Compared to the previous offering, the new engine offers a better power delivery, fuel economy, improved throttle response and also better engine note.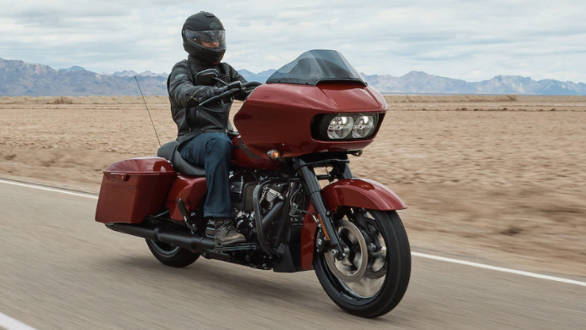 5)  Indian Chief Vintage
Displacement: 1,811cc
The Indian Chief Vintage along with the Indian Chief Dark Horse and the Springfield make use of the same Thunder Stroke 111 motor. The torque rating of this motor is 151Nm at 3,000rpm. Among some of the features, the Thunder Stroke 111 comes with cylinder deactivation technology which essentially shuts down the rear cylinder when the vehicle comes to a standstill. Indian claims that this lets the engine radiate lesser heat, offering a comfortable experience in hot weather conditions.
Price (Ex-Delhi)
Starts Rs 49,99,000
Price (Ex-Delhi)
Starts Rs 32,99,000
Price (Ex-Delhi)
Starts Rs 30,53,000
Price (Ex-Delhi)
Starts Rs 20,20,000
Price (Ex-Delhi)
Starts Rs 21,29,500
Price (Ex-Delhi)
Starts Rs 42,15,000
Price (Ex-Delhi)
Starts Rs 18,00,000