Toll waiver on Mumbai-Pune Expressway for vehicles travelling to Konkan area on September 2-4, 2016
The Government of Maharashtra has announced that toll on the Mumbai-Pune Expressway will be waived for vehicles travelling to the Konkan region between September 2 and September 4, 2016. However, the waiver is only for residents of Mumbai and Thane. The decision was taken by PWD minister Eknath Shinde.
People who wish to travel on these dates will have to obtain a special pass from the nearest Road Transport Office (RTO). They will have to submit a copy of address proof in Mumbai or Thane as well as their destination in Konkan to get the pass. At the toll booths, they have to simply present the slip and they will be allowed to drive through.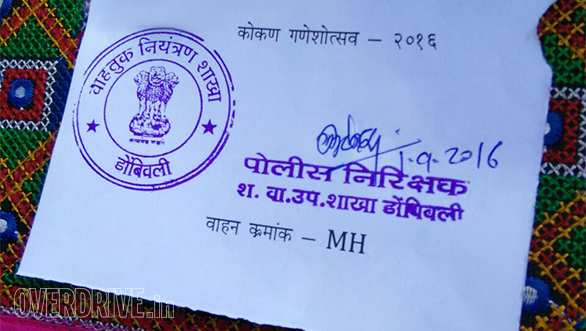 This pass will have to be collected from an RTO
Many people travel to their hometowns or villages in the Konkan region at this time of the year to celebrate the Ganesh Chaturthi. Usually, they choose the Mumbai-Goa Highway (NH66). However, the highway is undergoing repairs at several spots, which will see many people opt for NH4 which passes through the Mumbai-Pune Expressway. NH66 (previously NH17) has been severely affected during the recent monsoon season. A few weeks ago, an old bridge over the river Savitri in the Raigad district collapsed, leading to the death of many people. This means that only the new bridge is pliable, which could lead to heavy traffic snarls during the festive period.
The queues at the toll booths on the Expressway extend for up to a kilometer during weekends and holidays, however, with this waiver, the time spent crossing the toll booths will be considerably reduced.