Tokyo Motor Show 2017: Toyota TJ Cruiser concept to be a versatile car
Toyota unveiled the TJ Cruiser concept ahead of the Tokyo Motor Show 2017. The Toyota TJ Cruiser concept is based on an advanced version of the Toyota New Global Architecture (TNGA) platform and will go into production based on public response at the Tokyo Motor Show 2017. Toyota will use an all-new engine 2.0-litre engine for the TJ Cruiser along with a hybrid drivetrain. The Toyota TJ Cruiser measures 4.3m in length, 1.7m in width and 1.6m in height. The wheelbase is 2,750mm and the SUV can seat four. While being primarily front wheel driven, there will also be optional 4-wheel drive. Contrary to what TNGA cars usually are, the Toyota TJ Cruiser will be a monocoque construction. The name TJ comes from Toolbox and Joy, referring to the vehicle's utility intentions and go-anywhere capability.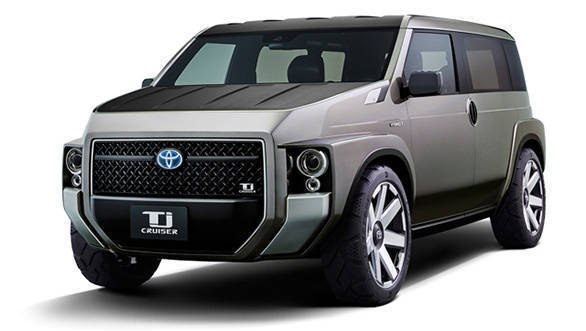 The Toyota TJ Cruiser, at first glance, looks similar to the Hummer H2 and Toyota's own FJ Cruiser. The wide grille, circular headlights, and the old school contribute to a different allure of the vehicle. This also means the SUV will appeal to a wider audience. The 19-inch tyres may make way for smaller one at production. The middle row doors slide, adding to the utility of using the car in an urban environment.
Speaking of utility, the TJ Cruiser gets completely reclining front and back seats. The seat cushions of the front seat can be flipped forward to keep goods like vegetables and more. Toyota says that a 3-metre surfboard too can be kept in the cabin with space for two people.
The minimal dashboard too looks good along with the large-ish steering wheel and a Mahindra Bolero-like digital instrument cluster. While autonomous tech wasn't discussed in the TJ Cruiser, expect the production car to have some level of autonomy added.
Toyota says that the TJ Cruiser currently is being evaluated for an early production date. India is highly likely on the list of countries that Japan will export the TJ Cruiser to. Of course, in due course, the SUV will be made here as well.
Price (Ex-Delhi)
Starts Rs 7.98 Lakhs