The Hennessey Venom F5 with 1,842PS is the world's most powerful production road car!
You'll probably remember Hennessey Performance as the tuners behind big horsepower creations like the 650PS Venom 650R, based on a Dodge Viper GTS, and the 1,244PS Venom GT based on a Lotus Exige, which achieved a top speed of 435kmph a whole decade ago. And to celebrate its 30th anniversary, Hennessey Performance has built its first very own car – the Venom F5, a car that's been in development for three years. It's already the world's most powerful production road car with 1,842PS and a 2.6s 0-100kmph time, and Hennessey's targeting the 311mph (500kmph) mark which should put the Venom F5 in very rarefied company. As is, only 24 will be built, each with a price tag starting at $2.1 million (over Rs 15 crore converted directly), with deliveries starting next year.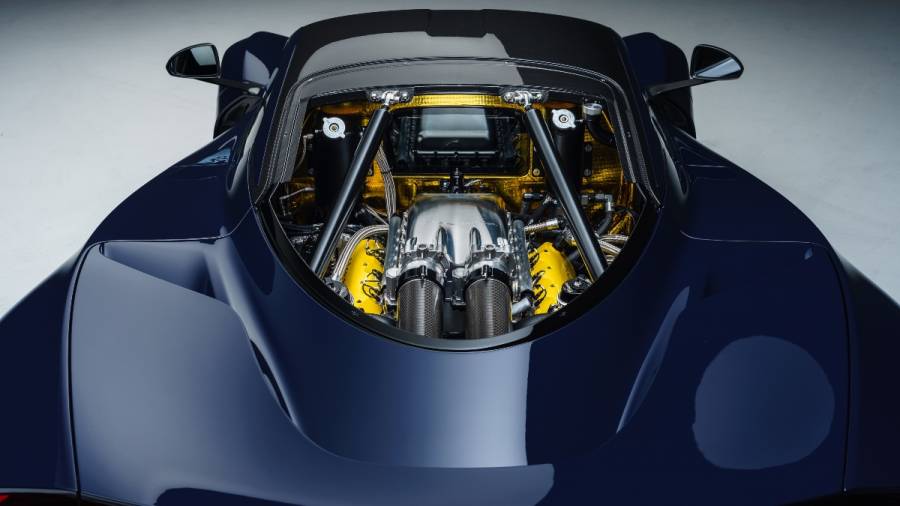 The highlight is the engine – a 6.6-litre twin-turbo V8, that's been fittingly named 'Fury'. Mounted mid-rear, the cast-iron block, push-rod, cross-plane crank V8 is decidedly "American", but revs to 8,200rpm. It sits in an engine bay covered in gold and Cerakote for heat insulation/dissipation, the same stuff that gun barrels are treated with! Torque is prodigious, at 1,617Nm, and all of it is sent to the rear wheels, via a 7-speed semi-automatic gearbox, where second is good to get the Venom F5 past 172kmph.  The Venom F5 should get dispense the 0-200kmph run in an unbelievable 4.7s, needing 8.4s for 0-300kmph, and 15.5s for 0-400kmph.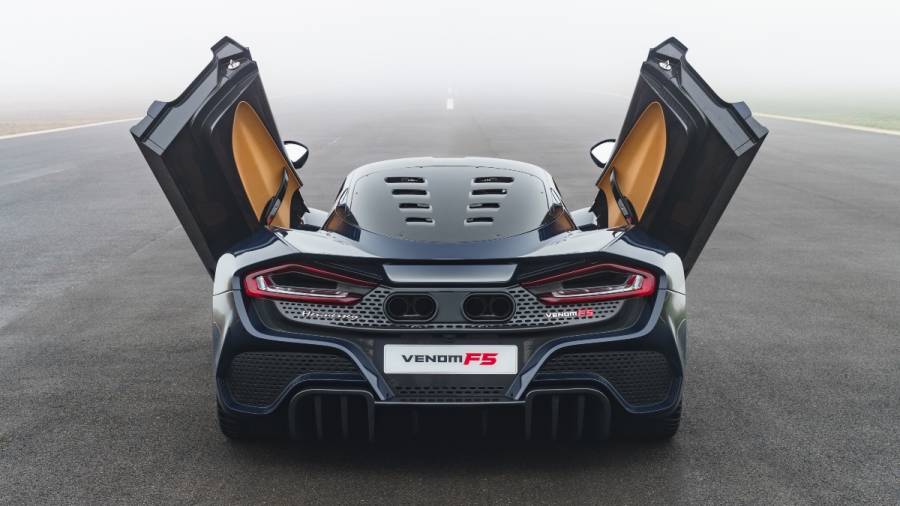 For a first time attempt at a bespoke car, the Venom F5 certainly looks the part of a record-breaker, having been designed and engineered from scratch by Hennessey, including the bespoke carbon fibre monocoque on which the carbon fibre body panels attach to. The Venom F5's overall dry weight of just 1,360kg is no doubt helped by that carbon fibre tub, which weighs a mere 86kg while its immense torsional rigidity should make for a great handling car too. Design is entirely dictated by function and the Venom F5's drag coefficient of 0.39 is a balance between high speed stability and downforce creation, all through passive aero. A track pack will be made available, with a more aggressive front splitter and fixed rear wing, all designed to deliver even greater downforce.
Hennessey's engineers have also integrated the door sills in the doors themselves, making it easier to climb into or step out of. Hennessey says "At 500kmph, you're more pilot than driver", and the cockpit-like cabin bears testament. Right from the carbon fibre steering wheel, itself a mix between an aeroplane's yoke controls, and an F1 car's steering wheel, to the 7-inch digital instrumentation and pared back layout, the Venom F5 shows its singular purpose. Though, a 9-inch central touchscreen display with smartphone integration and leather, Alcantara and carbon fibre interiors does mean it's luxuriously appointed, comparatively at least.