The government suggests that registration for vehicles older than 15 years not be renewed.
The draft notification from the Ministry of Road Transport & Highways (MoRTH) calls for the mandatory non-renewal of the registration of government vehicles older than 15 years. On April 1, 2023, the same will be valid.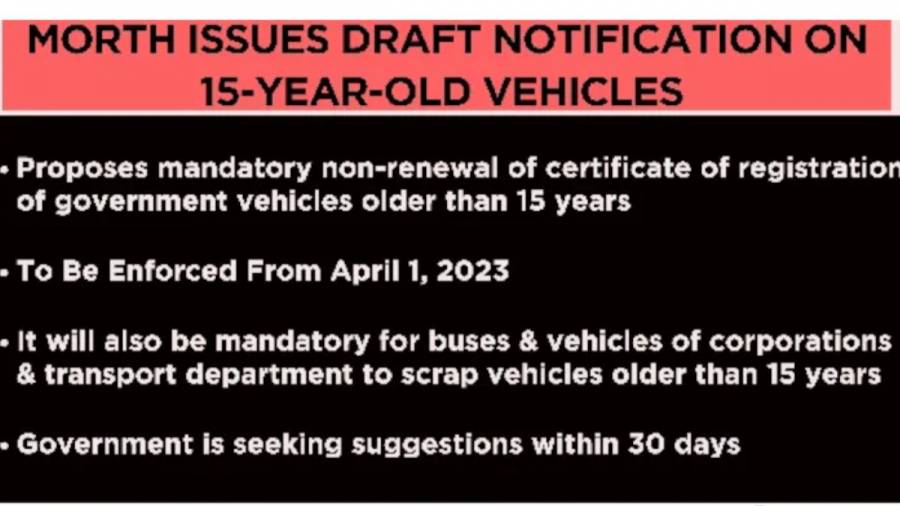 Nitin Gadkari, Union minister, also stated on Friday that all government-owned cars in India that have reached their 15-year mark will be discarded and that a policy to that effect has been forwarded to the states.
The draft stated "It will also be mandatory for buses and vehicles of corporations and transport departments to scrap vehicles older than 15 years. The government is seeking suggestions within 30 days."
On September 14, Nitin Gadkari intends to establish at least three licensed facilities for automobile recycling around the nation. In April of this year, the automobile scrappage policy went into force.
According to the car scrappage policy, outdated and unsuitable vehicles must be removed from the road and replaced with new, contemporary models. On October 29, 2018, the Supreme Court prohibited using gasoline and diesel automobiles older than ten years and fifteen years in the nation's capital, even before the announcement of the vehicle scrappage.
Source: CNBCTV18